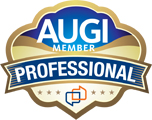 Professional Membership
Professional Membership is the new top level. It provides access to Basic and Premiere level features, plus AUGIWorld magazine in print delivered to your home or work address. AUGIWorld returned as a monthly print publication in 2012, and now members can receive that benefit when they join as a Professional.

Professional members will also have the opportunity to receive a FREE Standard Autodesk Developer Network (ADN) Membership.

In the near future, we'll also introduce greater access to content Archives and special features only for Professional members. Also on the horizon is a free website listing area for Professional members who also do consulting in the Autodesk industry.
Premier Membership includes the following:
All Basic Benefits...
Full Access to all AUGI Forums (Posting of questions and answers)
HotNews Newsletter delivered via email
HotNews Archives (prior 12 months)
Local User Group Listings (view only)
AUGI Online Communities
AUGI Library
AUGI Surveys
Wish List System (Submit/Rank/Vote)
AUGI Online Communities
Communication Emails – Announcements via email
Event Notifications – Overall AUGI related event emails
AUGI Career Center Access
Publication Authoring Option – you can contribute as author
Access Autodesk University Course Content
Plus All Premier Benefits...
AUGIWorld Digital (current and prior 12 months - digital and PDF download)
Forum Membership Plaque
AUGI Educational Offerings
AUGI User Group Registration (for leaders)
AUGI User Group Listings (posting content for leaders)
Plus...
AUGIWorld in Print delivered internationally directly to your home or business
FREE Standard Autodesk Developer Network (ADN) Membership
Individual Consultancy Profile listing in AUGI Registry (coming soon)
Unlimited Space for Message Attachments in Forums
Personal Photo/Image Gallery (200 images) in Forums
Custom Forums User Title Option
Add animated images for your profile picture, avatar, and signature
Add an additional video to your forum signature
Forum private message storage increases to 500 messages