AUGI HotNews January 2011
---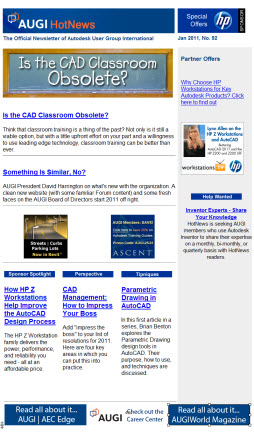 Features
Think that classroom training is a thing of the past? Not only is it still a viable option, but with a little upfront effort on your part and a willingness to use leading edge technology, classroom training can be better than ever.
AUGI President David Harrington on what's new with the organization. A clean new website (with some familiar Forum content) and some fresh faces on the AUGI Board of Directors start 2011 off right.
Columns
In this first article in a series, Brian Benton explores the Parametric Drawing design tools in AutoCAD.Their purpose, how to use, and techniques are discussed.
Add "impress the boss" to your list of resolutions for 2011. Here are four key areas in which you can put this into practice.
The HP Z Workstation family delivers the power, performance, and reliability you need - all at an affordable price.