Is the CAD Classroom Obsolete?
So, let's ask that again…is the CAD classroom obsolete—a thing of the past? I am an Autodesk Approved Instructor and AU speaker, so maybe I have a biased opinion here, but no, I don't think it is. The physical classroom still has its place, but I think learning and training methodologies have adapted with the advance of technology. Let's face it, we have gone mobile! The iPad, the iPod and the iPhone are prime examples. You can look at your drawings on the go, modify them in the cloud (AutoCAD WS, check it out!), and not even go to the office! Put that into a training environment. Imagine using iPads instead of paper, hardcopy manuals with video learning…you see where I am going now, right?
Training content
Sure, the training content and datasets will remain the same, but it is more of a media issue and how that content is represented. Imagine an uber-classroom, minimalistic with Herman Miller furniture and an iPad on a stand on each desk next to an iMac running AutoCAD for Mac for your training courses. Yes, it looks really cool and very current, but the content would be the same and it is still a classroom. You still have to get to that classroom and commute to get there.
How about if that content was completely mobile with short movies to show you how to do things and the iPad in question was sitting on your desk at your slightly less sexy workstation? No commute needed, home comforts, and the only overhead is the iPad. That is a one-off cost. You can view as much as you like, when you like, when you can. You get the idea now, right?
Your employer is going to be far more amenable to you setting aside time at work on your iPad rather than incur all those travelling expenses. Plus, you are at work to answer any difficult stuff your boss can't handle and you can hit pause whenever you need to. The same content, but based around you. Easy! (Okay, so you might have to purchase the iPad.)
My point here is that training course content is now not restricted to the classroom. There is so much technology out there now that you can view the content pretty much anywhere—even in Starbucks or your coffee outlet of choice.
Yes, classroom training is still required, but wouldn't it be great for us instructors if everyone we trained in the classroom already had a grasp of the basics needed? I, personally, would love that. I could then get in to the really cool stuff in AutoCAD straight away. Things such as dynamic blocks, sheet sets, tool palettes—all the stuff that provides real economic value when using a CAD system. These are the things that make you an efficient and well-rounded CAD user. If only everyone had access to the basic content to get up to speed….
What am I talking about? That content is all out there already. You just need to look. Try this new thing on the Internet….I think it was called Google or something.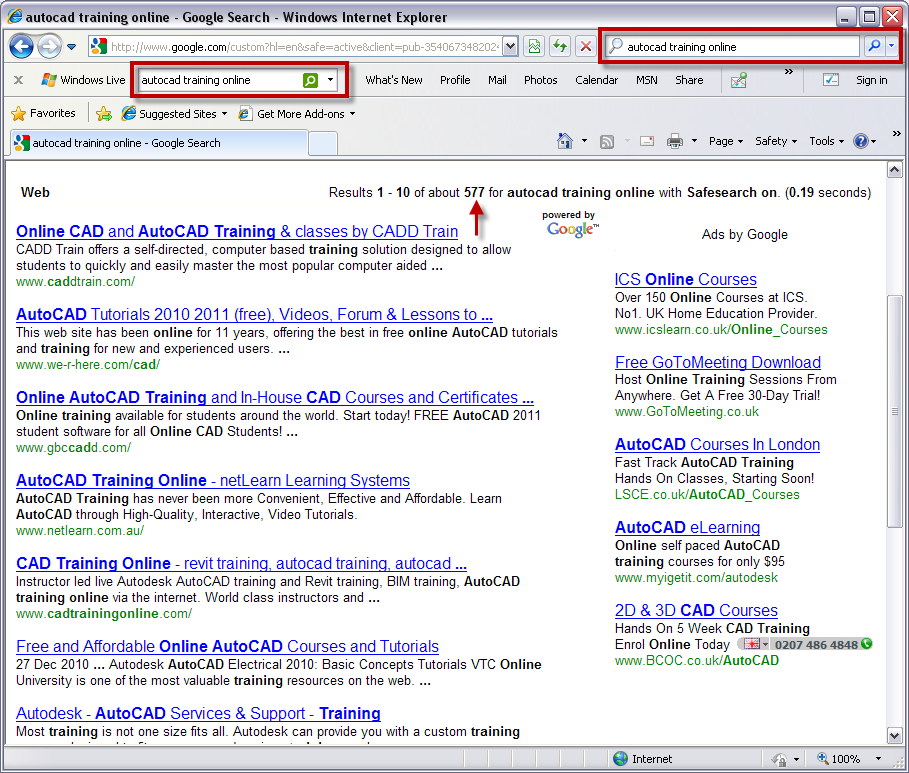 Figure 1: A Google search for AutoCAD training online
There you go, more than 500 sites that provide online training just on AutoCAD (and some are free, too). Autodesk provides more than 90 products and I have searched on just one. Yes, it is AutoCAD, but there are loads of online training resources out there where you can learn the basics of your chosen product.
Dynamic bespoke "me-training"
If everyone knew the basics of their chosen Autodesk product—whether it be AutoCAD, AutoCAD Architecture, Autodesk Revit, Autodesk Inventor—it would make classroom training so much easier.
If I knew that all of my trainees had a decent grasp of how to drive basic AutoCAD, for example, I could then structure the class around intermediate- and advanced-level techniques that would make them more efficient in their workplace. Learning to draw a line for the first time is cool, but using dynamic blocks is even cooler, especially when you realize how much time, effort, and energy they save you (as well as blood, sweat, and tears!).
So, if the trainees are already up to speed with basic techniques, you can then consider dynamic bespoke training for them. It is what I call "me-training" or, to put it simply, training for me. You see what I did there, right?
This would then not only focus the classroom training on the intermediate- and advanced-level techniques I mentioned, it would also shorten the time required in the classroom.
So instead of three days out of the office, two days of which would be spent on basic skills, you would only be out of the office for one day, A single day of techniques you can immediately put into practice upon your return. Can you imagine how impressed your boss would be? Not only have you been away only for a day, but you came back energized, more knowledgeable and, better still, a more profitable asset to the company or organization.
Technology
Technology is moving fast right now. Blink and you might miss it. We have AutoCAD in the cloud (AutoCAD WS). We have the Return of the Mac with AutoCAD (there's a song in there somewhere). You can view your DWGs on the iPhone, iPod, and iPad. So, you can't just sit there and watch it all go by

Figure 2: AutoCAD on the Mac
There is technology that allows you to attend classes remotely. You must have a webcam, right? Voice over Internet Protocol (VoIP) providers such as Skype now provide technology that enables users to see one another's screens, talk, and see each other on the webcam as well. So not only do you get to see your class content, but you can see your instructor as well. With today's broadband Internet bandwidths this is now possible. So, that webcam you bought to talk to your granny in New Zealand at Christmas also has a business value. Use it! Video calling is great. Just make sure your office at home is tidy if you are making a business call to your client or your boss!
Skype is free, but if you need a more professional setup and you want to invest in this technology at a more serious level, you have the likes of GoToTraining and GoToWebinar, plus other products such as Webex that provide a tailored training platform for a monthly fee.
Online classrooms aren't the done thing just yet, but they will happen. The technology is so close you can taste it.
Autodesk subscription
Autodesk Subscription doesn't just provide product upgrades if you are signed up. It provides a plethora of e-learning courses and videos where individual progress can be monitored by an administrator, for example, the company CAD manager.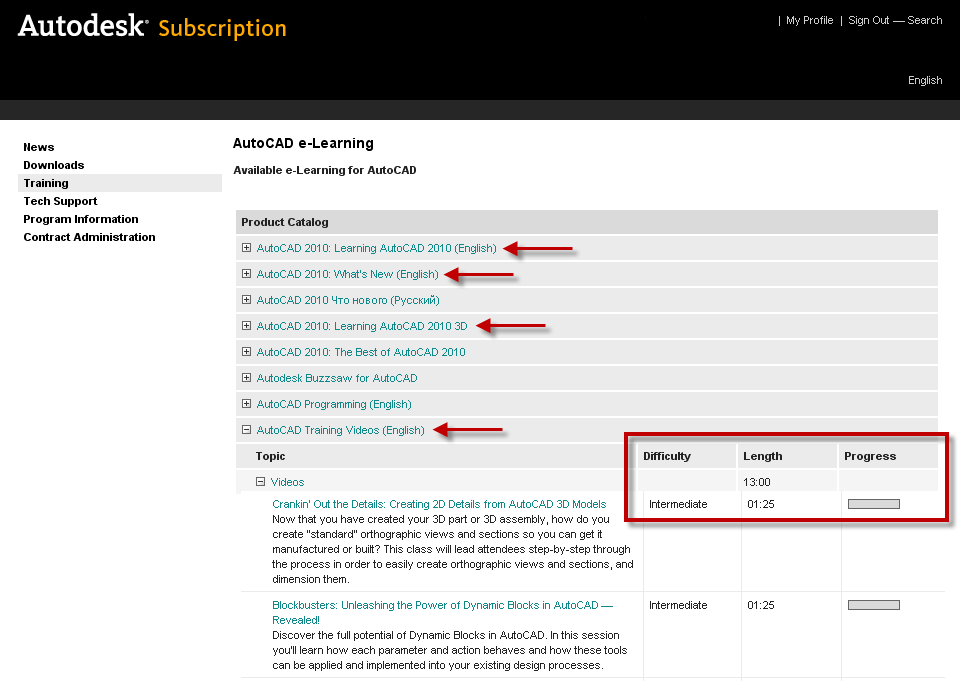 Figure 3: Autodesk Subscription
The e-learning courses tie in to the topics you would be taught in the classroom, plus there is a basic Learning Management System (LMS) in there where you get asked questions on what you have learnt. The added bonus is that if they follow the classroom courses, they also follow the Autodesk Certification syllabus. If you want either Associate or Professional Certification status on an Autodesk product, it is well worth checking out. The e-learning plus the required experience on your product might be all you need for Certification. The benefit here? No classroom required.
Autodesk University
Autodesk University (or AU as it is known) is the biggest Autodesk learning event on the planet (as far as I am aware)! If you attend, you are treated to keynote speeches from senior Autodesk staff, high-profile Autodesk customers such as Disney Pixar, plus hundreds of world-class AU speakers waiting to teach you things you never even knew existed in your specific Autodesk product. Trust me, I know. I am one of those speakers!
I cannot stress the importance of AU enough. If you ever get the opportunity to go, you MUST go. It is incredible and I am not just saying that as a speaker either—I also attend classes there.
The classroom training at AU is second to none and you will not get better, more insightful knowledge on Autodesk products (or their associated Autodesk Developer third-party applications) anywhere. So, there is proof that classrooms do have their purpose.
However, at AU, all classes are specific and targeted. They are not just your basic AutoCAD course for beginners. The classes are punchy and are for a specific purpose and audience. This goes back to what I said about already knowing the basics. There is a training channel at AU that does do basic courses but they will all be on specific topics and will follow their specific industry track, such as facilities management (FM), for example.
If you can't get to the bright lights of Las Vegas to attend the AU conference, you can always use the Internet. AU Virtual provides an adequate number of free classes to keep you busy. All classes are online. All you need is your login and password, which is easily set up on the AU webpage (au.autodesk.com). Put on your headphones and listen, watch, and learn. I was an AU Virtual Speaker for AU 2010 and it is a superb "virtual" training system. So, on the opposing side of the coin, AU Virtual is a perfect example of an online classroom.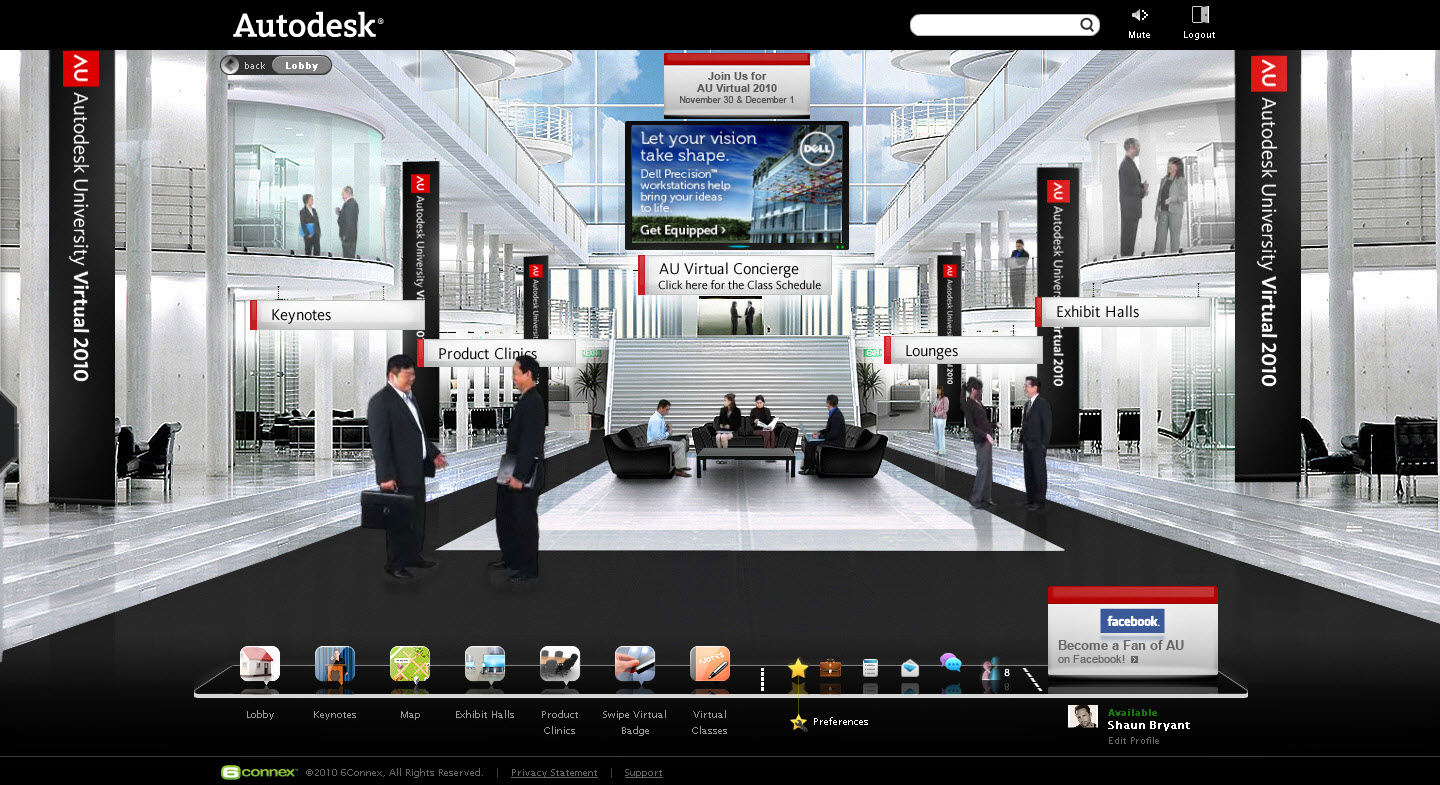 Figure 4: The AU Virtual lobby
What about the classroom?
What I have tried to convey here (albeit briefly) is that the classroom still has a purpose, even in the massively mobile technological age in which we live. We actually never stop learning from the day we are born. Studies show that the brain is one of the last organs to actually die when we do pass off this mortal coil (morbid, but true).
So, we must use our classrooms to keep those brains working. We must use our Autodesk Approved Instructors and our AU Speakers. They are there to teach and assist you to learn. The more you learn, the better you will be at what you do. You will become more confident and more empowered in your role where you work.
Today's technology gives you the opportunity to learn the basics from the comfort of your desk at work or your table at home. Use that to your advantage so that you can enroll in classes that will push the envelope and make you work smarter, not harder. The more you learn, the easier things will become, making your job less stressful and, if you are lucky, you can spend less hours generating your drawings using your Autodesk product. I heard a quote from Lynn Allen (Technical Evangelist – Autodesk) at an AUGI Design Academy here in London, UK. The quote went something like this, "Why go from A to B to C, when you can learn how to go from A straight to C instead."
Lynn was quite right. Learn how to work smarter and quicker. The only way you will do that is in a classroom, learning from an instructor who has already learnt how to go from A to C. Quite often, you won't know that you are even going from A to B to C. It will take the instructor in the classroom to demonstrate how easy it is to go from A to C instead.
Useful places to go
If you are to utilize the latest technology to learn the basics, I ought to give you some pointers that will make your life that little bit easier.
Here are some Autodesk links that are worth checking out:
Autodesk's YouTube Channel:
AutoCAD Exchange:
AutodeskUniversity:
(Las Vegas – Nov 29 to Dec 1, 2011)
Don't forget that AUGI also offer a fantastic range of training services, which are free to AUGI members. There is the AUGI Training Program (ATP), often taught by world-class instructors (some of which speak at AU) plus AUGI CAD Camps.
As an AUGI member, you also get access to AU handouts from previous Autodesk Universities. There are also links on the AUGI Education page to find an Autodesk Authorised Training Center (ATC) near you so that you can book that focused, industry-related course to make you work smarter.
Conclusions
The classroom is dead. Long live the classroom! Yes, it may be that the traditional classroom is dead, but long live newer, leaner, more-focused classrooms that help you learn how to work smarter, quicker, and more efficiently.
Before you book that basic course and try and get your boss to pay for it, or maybe you pay for it, check out what is out there that you can use to teach yourself the basics first. That funding could perhaps be used to get you on a leaner, more targeted course that could be way more beneficial to you. Plus, if your boss is paying for it and you show willingness to learn on your own using today's technology, you might even get some kudos for the effort (or even a pay raise)!