Your Model in InfraWorks: Be the Boss!
One of the key components in managing processes within any application is the ability to control the basic settings that apply to the common ground and general scope of a project. In InfraWorks® 2019, we are referring to the conditions and properties that make our model capable of being shared across multiple platforms.
Let's discuss a basic workflow from original creation of our model to the first proposal to be shared with the team.
Model Builder – Existing Conditions
When using this tool (Figure 1), it is important that you understand and identify the limits of the project, as the size of the encompassed area along with the resources available to manage your project are going to have a considerable impact on the performance of your file. When combined with a proper file storage procedure in the new Autodesk BIM 360™ Document Management tool, the process of sharing and working in a collaborative environment is easier and more efficient.
Figure 1
Settings – Model Properties
Defining the proper coordinate system for your model is the first step when assigning the project properties as you work along the creation of your master proposal (Figure 2). At this time, communication with all the members of the team, especially surveyors, is vital to ensure that not only are you placing your model in the proper location, but also matching what has been done in other platforms within the same project.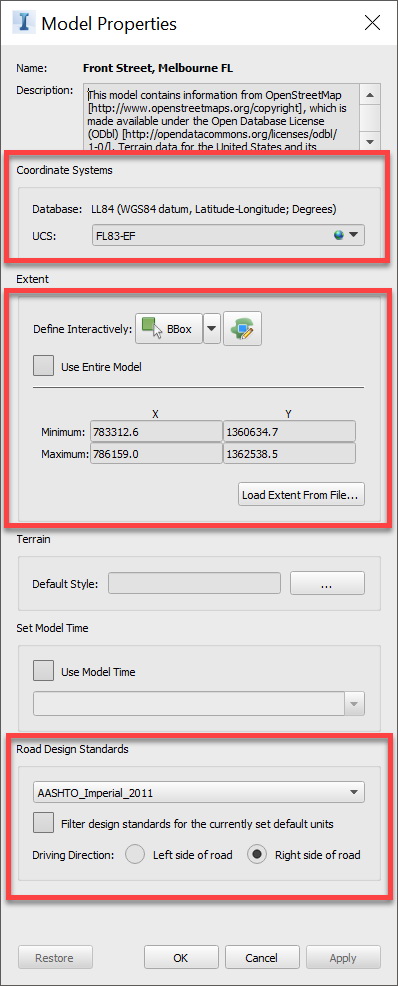 Figure 2
The next step is to narrow the specific area location if model builder has given a wider location and it needs to shrink to a specific point. Whether you have survey points (such as Bench Marks, plot descriptions, etc.) or a layout already defined for the scope of the project, this is the place and time to define it.
Finally, make sure you are selecting the proper sets of rules and units for analyzing the different components of your model under road design standards.
Application Options – Performance
Performance is vital for the proper use of resources when working on a project; the same is true for InfraWorks. Application options offers a wide variety of opportunities to work faster and more efficiently. My advice is to step away from detailed graphics, animations, shadows, and the like. Though these items will make your screen look better, your processes suffer in function of time and efficiency. Under 3D Graphics – Optimize Graphics, the default settings under Optimize for Speed are sufficient to allow you to work in a 3D graphic environment while keeping effective use of your available resources (Figure 3).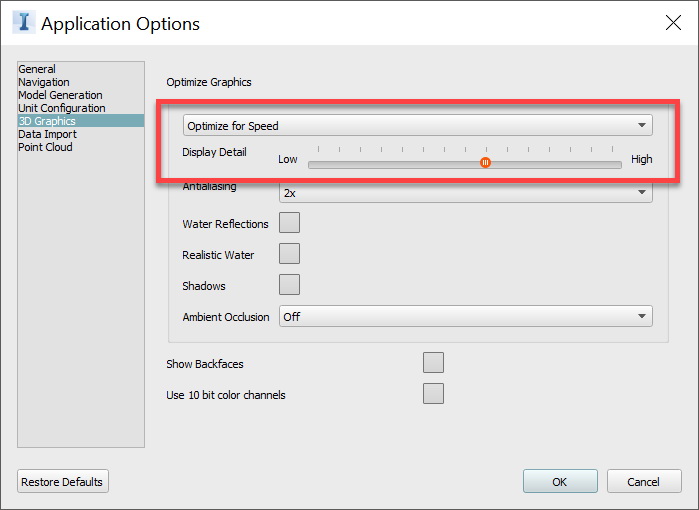 Figure 3
Defining the proper coordinate system, assigning the necessary resources to work on the model, and compiling the necessary data sets in a consistent manner to create the basic model with all the existing conditions are the first steps before commencing our modeling/analysis/pre-design process. In InfraWorks, this translates to creating different proposals for the project.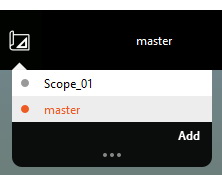 Figure 4
Data Sources
Managing the different types of files/databases that InfraWorks can process at any point within your model is as important as the previous steps already described. As a data aggregator application, InfraWorks allows us to import and puzzle together masses of information, from Bentley's .dgn to Autodesk's .dwg, along several distinct types of metadata.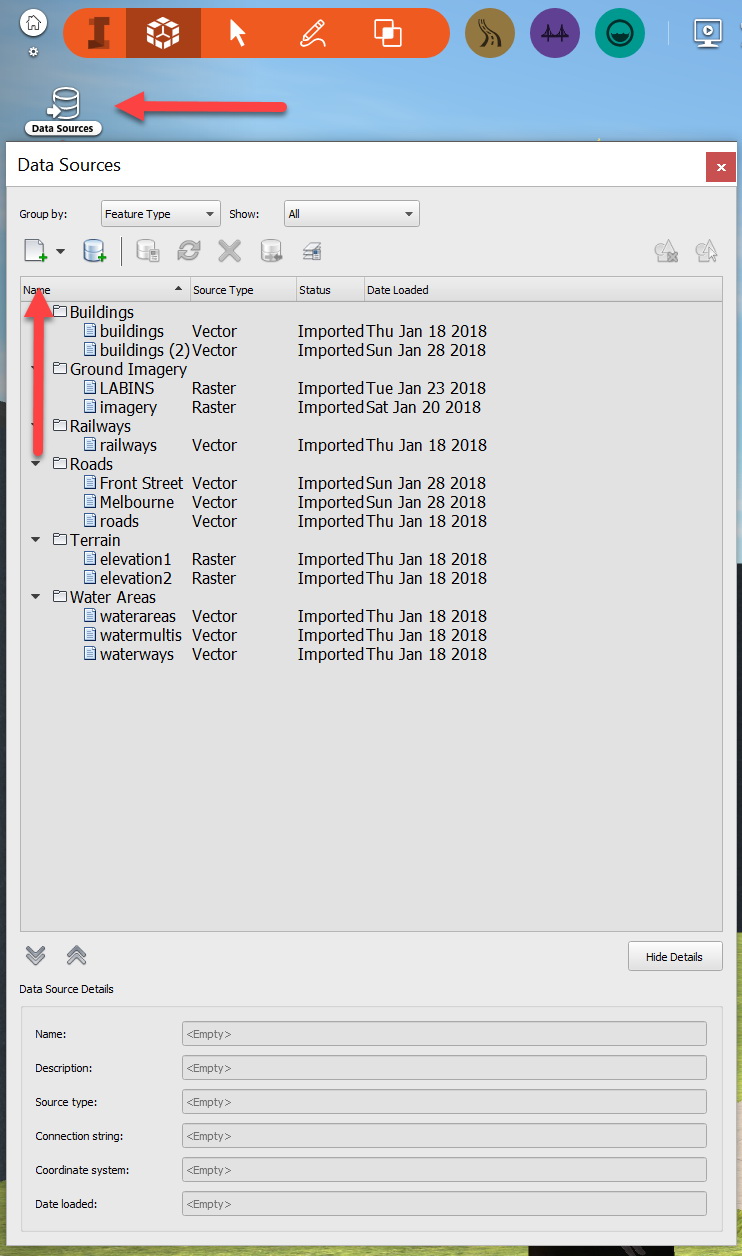 Figure 5
Defining the key extension files that will represent the project scope, as well as understanding the main applications to be used during the project's life, can considerably help to identify the crucial types of databases that will work together, defining our models regardless of the platforms to be used and combined.
From InfraWorks, it is desirable to have consistent types of data together that can be managed and shared. For example, within our organization's internal standard workflows, we can have data types such as 3D models: dae, fbx, obj, or dxf; metadata such as Shapefiles .shp; and precise design data as DGN 3D Models or AutoCAD® Civil 3D® dwg, to name a few.
Another crucial point to mention is that any effort we make to have this consistency across the board with all the platforms to be used will boost our efficiency and make our design/modeling processes less difficult and cumbersome.
Exporting Your Model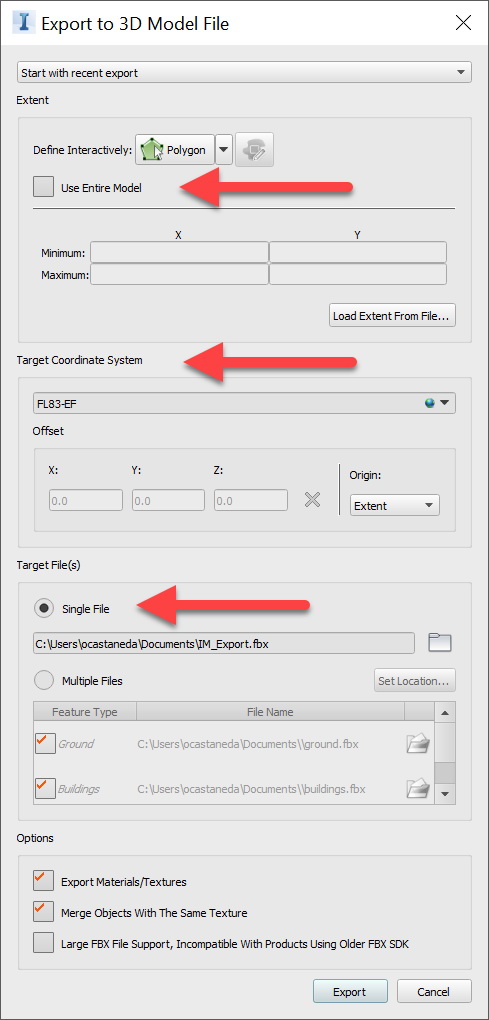 Figure 6
When you are ready to share your model with the rest of the team, there are some considerations to ensure that you are following a correct protocol.
In order to export an efficient model, it is recommended to only select the area of interest where the key components are located within the model, then verify that the coordinate system is a match with what has been defined for the project (regardless of the platform).
Finally, save and archive your model following the internal operating procedures within your organization so any team member can easily locate the file at any given point (Figure 6).
If there are other considerations that need to be accounted for in creating your model, communication with your CADD manager is important and necessary, not only for compliance with your company's standards, but also your client's requirements.
Sharing and Collaboration
There have been changes to the way we share our model with multiple users; BIM 360 is a cloud-based platform that allows data for a BIM project to transition from design to planning to construction. To be more specific, BIM 360 Docs, which is the location where you will publish your InfraWorks models when you want to collaborate with others, is now the tool we have at our disposal to share and collaborate in a multi-platform environment (Figure 7).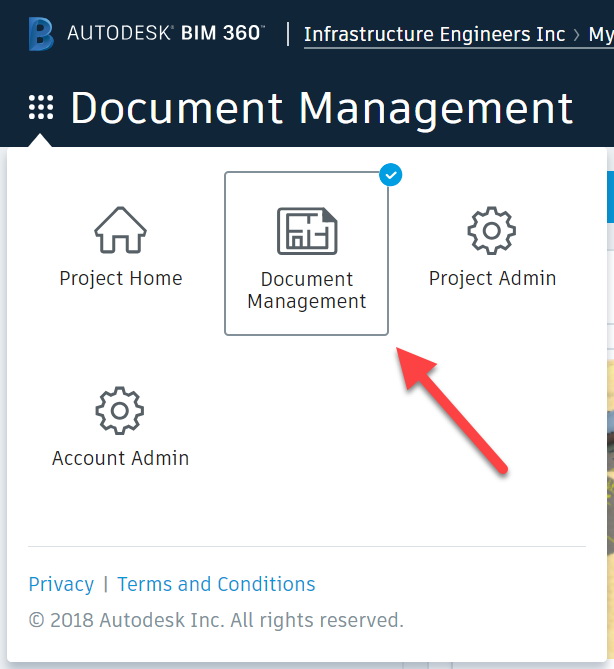 Figure 7
This is a change that came with InfraWorks 2019, and it is based on a simple principle: an InfraWorks model is part of an overall project already being designed and analyzed in other applications by many team members.
When sharing our proposals, it is extremely important to remember that InfraWorks models are not backward compatible, so you need to make sure that all team members with rights to modify models are set with the same version of the application.
And as with many other applications/platforms, changes are happening quickly and we need to keep our internal workflows as updated as we possibly can to avoid unnecessary loss of data, inefficient use of resources, and time waste.
Here is a link from Eric Chappell with good content about this new platform: https://www.youtube.com/watch?v=3W383ZaOP2s
Finally, whether you are working on a simple corridor/site model or a multi-collaborative environment where hundreds of databases are to be combined for the creation of your master proposal, defining the set of rules that will govern your 3D approach from pre-design to final renders is vital to the performance and efficiency of the workflows in place; hence, constant communication and consistency in your internal procedures will define your success.
Oscar Castaneda is a Professional Engineer at Infrastructure Engineers Inc. with 13 years of design experience working in projects for multiple jurisdictions across the United States. He is proficient in numerous software applications such as Civil 3D, InfraWorks, Revit, ReCap Pro, ReCAP Photo, AutoCAD, Microstation/GeopaK, Pix4D, Navisworks, and Revu Blue Beam among many others. As an avid flying enthusiast, Oscar is a certified airman for small UAV's under FAA Part 107 and is currently developing and implementing precise workflows for the use of these technologies within transportation design projects. He is a regular instructor at national, state, and local training events where he shares his experiences with fellow colleagues. Oscar can be reached for comments and questions at ocastaneda@go-iei.com