Won't You Please Help Me?
As a CAD manager, I often have to mentor and train the technical staff on how to use the basic functions of AutoCAD® and AutoCAD® Civil 3D®. I don't have all the answers so I rely on the Autodesk Community, blogs, and the programs' Help feature for assistance. One thing that has become clear to me is that we no longer receive the books and pdf files from Autodesk with all of that good reference material that fills out our office shelves.
Remember the days when Help was not on the ribbon? You would have to select from the menu pull-down or type help at the command prompt. When was the last time you took a look at the Help tab on the ribbon? I know for me, I was pleasantly surprised at all of the resources available when I selected that tab. Let's take a tour through the Help tab on the ribbon and see if there is anything there that you are missing.
Help
The first section on the ribbon is the Help button. This will bring up the online help menu from Autodesk (You can download the offline help as well.) Selections are Contents, Search, and Favorites, as shown in Figure 1.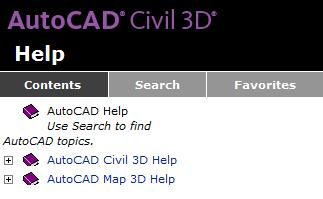 Figure 1: Civil 3D Help
What's New
With each release of Civil 3D comes a variety of new information and add-ons that can be reviewed upon installation of the software. The section named "What's New" will launch the splash screen where you can find information on all of the new features in the software. I find it extremely helpful to run through all of the documentation to see if there is anything that can help you with workflow and your daily activities. You will also find short tutorials including video of how to use some of the more detailed features of the program. Figure 2 below is a video example showing how to create a pressure pipe network in Plan View.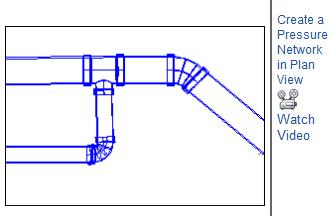 Figure 2: What's New
The What's New Section contains Jump Categories such as Design, Data Exchange, Analysis, Survey, Railway Design, Corridor Design, Annotation, and Visualization.
Tutorials
The Tutorial section will walk you through some main points in Civil 3D. I like to take a look at the Points, Surfaces, Profiles, and Grading sections first, but going through the entire list is good practice. Figure 3 shows a portion of the tutorial section in Civil 3D where you can access various types of tutorials.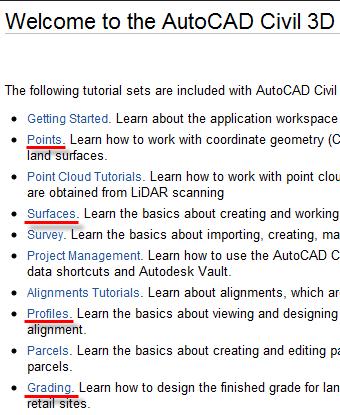 Figure 3: Welcome to AutoCAD Civil 3D
Videos
Who doesn't like to grab some popcorn and watch a good Civil 3D video? This section provides videos (some with audio) to help your learning experience as shown in Figure 4.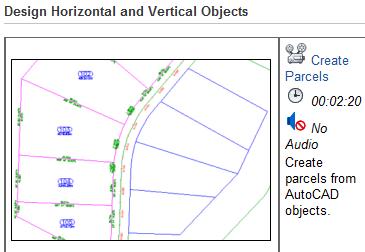 Figure 4: Welcome videos
Getting Started
These tutorials, designed for beginners, start with the application workspace and some important design tools and tasks. From Help: "In Civil 3D®, design data is organized as object collections in the Toolspace window. In Toolspace, the Prospector tab displays the hierarchy of design objects, such as points, surfaces, and alignments. The Settings tab displays a hierarchy of object styles, including styles for labels and tables." These videos are more for the entry level user to get acquainted with the interface, but it's always good to take a look back and refresh your skills.
Welcome Screen
Have you ever heard the question, "Whatever happened to that Welcome Screen I turned off when I installed Civil 3D"? Typically you can type welcome screen at the command prompt and get it back. The Civil 3D 2014 Welcome screen isn't a new feature, but it has changed over the years. It may be a tool that you want to visit from time to time. It provides access to helpful bits of information as well as links to communication tools. Figure 5 shows a portion of the welcome screen as it appears when you launch the program.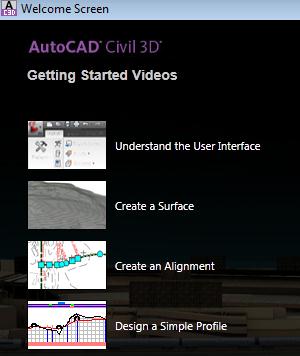 Figure 5: Welcome screen
Learning Path
Learn, Connect, Explore. That was the theme of Autodesk University 2014. The learning path section is where you can find all resources tied into one menu. A good start for beginners or even long-time users to take a look at some features of Civil 3D you may not know about.
Task Workflows
When I began my class at AU2013, I mentioned workflow. I wanted to provide examples of macros, but relate those to workflow and how you go through a project. This section does the same thing, going through several topics and figure out how you would complete each task as if it were assigned to a project. Figure 6 shows some examples of the workflow section of help.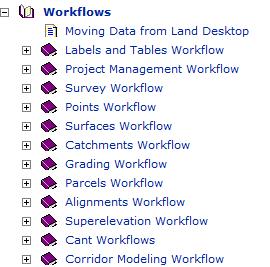 Figure 6: Task workflows
Knowledge Base
This section displays the Civil 3D support website. Figure 7 below shows where you can run a knowledge base search and move to specific product information.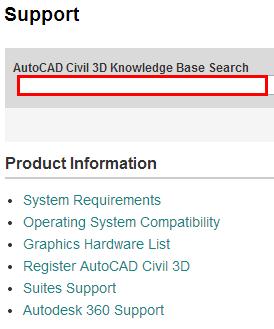 Figure 7: Knowledge Base support
Discussion Groups
Civil 3D is a powerful civil engineering tool incorporating a dynamic engineering aspect to design. Discussion groups help you find people who have run into a problem similar to yours and have found a solution. These groups connect people from all over the world in one place to collaborate on Civil 3D® design problems and solutions. This section takes you to the Autodesk Community (Figure 8) where you can use forums, read articles, and search ideas collaborating with your peers.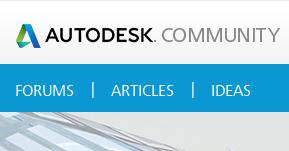 Figure 8: Autodesk Community site
Mosaic Community
When selecting Mosaic Community, you will be taken to the Mosaic website where you will see the following statement: "Thank you for visiting. In an effort to consolidate our community and social efforts to more popular networks, we will be migrating content sharing to Facebook, Twitter, and YouTube on January 31, 2014." The time has come to say goodbye to Mosaic and hello to Project Chronicle. Figure 9 shows an image from Autodesk Labs where Project Chronicle first began as an Autodesk Research project.
Figure 9: Chronicle
Autodesk Labs, part of the Office of the Chief Technology Officer (CTO) Scott Sheppard, is a public process for sharing innovative new technologies and collaborative development. If you are unfamiliar with Autodesk Labs you can start by visiting Scott's blog at http://labs.blogs.com/its_alive_in_the_lab/autodesk-labs/
Here you will find all the information on what projects are being worked on, as well as some past successes. Project Chronicle is a free technology application from AutoCAD which allows users to create videos and share files (Chronicles) with other users. These videos are stored on a secure website where they can be shared publically or made private for you to share with your company or in a classroom environment.
The Chronicle recording utility as shown in Figure 10 allows users to capture workflow from within Autodesk products. Simply hit the Record button and you are ready to go. So when you have that next great idea, write it down or make a Chronicle and publish it online for future use. How many times have we done something we wish we would have recorded so when that scenario comes up again we'll have an online resource to rely on? Project Chronicle is the answer. It is an extremely useful tool where experts can showcase their skills, allowing others to get the help they need when working with Autodesk software.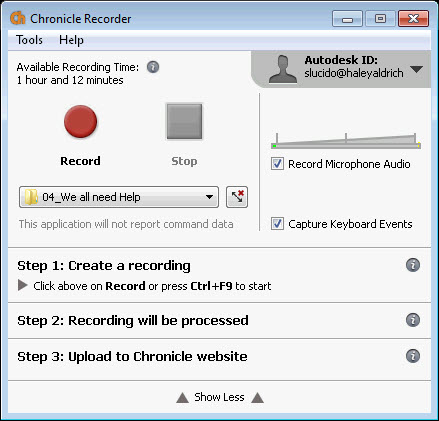 Figure 10: Chronicle Recorder
Autodesk Infraworks
If you attended Autodesk University 2013, you certainly noticed quite a few classes on Infraworks. This button will take you to the About section of Infraworks on the web. This product is very powerful, combining the use of Civil 3D, GIS, Mapping, and other tools to provide stunning visuals for presentation and production.
Developer Resources
The Autodesk Developer Network section will take you to the topics used by developers and lists the APIs directly related to enhancing the functionality of Civil 3D. There are three APIs available for customizing AutoCAD Civil 3D, and are listed below and on the developer resources website:
1. .NET API allows you to write plug-ins to AutoCAD Civil 3D in any .NET language.
2. COM API can be used in creating VBA macros, which you can run from the AutoCAD Civil 3D command line.
3. Custom Draw API (in C++) is an extension of the AutoCAD ObjectARX API that allows you to customize the way AutoCAD Civil 3D renders objects.
Customer Involvement
Remember the image shown below? Yes, the one you unchecked after installing the software indicating that you don't want Autodesk to collect data? If you select yes, you agree to participate in the Autodesk Customer Involvement Program (CIP). Data and system usage is collected by Autodesk and reviewed, which helps them personalize the experience with the software and improve future releases of the product. Simply check Yes as shown in Figure 11.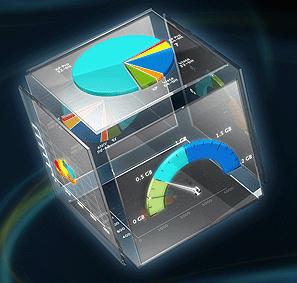 Figure 11: Customer Improvement Program
User Groups
User groups can be a valuable resource for those day-to-day problems we all encounter during projects. Find a group, join, and collaborate with your peers on the issues with the software you use. Meet new people who share your same interests and passions. Find those people you can talk with about AutoCAD, Civil 3D, Plant 3D, Infraworks and other techy things, or just hang out.
Product Feedback
As with many items we purchase, we can provide feedback with Autodesk products. This will give us the opportunity to voice our opinion on the stability, ease of use, and overall functionality of the product(s) we use. All of this data, as with customer involvement, will be reviewed and taken into account to improve the next release of the software.
Conclusion
In life and in the workplace it can be hard to ask for help. Even during those times when deep down we know we need it. Pride and ego can get in the way. Helping others in the CAD world or life in general will make us all sleep better at night.
For many years (too many to count), I was that guy who sat in the corner office and tried to figure things out on my own. Then one day someone offered me help and I accepted. It was then I realized that there are so many good people and resources to assist us in our daily routine. You don't have to take this journey alone. Take that leap of faith and trust you will find the right person or place to go to. Use the resources available and network with colleagues to become a better person, designer, and overall good guy or gal.
Using the help functions in Civil 3D can only benefit you as a professional in your career and give you the ability to mentor and provide guidance to those who need it. It will be a rewarding experience for you and the people you meet along the way.