What's New in Civil 3D 2019?
Just installed AutoCAD® Civil 3D® 2018? Maybe just downloaded Civil 3D 2018.1 or 2018.2? Well never fear… 2019 is here! That was somewhat sarcastic, but I do see some much-needed improvements to AutoCAD 2019 and its vertical products such as Civil 3D. You saw throughout the year that with most Autodesk products you get periodic updates. Civil 3D 2018.1 and 2018.2 were solid updates, and there are a few items in 2019 that I think are great.
This article looks at some of the top new features within AutoCAD Civil 3D 2019 and may help you make your decision to download and install today.
Version Interoperability
The AutoCAD format for 2019 is also the 2018 format introduced last year, meaning you should have no problem going back and forth between 2018 and 2019. Good, that's out of the way. Now on to the important stuff!
DWG Compare
Compare two versions of a drawing
DWG Compare is a fantastic addition to AutoCAD-based products such AutoCAD Civil 3D. You can now quickly review changes to drawing features such as 2D linework, Civil 3D objects (Pipes, Surfaces, etc), text, and pretty much anything within your drawings. It's available in the main Application menu when no drawing is active or under Drawing Utilities when there is a drawing active. You can also access it from the new Collaborate ribbon tab (Figure 1).

Figure 1
Once you select DWG Compare, the dialog box will ask you to select which two drawings to compare, it will then create a third drawing with the two overlaid. Prior to selecting COMPARE, you can modify the color choices if you wish (Figure 2).
Figure 2
The results of the comparison are displayed in the automatically created third drawing. Three categories of objects, or parts of objects, are displayed. Those which are located only in the first drawing (GREEN), those which are located only in the second drawing (RED), and those which are identical in the two drawings (GREY).
A contextual Compare ribbon tab lets you to control the appearance of results. This tab has three groups of controls: Comparison, Compare Filter, and Change Set.
Figure 3
Again, this may seem like a simple task, but for quick reviews, client/city meetings and simple clashes, this tool is a great addition for 2019!
Views / Viewport Upgrades
Create a Named View
It's always fun when viewports get an upgrade, right? Well, this one I like. I create a lot of saved views within Civil 3D and find it easier to bounce back and forth between these saved views from time to time. But what about adding these views to a sheet layout? It's very simple in Autodesk Inventor®, even easier in Autodesk® Revit®, so why not Civil 3D? Check this out!
On the View tab of the ribbon, you now see a Named Views panel. Zoom into an area on your screen and select New View. You can then name your view, select current display or define a window, and several other options you can explore. Select OK and your view has been created (Figure 4).
Figure 4
Once you have completed the new named view, switch to paper space and activate the Layout tab on your ribbon.
From the Layout Viewports panel, you now have an Insert View option. Select Insert View and you will see your saved Named View from model space. Select the view you want to add to paper space and add it to your screen.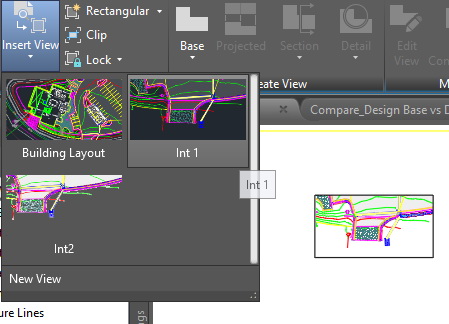 Figure 5
Want to change the scale? Select the viewport, select the drop-down arrow in the middle and choose the scan you would like that view to be. Simple, right?
Civil 3D 2018.1 and 2018.2 Features (Now in 2019)
Most, if not all, of the Productivity Pack enhancements have been rolled into the software, along with other subscription perks throughout the 2018 release. Some of the following items below may be of interest and really help in streamlining workflows and enhancing design.
Rehab Corridor
(This is for corridors that have attended one too many Autodesk Universities!)
But seriously, this tool works great for optimizing the cross slope of existing roadways or enhancing your design of new roadways that just need a bit more detailed design to them.
The workflow to create a rehab corridor is slightly different from the standard workflow used to create other corridor models. To create a rehab corridor object, you must specify a corridor style, corridor layer, a baseline (alignment and profile), rehab region start and end stations, and a target surface.
Next, you will use the Rehab Parameters palette to specify lane inputs and properties, and modify the rehab input parameters such as cross slope adjustments and milling and leveling parameters. Once you apply rehab parameters to your rehab corridor, AutoCAD Civil 3D will automatically build the rehab assembly for your rehab corridor and will automatically assign the appropriate rehab and/or cross slope optimization subassemblies to your rehab corridor regions. See Figure 6.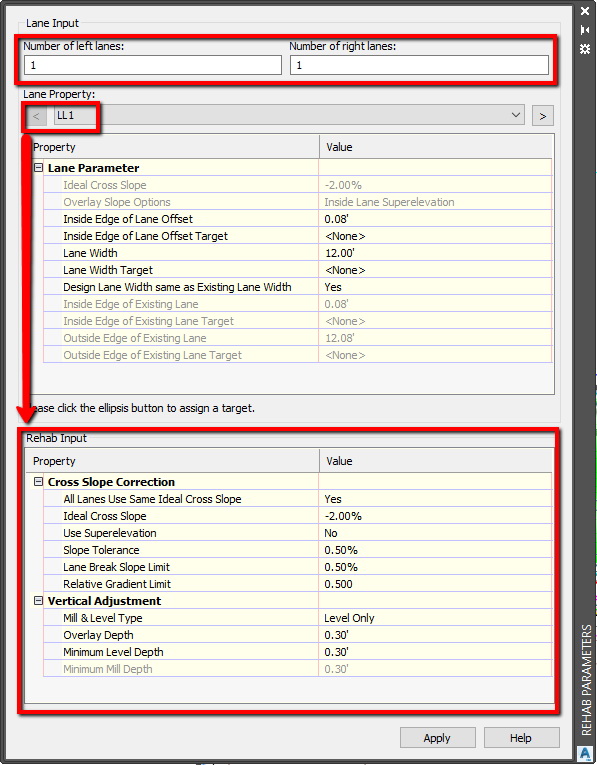 Figure 6
Rehab Manager
You can use the Rehab Manager to review parameters and modify accepted cross slope values to meet design requirements on a section-by-section basis.
Rehab Reports
You can use the Rehab Manager to generate Cross Slope Correction and Milling and Leveling reports for selected stations within your rehab corridor regions. The Rehab Manager can also be used to review violations to design geometry requirements and modify rehab parameters on a section-by-section basis (Figure 7).
Figure 7
Infrastructure Parts Editor
Forget partbuilder… finally! Use the Infrastructure Parts Editor to customize drainage structure or piping part families and part assemblies, then publish them to catalogs that are compatible with Autodesk InfraWorks® and AutoCAD Civil 3D.
There are several ways to review, modify, and publish part families and assemblies:
You can work with a default library of drainage structure and piping catalogs, in Metric or Imperial units.
You can open and modify a parts catalog that is associated with a specific Autodesk InfraWorks model.
You can open a part catalog file from your local system in .ICBT format.
You can add new parametric parts to your library using .IPT parametric shape template files that were created with the Infrastructure Part Shape Utilties tools for Autodesk Inventor.
When creating a new part size, it is very simple to key in the sizes you want and validate your design. Drainage Structures are organized by Assembly, Structure, and Culvert in the Navigation Panel of the Parts Editor. For Piping catalogs in the Parts Editor, there are many types of piping assemblies that can be created using piping parts families. For example, you can create a Fittings assembly from Adapter, Cap, Coupling, Cross, Elbow, Plug, Reducer, Lateral, Tee, and Wye part families, or you could create a Valves and Operators assembly using Hydrant, Valve, Valve Actuator, and Valve Body part families (Figure 8).
Figure 8
Profile Geometry Enhancements
Two new vertical curve options exist.
Fixed Parabola by High/Low Point
Fixed Circular Curve by High/Low Point
Profile layout direction: Draw fixed profile tangents and lay out profiles in either a left-to-right or a right-to-left direction when using the Fixed Tangent (Two Points) command and the Draw Tangents and Draw Tangents With Curves commands. Previously these commands required using a left-to-right layout direction.
Vertical curves in offset profile slope transition regions: Vertical curves are now created in slope transition regions for offset profiles.
Section Views: Use new navigation options to zoom to a section view from a sample line, and to zoom to a sample line from a section view.
Miscellaneous New Items
Here are a few other items that are new in AutoCAD and its vertical products.
Infraworks Component Roads
Infraworks Component Roads now translate directly into a Civil 3D corridor! In the Civil 3D exchange settings, you can now set default setting to get your corridor to translate correctly (Figure 9).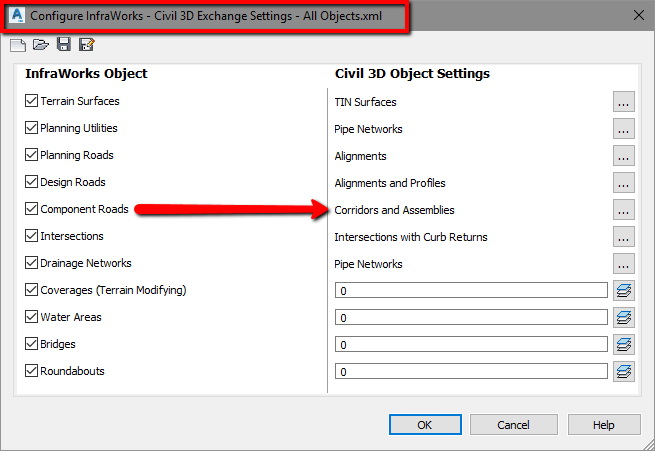 Figure 9
Reference Template Updates
Will now read DWT and DWG files.
Xref Layers
A new XREFLAYER system variable enables you to specify a default layer on which new Xrefs are inserted. The Xref layer is only displayed in the Layer Manager when an Xref is attached to the drawing.
Shared Views
The Shared Views feature makes it easier for you to share your designs with stakeholders within or outside your company without releasing your original drawing files.
Creating a Shared View: The Shared View tool can be accessed from AutoCAD's Application menu, under Publish.
Conclusion
The new and enhanced features in AutoCAD Civil 3D 2019 will help in your everyday workflows. I would love to hear from you regarding the new features as well as features you would like to see added or enhanced. Feel free to call or email me anytime.