What's in the Exchange for Revit MEP
There comes a time when the basic functions of software can't fulfill every individual need of some users. Some customization can be achieved through innovative use of the software, evident in the far-reaching use of worksets for everything except the intended purpose of worksharing. Real customization is the ability to make the software do something completely new, yet make it appear it was always intended. The Revit API has been cracking open over the years and there have been some very industrious people making good use of their ability to code. So what have these busy bees put in the Autodesk Exchange (http://apps.exchange.autodesk.com) for Autodesk® Revit® MEP users? Let's take a look at some of the top attention-getters.
Electrical

David Robison has been coding for MEP since the 1900s. Some may hear Design Master and immediately think of the AutoCAD add-ins of the early 2000s, but Design Master has been very busy since those days. This Autodesk Revit add-in allows for correct and customizable feeder sizing and builds from there. David told me, "Once you have correct feeder sizes, calculating correct voltage drop, fault, and arc-flash is pretty straightforward. I also included automatic branch circuit breaker and wire sizing…" He alluded to the possibility of future releases including a one-line diagram feature, correct sizing of breakers and wires for equipment, and correct branch circuit voltage drop calculations. Being this ambitious while also providing incredible customer service, Design Master is one to watch.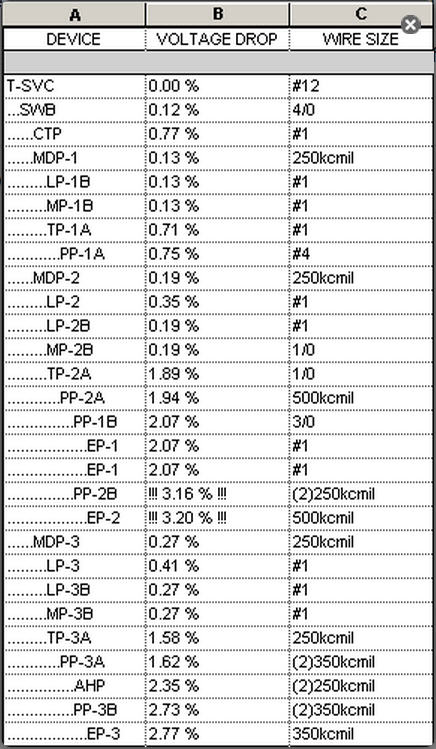 Figure 1: Design Master

It should be easier to move circuits from one panel to another, or rehost a fully loaded panel to a new wall. The Move Circuits add-in does just that. When you need it (and you will), you may be moved to spend $15.99 to get it.

Elum Tools accesses Revit geometry, materials, and light fixture families to calculate illuminance on any surface or workplane using the radiosity calculation method. Having been around a while, the tool has been vetting well and worked its way into many firms' standard workflows. It does require tight integration with materials and consistent, well-made light fixture families, but the interface is made with tools to help users tweak and customize their way to success.

Lighting Analysis is an add-in that works via Autodesk 360 Rendering. Natural and electric light are validated against Radiance. The service provides daylight analysis for LEED providing a Pass/Fail result.
Mechanical

Align Ducts does pretty much what one would expect. For those who find the Justify tool native in Revit awkward and unintuitive, Align Ducts provides a straightforward and easy-to-use alternative.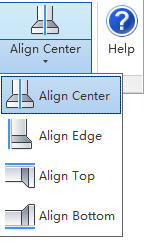 Figure 2: Align Ducts

Auto Insulation Creator works on duct and pipe. The bonus here is the ability to associate thicknesses with duct and pipe types so the correct insulation is automatically added as different types of duct and pipe are drawn. Auto Insulation Creator also handles fittings and valves, creating more accurate models.
Revit Extension for Fabrication provides a path from Revit to Fabrication CADmep, Fabrication ESTmep, and Fabrication CAMduct and back again. It's highly rated and, more importantly, free.
General

Boost Your BIM did it before Autodesk did, and most say did it better. The only downside is the Upgrade/Abort dialog comes with a gentle freewill donation reminder that always makes me feel guilty even after making a donation.
The Space Naming Utility is made by Autodesk and will rename every space in a project to match its architectural room counter element. Sadly, it has never been incorporated into Revit. This is a required tool. If you have not used it, you are currently looking for it, so go ahead and download this essential and free tool.

The idea here is that Excel rules, and wouldn't it be cool if you could place whatever spreadsheet desired on a sticky note and post it inside of the Revit database? If you are really old, you might remember the use of stick-back in the hand drafting days where standard details were printed on stickers that were simply applied to sheets. That is just what Ideate Sticky does. Purists might suggest that using Excel is a cheat, but consider uses such as general notes, short specs, and checklists. Oddly, Excel can be used as an improved word editor for Revit (Braincramp). Ideate promises the highest visual fidelity and what you see in Excel is what you get in Revit. There is a free trial on the Exchange, so try it before you knock it.

Fixing warnings helps increase model performance, and it is becoming a requirement with some owners. The Isolate Warning add-in highlights elements with warnings in 3D views to facilitate quicker resolution of errors. Super free and 2016 compliant—it sounds good to me.

Speaking of warnings, the duplicate mark warning is a fact of life in workshared models, but owners still asked for that warning to be cleared. This little gem clears the warning and gives the user choices. The user can decide to clear duplicate marks of pre-selected families or all loadable families in the project. The mark value can either be set to nill or given a sequencial value to clear the warnings. In either case, the warning is gone. The interface is better than average and easy to use, but it will cost you $10 American.

This Autodesk add-in has up-to-date improvements to the default IFC import/Export including an alternate user interface for export that adds extra options. It's from Autodesk, it's free, and it's kind of a no brainer for those in need of IFC compatibility.

Color Splasher allows the user to select parameters associated with Revit Categories and then choose colors to associate with them. It has a simple, easy-to-understand interface that quickly becomes addictive. The ability to save and load schemas means users can skip the easy setup on repetitive uses such as "find all plumbing fixtures and color them red and show powered mechanical equipment dark and non-powered grey." Yes, the ability exists in native Revit, but users may find Color Splasher way more convenient and easy to use.
Figure 3: Color Splasher

Quite frankly, Workload Monitor scares me. It detects the file name and project name when a project is opened and then clocks inactive time until the project is closed. It produces a report that tells the effective use time of the user by showing the total time open minus the inactive time. This is where big data just loses the point. Active design doesn't always mean picks and clicks. I don't really need this information; I would prefer to know how long Revit was inactive due to the spinning wheel. That information could be used as evidence that PC upgrades are in order, instead of that my people are lazy.
Chances are you are working too hard on something that an add-in can help with. The Exchange is a great place to start exploring the opportunities. A search of the Internet will find even more. As a BIM Manager, I recommend being absolutely sure of a tool before adding it to the arsenal. Remember that there are no guarantees that the tools will work as advertised. They may interfere with other Revit processes or add-ins. The makers of the add-in may not produce a new version when you are ready to upgrade. There may be little or no technical support and you will most likely be tasked with deploying and upgrading every tool you add. Lastly, keep the user in mind. It can be said there are already enough tabs in the Revit ribbon. A great number of the add-ins on the Exchange produce their own tab, and it does not take long before that productivity tool has cost time because users can't find the tabs they need in the forest of tabs that have been introduced.