Top DAUG Competition at AU2011
This year the AUGI Top DAUG contest at AU2011 was totally revamped. In conjunction with KnowledgeSmart, AUGI defined seven categories for the Top DAUG's. The contestants sat at HP workstations and took a 14 minute timed test. The test included multiple choice questions and screen exersizes in the chosen product.
AUGI Top DAUG contest at AU2011 had seven products in the mix this year. Each product had a Top DAUG winner defined by the most correct in the shortest time. These 7 winners results were compared to define the Overall Top DAUG.

The overall Top DAUG for 2011 was Brian Hailey with a 100% score in 6 minutes and 10 seconds using Civil 3D.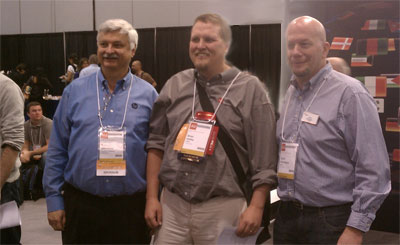 The Overall winner received a free pass to AU2012 from AUGI/Autodesk plus a notebook computer from HP. The category winners received a $100 gift card to Amazon from KnowledgeSmart.
See the T-Shirt design winners here

The other six winners were:
Aaron Maller using Revit Architecture 100% correct in 6:55
Brent McAnney using AutoCAD 2D with 100% correct in 11:25
Rebecca Frangipane using Revit Structure with 98% correct in 13:45
Joe Bartels using Inventor with 80% correct in 8:20
David Raynor using Revit MEP with 80% correct in 13:25
James Clarke using 3ds max with 64% correct in 13:55
Here are the results for each category
AutoCAD Civil 3D
Score
Time
1
Brian
Hailey
100%
0:06:10
2
Richard
Lawrence
98%
0:13:00
3
Travis
Winter
92%
0:12:45
4
Bryan
Thomasy
90%
0:13:55
5
Kirk
Noonan
89%
0:10:55
6
Jeff
Nichols
89%
0:13:35
7
Bruce
Klug
86%
0:13:55
8
Brent
McAnney
84%
0:08:10
9
Charles
D'Errico
84%
0:09:15
10
Bill
Neuhauser
84%
0:12:15
Revit Architecture
Score
Time
1
Aaron
Maller
100%
0:06:55
2
Brian
Mackey
100%
0:08:40
3
Anthony
Tiefenbach
100%
0:08:55
4
Steve
Faust
100%
0:09:20
5
Sean

Darnell
100%
0:12:35
6
Eric
Bernier
99%
0:09:35
7
Adam
Ward
99%
0:12:25
8
Douglas
Bowers
99%
0:13:15
9
Andrew
Fisher
98%
0:09:30
10
David
Ivey
98%
0:10:00
AutoCAD 2D
Score
Time
1
Brent
McAnney
100%
0:11:25
2
Alex
Lepeska
83%
0:10:45
3
scott
wilcox
83%
0:12:50
4
Heather
Shrieves
83%
0:13:55
5
Timothy
Vaughan
75%
0:13:35
6
Ben
Rand
75%
0:13:55
7
Decio
Ferreira
75%
0:13:55
8
Jim
LaPier
75%
0:13:55
9
Richard
Lawrence
75%
0:13:55
10
Youssri
Salman
67%
0:08:20
Revit Structure
Score
Time
1
Rebecca
Frangipane
98%
0:13:45
2
Andrew
Lawrence
90%
0:13:55
3
Brian
Mackey
83%
0:13:55
4
Eric
Bernier
76%
0:11:55
5
Matthew
Hill
76%
0:13:55
6
Tina
Bos
71%
0:13:55
7
Michael
Patrick
64%
0:13:55
8
Jason
Rhodes
62%
0:13:55
9
Fernando
Oliveira
60%
0:13:55
10
Bryan

Tenhundfeld
54%
0:13:55
Inventor
Score
Time
1
Joe
Bartels
80%
0:08:20
2
Gerrard
Hickson
80%
0:09:05
3
Andrew
Warren
80%
0:10:05
4
Bill
Graham
80%
0:12:45
5
Alex
Karan
80%
0:13:40
6
Marius
Minnen
80%
0:13:55
7
Anders
Tokerud
70%
0:13:55
8
Chris
Brown
70%
0:13:55
9
Scott
Wayand
70%
0:13:55
10
Curtiss
Cooke
60%
0:11:55
Revit MEP
Score
Time
1
David
Raynor
80%
0:13:25
2
John
Karben
68%
0:13:25
3
Fernando
Oliveira
68%
0:13:55
4
Jason
Vaia
68%
0:13:55
5
Philip
Charlson
68%
0:13:55
6
David
Rushforth
67%
0:13:55
7
Clifford
Baker
65%
0:13:55
8
Douglas
Bowers
61%
0:13:55
9
Maxime
Sanschagrin
60%
0:13:55
10
Paul
Beseman
60%
0:13:55
3ds max
Score
Time
1
James
Clarke
64%
0:13:55
2
Jesse
Sandifer
36%
0:13:55
3
Dan
Heselwood
21%
0:04:05
4
Paul
Mazzoni
21%
0:13:55
5
Fernando
Oliveira
11%
0:09:10
6
Jens
Tange
11%
0:13:55
7
Matti
Oopik
11%
0:13:55
8
Yosun
Chang
11%
0:13:55
9
Douglas
Bowers
7%
0:09:35
10
Michael
Patrick
7%
0:12:55