TIPniques: Setup Wizard
Autodesk's latest release of AutoCAD, AutoCAD 2010, brought to us many new features and improved on several others. One of these improvements was the Initial Setup Wizard. This tool brings us another method for customizing our Workspaces. Workspaces have been around for a few releases now, so they are nothing new. However, some users have found them difficult to set up.
What is Initial Setup and when do I use it?
Initial Setup is a tool designed to run when you install AutoCAD 2010 to help you set the user interface, and the default template file, to the way you work. More specifically, it sets your workspace to your design genre and tasks.
One great feature of the Initial Setup Wizard is that if you skipped it during installation you can run it again. In fact, you can run it as many times as you want to.
How does it work?
To start it up, open the Options Window by typing OPTIONS on the command line. Go to the User Preferences Tab. Near the bottom left will be the Initial Setup Button. Click it to start the Wizard.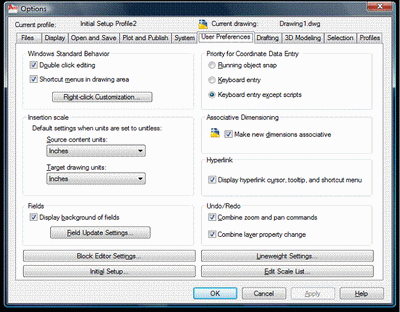 Figure 1: This is the Options Window. Go the User Preferences Tab to start the Initial Setup Wizard.
There will be a series of three screens; each one requires that you establish different parameters for your new Workspace. The first screen will ask you for your preferred design industry. Doing this will set your default tool palette to your chosen industry, as well as help Autodesk choose specific web content for you industry.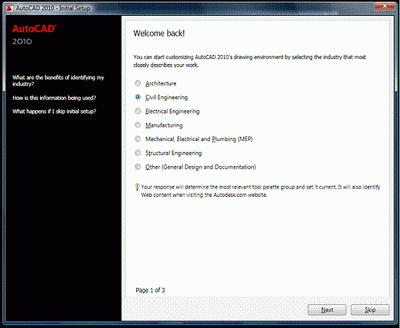 Figure 2: Pick your industry.
The second screen gives you choices of a few task-based toolsets that you can either include or exclude from your workspace. There are four of them: 3D Modeling, Photorealistic rendering, Review and Markup, and Sheet Sets. Otherwise, your workspace tools will be based on the 2D drafting tools.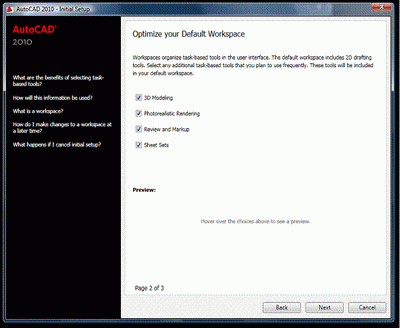 Figure 3: The second screen in Setup Wizard allows you to pick from a short list of task-based tools to add to your workspace.
The third and final screen will ask you for a template file. If you already have one that you want to use, then browse to it. You have two other choices of template file sources. You can use AutoCAD software's default template file, but how boring would that be? The other choice is from a brand-new, industry-specific template file that comes with AutoCAD 2010. Remember on the first screen in the wizard when you chose a design industry? Well, AutoCAD applied that choice here to the new template settings. It will automatically insert your choice here. The other choice you need to make is your units. There are two options, metric and imperial.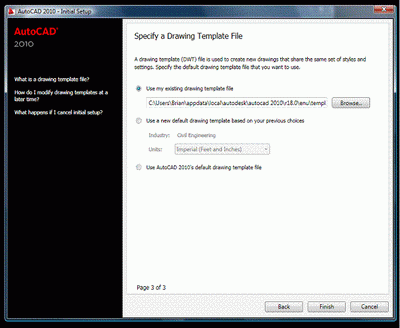 Figure 4: The fourth screen allows you choose a template file to use as your default.
Once you have made your choices, you can go back and review them using the back button near the bottom right-hand side of the window. All of your settings will remain intact, so don't worry about losing anything. If you want your template file to be in an industry other than the one you previously selected, then go back and make your change. Now that you are finally done, click the FINISH button.
Your new workspace
As soon as you finish the wizard, AutoCAD will generate your new workspace and name it, of all things, Initial Setup. If you already have an Initial Setup Workspace, it will number the new one. Check out your new Workspace. It should have all of the settings you chose. If you picked the new industry-specific template file, you will find that the units and precision are set to the typical needs of that design industry.
Industry-specific styles
If you chose the industry-specific template, you will find that there are several styles preset in there. For example, when you open the Dimension Style Manager, you will see three default Dimension Styles already created for you. One of them is the classic Standard Dimension style. A second style is an Annotative style, while a third style will be named per the design industry you chose.
In my example I chose Civil as my design industry so I have a Civil Dimension Style. You will find the same naming style in your Multileader Style Manager. The text style manager has four styles, none of which are industry specific. The styles consist of the typical standard text style, an annotative style, and two new ones: notes and titles. The notes style is set to a height typically use for most notes in a drawing where as the title style is about twice as high. This style would be for headings, section call outs, and so on. Of course, you can always make your own, just as before.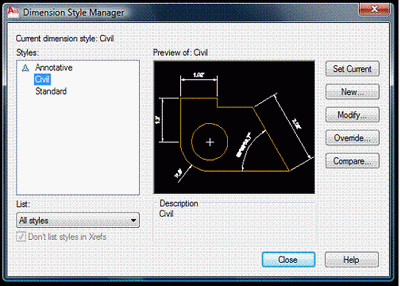 Figure 5: The new industry-specific templates have preset styles that are designed for your industry.
Advantages to using the Initial Setup wizard
There are several advantages that the Initial Setup wizard can give you. It provides a tool that can quickly and easily generate new Workspaces that can serve specific tasks and industry needs. It gives typical users a way to customize AutoCAD 2010 to fit their needs without having to program the Custom User Interface.
Conclusion
The Initial Setup Wizard is a great tool that you might instinctively ignore or just overlook. Many users that have network installations of AutoCAD would never even see that it was there on install. I have used it to create few different drafting environments, especially when working with different units, which allows me to work in different design genres. It is easy to use and if you make a mistake, just run it again. If you think you don't need this tool because you can use the CUI, I suggest that you give it a try anyway. See what it does and if it can help you. I would also suggest that you at least check out the industry-specific templates that are available with this release.