Tipniques: Firing Up Revit Architecture 2013
It's that time again for yearly Revit glee and groans. As overwhelming as working on office Revit projects and simultaneously keeping up with software updates can be, here are some impressions of what goodies are offered and what you are faced with in moving to version 2013.
You can't go "Home" again in Revit Architecture 2013. I used to tell students "if you don't know where a command is, go "Home" "to the Revit Home tab. A quick inspection shows that the tab that was named "Home" has been renamed "Architecture" and, I suspect, in Revit versions for other design disciplines, named for the appropriate profession (i.e. Structural).
Oops, looking past the renamed tab to the drawing area, my model window and curtain wall glass telegraphed through the model, as all too-solid "ghosts" regardless of the visual style selected from the view bar. Fortunately, this obtrusive specter had an easy solution found in updating my Nvidia graphics card driver.
Life in Revit is good again; let us see some of what we have in our 2013 grab bag:

Browser Search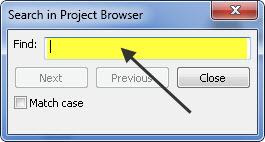 You can now select any item in the browser, right click and select "Search" and it will bring up this dialog box that lets you search for views, families etc. in the ever growing browser list. Welcome indeed!
Dimension Enhancements
Three new dimension styles:
Diameter Tool: On the Annotate Tab lets you dimension diameters and control diameter appearance in the Properties dialog


Split Dimension Chains: Allows you to remove a segment(s) from a continuous string by selecting segment and deleting it
Dimension Properties in Equality Strings: You can now create equality formulas using Properties and Edit Type command for Equality Display Formula

Revit Exchange
If you are tired of web hopping to find Revit apps, Autodesk has started a new apps site where you can find some of them (think Seek). Log on to http://apps.exchange.autodesk.com/RVT/Home/Index and look at the nascent collection of 13 free and free trial apps currently available. If you have previously felt that Revit's "elevators didn't quite go all the way to the top" you might enjoy trying Elevatorarchitect, a free app that does a fairly impressive job of helping select and model Otis, Kone, Mitsubishi, and Thyssen Krupp brand elevators. The only glitch I found was that even though it creates both cab and opening doors, the app does not cut an opening in the shaft wall to allow the doors to display (just use Revit's Opening>Wall command to create the opening to solve the problem).

View Type Creation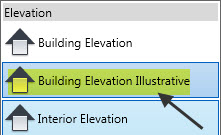 One of my favorites in this year's new bag of goodies, it allows you to create new floor plan, elevation, section etc. views by simply using the Edit Type, Duplicate commands with an existing view as the basis. In this example, I created a new Elevation View named "Building Elevation Illustrative". The new view's properties include the ability to use Identity Data>View Template Applied to select a template to set its appearances.

Stair by Component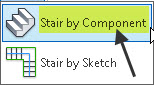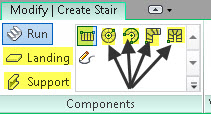 This new addition reduces pilgrimages to your office stair zen-master. In addition to creating stairs as an assembly and by sketch, you can now create them by components (run, landing, support, and railing). Using Modify|Create Stair,L shaped, U shaped, winder, switchback, and circular stairs are created with increased simplicity. Some of the previously inherent boxy rail appearance can now be reduced using the new Edit Rail Joins option.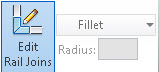 Editing and Managing Materials
Once again, the Materials user interface has changed. My initial reaction is that it seems more clearly organized and takes up less screen real estate. Gone are the 2012's tabs now replaced by radio buttons that bring up the related properties in the already open properties panel below.
Materials is a very happening place across Autodesk platforms and a subject too large to be covered here. Material properties are now found under the heading "Assets". These assets now include Thermal properties along with the already existent Structural (now a subset "Strength" of a new heading "Physical" properties), Graphics, and Appearance properties.

Assets and Materials can now be saved together as part of your custom library. These user- and project-based libraries can not only be used on other projects, but shared between Autodesk platforms such as AutoCAD and Inventor. Autodesk says that manufacturers are now coming on board to add products to Revit's platform-shared Materials. If you are thinking of the possibilities for the analytic data to be exported from Revit to GBXML, you are right on. From now, most of the (sometimes boring to architects) data on the strength of materials, R-values, etc. reside right in one Materials library.
Some analytics occur right in Revit itself. For example, as you build a Wall Type, Revit calculates an approximate R-value if you assign appropriate thermal assets to each layer.

Visualization Enhancements

At long last, Revit lets you import sky or other background images into all visual styles! That means your elevations, sections, 3D, and Iso views can show images of the project surroundings, sky etc., without having to export the model to a rendering program. Simply use the Graphic Display Options menu on the View Control Bar to select an image of your import and choice. If that is not enough, your entourage no longer looks like 2D cardboard placards. In Realistic style those RPC peeps and cars pop into life.


There is far more to "play with" in the new Revit Architecture 2013 and a good place to start is with Autodesk's videos http://wikihelp.autodesk.com/Revit/enu/2013/Help/00004-Video_Galleries/2013_New_Feature_Videos . We now have the opportunity to apply these new tools and find out how they work when applied in your studio. I look forward to your comments as we take this shiny new model out on the track for some good solid road testing.
Gerry G. Ramsey is a principal architect and LEED AP BD + C in San Francisco California with over 38 years of experience in public and private sector projects. He led his firm in its adoption of Revit Architecture eight years ago. As an Autodesk Certified Revit Architecture Professional, he currently teaches Revit Architecture I and II at San Francisco State University, and Revit Architecture I at Laney College in Oakland, California and serves as a Revit consultant in the design community.
ggramsey@austin-ramsey.com