Think Quality Control
In this article we are going to look at some project browser organization that may assist with quality controls. I am sure you have been in some Autodesk® Revit® projects where your browser has ??? categories and/or views scattered throughout the project making it difficult to navigate the model. Because Revit makes it so easy to generate views, people get carried away and do not pay close attention to the organization of these views inside the project browser and how it will affect other team members.
Define your categories
Some typical categories for organizing views in a structural project may be:
Coordination
Working views
Documentation
Analytical
I would like to suggest making a category just to keep quality control views. The goal of these views is to give you a quick glance at the integrity of your project. These views will have view templates assigned, different filters and schedules that are not used in your coordination views or construction document views. Let's start with the basics of creating the category and assigning it to a view in the project browser. There are a few ways to accomplish this. Let's look at duplicating the view type.
Figure 1: Duplicating view type
Once we have another view type established we need to set up the rules to organize our project browser.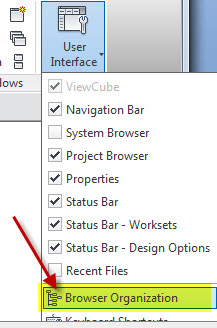 Figure 2: Project browser setup
Once in the browser organization window, create a new set of rules (step A in Figure 3), provide a name (step B in Figure 3), and finally edit your rules (step C in Figure 3).
Figure 3: Define browser rules
For the rules we will sort our browser by Discipline and then by Type. Once the rules are set, duplicate a view and assign the correct view type to confirm your browser organization rules are being applied.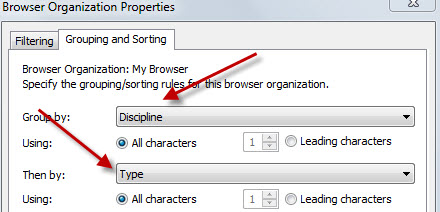 Figure 4: Define browser rules
Figure 5 shows the new Quality Control view type in the project browser. Using this kind of browser organization will make it more efficient to browse for views during design and construction documentation phases.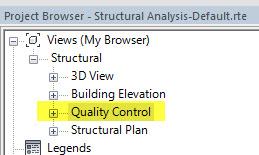 Figure 5: Define Browser Rules
View Templates
View templates are nothing more than a set of pre-defined visibility graphics assigned to a view. Revit Structure 2014 now has temporary view template displays. This allows you to apply different ways to view your model in a temporary state. Instead of having several different views for coordination or quality control, you can cycle through different view templates displaying your model in different VG (visibility graphic) states. Figure 6 shows the area in the properties palette where you assign the view template.

Figure 6: View template assignment
Figure 7 shows the new feature in Revit Structure 2014 that allows you to assign a view template to your current view in a temporary state.
Figure 7: Temporary view template
Figure 8 is the standard view template settings. This is an under-utilized tool in Revit that helps with consistent views, and if used correctly, will assist in the QC (Quality Control) process.

Figure 8: View template settings
Filters
Filters are most commonly used in Revit MEP to display systems in different colors—such as supply air versus return air systems. In the structural world, filters can be used to help you visualize different areas of concern in your model. For example, if a structural engineer is concerned over structural members of a certain size, a filter applied can help those members be identified more easily. The image below shows a filter created that will look for structural framing volume of over 2cuft.
Figure 9: Steel volume filter
Figure 10 shows the filter being applied to the view in visibility graphics.
Figure 10: Apply filter to view
Even though this is a basic example, do not underestimate the power of filters in a Revit Structure model. There may be certain things an engineer is looking for in a model and filters can provide a way to graphically display these items. Figure 11 shows the result of the filter being applied to the view.
Figure 11: Result of filter
Schedules
Schedules from a quality control point of view are just a great way to check your data. I would suggest looking into creating a quality control schedule that schedules all the view names in your model. This makes it much easier to make sure views meet your company standards. This schedule can help you identify views that don't belong to a category or are just not necessary in the project.
Figure 12: Sample view list
Sections
How many times are you in a project and see section 1 through section 101. Sections are a great tool while modeling a structure. However, if anyone else is involved in your project these sections hurt production and organization. Next time you are cutting a section in a model strictly to help you model and not for construction documents, name it accordingly: PR-HOR-TEMP.
This has the initials of the owner, the direction of the section and that it is a temporary section. You can be more descriptive if needed, but at least another person in the model has a clue what the section is being used for. Then once your visibility graphics are set for that section you can move it to different locations of your model as needed. This is much more efficient then generating an endless number of sections that clutter the project browser.
Summary
BIM and 3D modeling is here to stay and as an industry we all need to rethink our Quality Control methods. The days of printing out drawings and grabbing a red pen will fall short in controlling the quality if the 3D world. Use some of these processes to better organize your models.