The Truth about Sharing Inventor Data
Our data is no longer our own. Our drawings are there to give a clear instruction to the next person in the chain. But maybe our drawing isn't enough. Maybe we need to give more.
If we've already taken the time to digitally prototype our design in Autodesk Inventor® before we document it, then maybe we can provide more information—with little extra effort.
When I was merely knee high to a drawing board, my boss impressed upon me the importance of creating quality drawings.
"Paul," he said, (he remembered my name that day), "we should be able to roll these drawings up, put them in a tube, and send them to Japan, and they should be able to build it."
And he was right (and still is). But we no longer need to send very thin sections of compressed wood pulp halfway around the world in a tube (also made of compressed wood pulp). We can just send the data.
In this article, we will look at the modern day equivalent of rolling up a set of drawings—Design Web Format (DWF).
We will also look at how to incorporate the Inventor model and BOM (Bills of material) into the DWF to ensure that the information set is complete.
Finally we will look at uploading the completed set to the cloud for sharing or review.
Note: if you want to hang out with the cool kids, you need to remember to pronounce it "Dwif!"
Not Your Grandfather's Drawing Set
Let's start small with "printing" a 2D drawing to DWF. In Autodesk Inventor, go to:
Application Menu > Save as >Save copy as
The 'Save as' dialog will open
Pick DWF or DWFx as the file type
Choose your location and give it a name
Save
Done
Tip: You can also save a DWF using: Application Menu > Export > Export to DWF. This method will show the DWF options first, before taking you to the "Save as" dialog.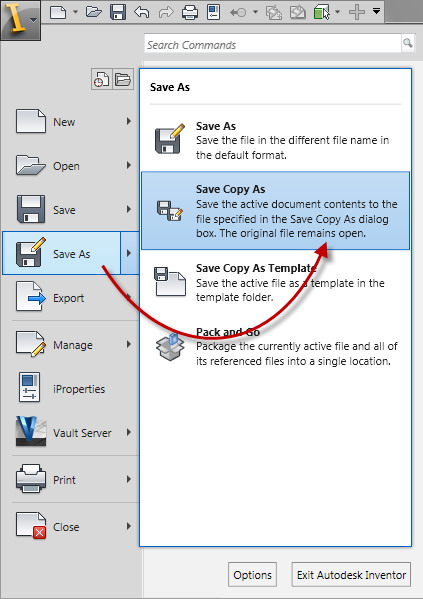 Saving the Drawing and Model Together
To take a little more control over what is coming out of Inventor, you can use the DWF options.
With the 'Save as' dialog open, click on the "Options…" button at the bottom.
The DWF export options give us three choices: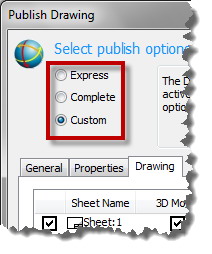 Clicking the Express radio button will export only the 2D drawing.
Click the Complete radio button to export the drawing, model (including all views), and BOM ('structured' and 'parts only', if available).
Clicking the Custom radio button allows you to pick and choose whether or not to include the 3D model and BOM.
By default, all saved views and both versions of the BOM will be sent to the DWF.
Next, we will look at how to send only the views and BOM that we want.
Saving Only the Model
If you only want to send a DWF of the model, close the drawing file, open the model file, and go through the same steps.
Application Menu > Save as >Save copy as
The 'Save as' dialog will open
Pick DWF or DWFx as the file type
Choose your location and give it a name
Save
Done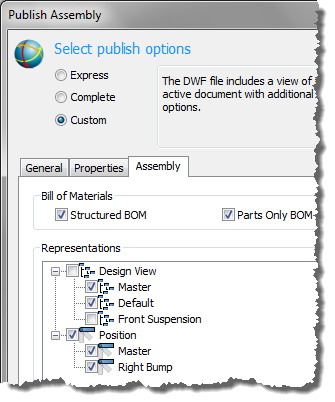 Once again, we can refine our output using the 'Options…' button.

We can see the same three options as before. Express sends only the model. Complete sends the model, BOM, and saved views; and Custom gives us a few additional options.
When clicking the Custom button from an Assembly file, we can choose which views and positional reps are sent to DWF.
Note: LODs (Levels of detail) are not available to be included in the DWF.
We can also pick and choose which BOM to include—structured, parts only, or none.
Sending a Drawing and Model with a Little More Control
Unfortunately, the options to pick and choose what views and BOM you want to send are only available when you create your DWF from the Assembly model.
So what if you want to be a little more choosy? It is possible, with this three-step process.
Export the 3D model with views and BOM to DWF, using the Custom option
Export only the drawing to DWF, using the Express option
With the model DWF open in Design Review, drag and drop the drawing DWF from Windows onto Design review's Thumbnails tab
Save
It's All in the Cloud, Man!
Now that you have your virtual drawing set all rolled up in their 'tube,' how are you going to get it to your collaborator or customer?
You could email it, but that's sooo 1990s. These days we host our "DWiFs" in the cloud, dude!
To upload your DWF to the Autodesk cloud, first you will need an Autodesk 360 cloud account. Anyone can have a free Autodesk 360 cloud documents account with 3GB of space available.
Autodesk subscription users get 25GB of space included in their contract. (Figures are correct at time of writing.)
Note: If you really want to host a DWF in the cloud, but you don't want to start an Autodesk 360 cloud account, you could try Autodesk labs Project Quickshare:
http://quickshare.labs.autodesk.com/
Now that you have logged into your Autodesk cloud account:
Click on upload document
Drag and drop files onto the window
Click upload now
Wait (not for long!)
Click on 'My cloud documents' to see your uploaded files
It really is as easy as that! And the nice thing is that you can even do some rudimentary document management tasks in the cloud, such as tracking versions of your DWF files.
Introducing the Most Excellent Quickshare Viewer
Now that you have your DWF packaged up and hosted in the cloud, it's time to take a peek at it.
This is done with the same excellent viewer that the Autodesk Labs team introduced with Project Quickshare. Just click on your DWF file in the list to open it up in any WebGL-enabled browser. This includes:
Firefox 4.0 and higher
Google Chrome
Internet Explorer 9 and higher
Safari 5 and higher
Note: The Design Review app is available from the Apple iTunes store to view DWFs from your 360 account on your iPad:
http://itunes.apple.com/gb/app/design-review-mobile/id459112753?mt=8
Sharing Is Caring
If you are happy with what you see, it's time to share. You can share with individuals by choosing: Actions > Share > Private sharing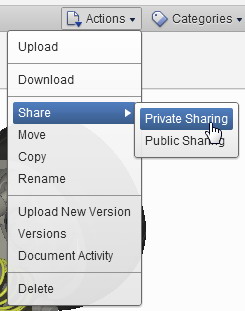 This will pop up a dialog in which to put your colleague's email address.
Click on 'Add' to add the email address to the list of people who can see the DWF.
You now have the option to add a personal message to your colleague.
Tip: This is a good time to review the permission levels that you are granting your colleague.
Click on the fly out under 'Access' to set your colleague's permission to view, download, or supersede the DWF file.


Finally, click on 'Save and Invite' to save the new email address to the list of approved viewers and send out an automatic invite email to your colleague(s).
What's Good for the Goose...
If you don't care who sees the DWF file that you hosted in your cloud account, you can turn on public sharing.
Simply click on the 'Documents tab' and click on the toggle control underneath the thumbnail.

You can now email this link to all and sundry, or embed the DWF in your website.
Check out this test version on CadSetterOut.com: http://cadso.co/MOII33
Note: The BOM is not visible in the online viewer. Your colleagues will have to download the DWF from Autodesk 360 and use Design Review to interrogate this data.
Conclusion
The world is moving on at an incredible pace. The ability to share a drawing set, including 3D CAD files, via your internet browser seems quite extraordinary to me.
Check it out, have fun with it, and remember to listen to your old boss. He or she might still know a thing or two!
Sidebar
DWF is an application-independent, secure, compressed file format for sharing 2D and 3D data.
DWF is free to create from Autodesk products, and is free to view using Design Review.
DWFx is the latest version of DWF, which has been written to comply with ISO/IEC 29500-2:2008 and Microsoft's XPS (XML paper specification).
DWFx can be viewed on Internet Explorer 7 and above.
Paul Munford is CAD manager and a 'Setter out' (a specialist joinery, cabinetry, and millwork drafter), for Halstock joinery in the UK. Paul would tell more stories about his old boss, but people would think that they were fiction. Feel free to contact Paul via his Blog http://cadsetterout.com/contact/