The True Meaning of CAD in the Industry
2011 has been an exciting time for Autodesk® CAD users across many manufacturing industries. They have been releasing some pretty crazy stuff, most of which has been free. Watching the 123D series of software mature and expand at a massive rate of knots has been enthralling, some of the Autodesk Labs technology previews provide a window into the future of what may be on offer by Autodesk and the recent 'Everything Changes' marketing push from Autodesk has also been creating quite a stir. Not to mention the growing array of severely cool mobile apps being published for both the Android and iOS operating systems. It's obvious Autodesk is focusing a great deal of its resources on real-time collaboration and rapid prototyping, all the while encouraging a new breed of software users in the maker community with 'plug & play' style applications such as 123D maker and 123D catch.


Figure 1: Autodesk 123D Catch Beta http://www.123dapp.com/catch
With the advent of some of these tools, you can now capture an image of an object with a camera, import it into CAD software, then either clean it up or modify it to suit your desires and prepare it ready for 3D printing. The best bit is it's all free. 3D printing certainly is cool and with huge leaps in 3D printing materials technology and cost, it has become feasible to use 3D printing to manufacture low-volume runs of actual parts and products instead of just one-off prototypes.
Setting the Scene
What about the more traditional manufacturing industries? Some might say the ones who don't make "toys" such as the hundreds of thousands of manufacturing companies around the world who use a vast array of CNC and manual machinery to produce wonderful products day in and day out. There is an obvious void in Autodesk's arsenal of software solutions when it comes to getting the Digital Prototype into production. This is interesting because I recently watched a video of Carl Bass talking about the Suites of software solutions Autodesk started offering this year. He was presenting from within the Autodesk Gallery and had the following to say.
"One of the interesting observations we had, when we looked at the kind of designs that were highlighted in the Gallery and is typical of the work our customers do around the world, is the range of software tools they need to use to accomplish their tasks. As the design complexity has gone up, as the demands on our customers to create better, more innovative products and bring them to market more rapidly, as we saw the wide range of tools our customers were using to accomplish their tasks, it inspired us to bring to market the Design & Creation Suites."
He continued:
"What we want to have is the ability for people to work with our suites and move their data effortlessly and seamlessly through our products, so they can more effectively get their design tasks done. So we carefully studied how our customers worked, what tools they needed to accomplish their job and the suites represent a combination of tools that we saw our customers using."
Carl said two things that caught my attention: "..bring them to market more rapidly.." and " So we carefully studied how our customers worked, what tools they needed to accomplish their job." Autodesk definitely has provided us tools over the years to achieve both of the points Carl states and the Suites certainly are awesome on so many levels. However, a massive and critical part of the job of designers, engineers, and drafters is to get the product into production as quickly as possible once the design itself has been finalized. It's in this area that Siemens has been focusing for the last 15 years, but Autodesk seems to have been neglecting it in favor of the more sexy and marketable features.
For this article, I have had the valuable opportunity to ask John Evans (from DesignandMotion.net) a number of questions. He has a broad spectrum of experience and knowledge, which allows him to offer up relatively unbiased responses. Therefore, here are a few of the questions I asked him and his responses:
Q: Do you think Autodesk are missing a trick by not making various forms CNC machining prep become seamless from CAD to CAM? At the end of the day, actually making the stuff is equally as important as creating and verifying the design.
A: Good practices in Inventor to reduce the bottleneck are to get a feel for what a manufacturer can and can't do and aim for that. Keep geometry as simple as possible, with nominal radius sizes when reasonable. For example, if weight isn't a problem, tight fillets can be enlarged, requiring far fewer passes to accomplish. Material selection is also an issue. We can't grind aluminum quite the same as steel, and in either case, some alternate methods like pre-prepared shafts can take the place of milled structures if considered early in the design.
Q: Can you imagine any software tools that Autodesk could create to aid in the transfer of data from CAD to CAM? Or direct to CNC?
A: I think we need a couple of things in this arena - I would like to see the Granta Eco Materials advisor add strength to their list, so you can filter materials by minimum strength, and then by other factors such as price and 'eco-ness.' I think it could be introduced into a Manufacturability tool + Eco mat advisor combination, this would be sweet. Then if you went with bar stock aluminum, it would warn you the component is larger than standard stock or the material used has other cheaper alternatives in this alignment and strength configuration, etc. That would be a great project.
Figure 2: Image courtesy of Paul Munford www.cadsetterout.com.
To summarize, it appears John would like a feedback mechanism to provide information about what geometry is the easiest to manufacture. This would include a range of options so he can optimize his designs and receive some advice on which materials would suit the application and the manufacturing process intended for the part while achieving the Eco and sustainability goals required. I personally think this is a thoroughly reasonable thing to desire and expect from a digital prototyping and engineering software package.
Therefore, I'm going to put to you the suggestion that Autodesk could create some cool software tools to aid an array of manufacturers worldwide in their daily battle to get their designs seamlessly from CAD to CNC or production. Improve data reuse into manufacture, decrease the differences between the designed component and the manufactured version and ultimately break down the 'Us and Them' culture between the design office and the workshop floor.
The Challenge
To start with I think Autodesk could do a lot more to allow Autodesk Inventor® to prepare its output 3D data in a more effective manner. The first thing they could do is provide the user with the option to define base planes for the part, which are independent from the WCS. These base planes serve to represent the work surfaces the parts will be fixed to during manufacture. The result will not only allow accurate analysis of the parts dimensions relative to those planes for the BOM and further manufacturability analysis, but also greatly improve the export quality of the data for CAM.
I had the good fortune to have an e-mail discussion with Bryan Dreibelbis from Siemens Americas Channel Enablement. As a result, I can tell you that defining a 'manufacturing' base plane is the first thing a designer is asked to do in Siemens CAD software (Solid Edge and others), before they create any model geometry or PMI data (Product and Manufacturing Information). This ingrained requirement is reinforced by a comment Bryan made.
"I believe that in today's Engineering environment, for engineering tools there is a stronger focus on process, workflows, and embedded intelligence. The ability to quickly identify and reuse data regardless of its source and to configure the data to a company's process."
In my opinion, this is also a view that Autodesk should be taking because, after all, Inventor is a key component of Autodesk's manufacturing division.
Another example where Autodesk could improve the lives of staff that have to work with the data Inventor produces is in the sheet metal flat pattern output. In my opinion, It needs more customizable options. The flat pattern tool currently does a wonderful job of analyzing internal and external loops, along with visible features and hidden features. Nevertheless, it would be nice if you could get it to:
include the feature name in the dxf layer names.
analyze the depth of features and include that information in the dxf layer names.
include an exportable flat pattern sketch with part numbers, etc., which could be etched onto the part.
This would allow many CAM packages to use the dxf layer names to apply tool paths automatically, straight from the Inventor data.
Figure 3: Inventor's DXF Export options.
The knock on effect here would likely result in the flat pattern tool being used across multiple industries to generate their CNC cut files, even if their parts don't need flattening. As it stands, there are too many obstacles to do this when you can get the job done via other means, which have other benefits.
This leads nicely to the issue of getting the components dimensions into the BOM and parts list. Unless you have components that are designed parallel to the origin planes and axis then Inventor's boundary extents information doesn't represent the overall size of the part. Using the example of a 4x4x4 cube modeled when its faces are 45 degrees from each of the origin planes, then Inventor's internal method of using a 3D boundary box returns a result that is a lot bigger than the stock required to make that part. It, in fact, returns an overall size of 5.66x6.83x6.83 (using the 4x4x4 example). In addition, if you happened to forget to turn off some work features then it further distorts the overall dimensions.
Figure 4: Creating Length, Width, and Thick custom iProperties.
In all reality, this isn't a practical way of obtaining this information. I would say just about every Inventor user on the planet is expected to created at least two reference sketches and attach driven dimensions, name them and export them to create custom iProperties—just so you can create an accurate BOM for your company's ERP system and a parts list for your drawings.
That is elementary stuff. I understand different industries may want to measure the parts in different ways and with complex parts it's far from clear cut. This is where defining a 'manufacturing' base plane that is separate from the origin information would provide a lot more accuracy and allow a reasonable degree of flexibility.
When Autodesk revealed the custom UCS tool a few releases back I got very excited, hoping it would enable this kind of workflow. My hopes were premature and I was left disappointed. The only tool in Inventor that will provide accurate overall dimensions most of the time is the sheet metal flat pattern; however, this doesn't work when you use multibody modeling techniques since the thickness has already been defined. Linking the bodies' thickness parameter from the source file through to the sheet metal parameters results in that workflow falling into the too hard basket.
When you think about it, it's incredible how far accurate Length, Width, and Thickness (LWT) information can take you. If Autodesk made this a really easy or even automated task to carry out then we would be able to focus on more important tasks, such as using tools which help the designer/engineer to assess the manufacturability of the part they are designing. LWT has a direct impact on which machines will be able to manufacture it, if the part needs to be sub-contracted out to be made, whether or not there is stock available as standard in that size and grade, and if it will require any specific processes to be carried out or treatments applied.
We don't use it in my industry, but I'm well aware that decent GD&T support is lacking in Inventor. Once again this is related to LWT. It's more than feasible with the current system for an engineer to specify two conflicting tolerances between two parts, which would result in them interfering with each other to the point where they won't even fit together. It would be embarrassing having all these amazing simulation and analysis tools at your disposal but then manufacturing rework is caused due to a lack of GD&T analysis or ingrained intelligence upon application.
Earlier this year Autodesk Labs released the Jig & Fixture Design technology preview, it's awesome… for those who use those kinds of fixtures and fittings. However, I have to applaud them for including the ability to build your own assets—it's exactly the kind of functionality that's needed with the other design accelerators. But here's the thing, most companies will want to use standard jigs over and over again simply because of the time it takes to set them up. This would also be true in design. Wouldn't it be great if defining a manufacturing base plane also tied it into a predefined jig and fixture type? I think so, since the designer/engineer would be immediately considering how to manufacture this thing they are designing. Of course there will be times when you just need to create custom jigs and fixtures and that's to be expected.
Figure 5: Autodesk Labs Jig & Fixture Design Tech Preview.
I really hope Autodesk Labs understands the limitations this tech preview has and continues to push it to the incredible heights of which it is capable.
CAD to CAM
I thought I should include Wikipedia's definition of CAM to start off this section. Computer-aided manufacturing (CAM) is the use of computer software to control machine tools and related machinery in the manufacturing of work pieces. This is not the only definition for CAM, but it is the most common. CAM may also refer to the use of a computer to assist in all operations of a manufacturing plant, including planning, management, transportation and storage. Its primary purpose is to create a faster production process and components and tooling with more precise dimensions and material consistency, which in some cases, uses only the required amount of raw material (thus minimizing waste), while simultaneously reducing energy consumption.
CAM is a subsequent computer-aided process after computer-aided design (CAD) and sometimes computer-aided engineering (CAE), as the model generated in CAD and verified in CAE can be input into CAM software, which then controls the machine too.
I have highlighted two sections of that definition which I feel are pertinent. CAM is more often than not referred to as Computer-Aided Machining, because of its use in the name of the software used to program CNC machines. In fact, it stands for Computer-Aided Manufacturing, the first highlighted section explains its much broader definition, which in a way is more important in the grand scheme of things and yet there is very little software on the market to specifically tackle the issue during design.
Figure 6: CAD/CAM part vs. actual part.
Which brings me to the second section I highlighted. Traditionally CAE has been carried out as a check at the end of the design process prior to giving it the green light. In the past 24 months, Autodesk has commendably been changing this and with the use of Cloud technology I'm sure it will be a success. That is, CAE is now quite firmly becoming part of the conceptual/pre-design stage via iterative optimization. I hope it's going to be CAM's turn soon—how a part is going to be manufactured and how it is going to move through that process in the factory should be just as much part of design process as simulating how it's going to perform under load in the field.
On that note, I asked John Evans if in his experience CAM has always been a separate department from the CAD guys. He answered, "Yes, CAM is a separate world. With the exception of EdgeCAM perhaps, CAM is not integrated into CAD and design. This has never presented too much of a problem because of one factor—CAM guys have to think in terms of what a machine can do, and tell the machine how to behave. Having separate software, or at least separation from a CAD platform, is the norm."
John's view is true and certainly representative of what is going on in the workplace; however, I would like to see a world where all designers and engineers understood or were helped to understand these CAM and manufacturing processes by the tools they are using for design. This will ultimately challenge manufacturing conventions and lead to better, cheaper, faster, and more easily manufactured products.
Figure 7: Image courtesy of Paul Munford www.cadsetterout.com.
One of the stumbling blocks is that the CNC industry seriously lacks standardization. Each CNC manufacturer has its own interpretation of what is best; ISO CNC code isn't even standardized. There are some guidelines, but they aren't enforced, plus the ISO code standard has a tone of open standard to allow for variation in hardware and machine configuration. This makes it very difficult for software houses like Autodesk to do anything to help smooth out the flow of data from CAD to CNC. Although off topic, a great example of this problem is Autodesk's stance on OpenGL vs Direct X. The overhead required to support the annual certification of their applications on as many graphics cards as possible was a massive problem and they are still stuck with it in some sectors of their organization. What this shows is if they can use a standardized and benchmarked system then they will, even if it means taking a slight performance hit.
So this would be a tricky situation for Autodesk. CAM is a difficult thing to nail. For a start, the CAM industry itself can't get it right and largely seems to be stuck in a rut. Many packages insist on extracting 2D geometry from a 3D solid, so it can apply 3-axis tool paths. Eventually those packages usually end up using the solid geometry for 3D surfacing toolpaths, but they demand a series of wasteful steps to define 2D geometry most of the time. This kind of approach is archaic.
Siemens NX CAM doesn't require the user to extract 2D geometry from the 3D solid, but does provide that functionality to define boundaries or if the user wants to machine 2D geometry. Misler Topsolid also just gets on with it and applies tool paths to the faces of the Solid CAD model straight out of its CAD environment. I have seen that software do things only others can dream of; honestly, every time I look into it again, I loathe what Autodesk put us through with Inventor.
The point is it's a very volatile environment for Autodesk to get into. Doing so would require a great deal of risk by attempting to revolutionize the way CAD to CAM is handled and perceived. The reverse of that is—if anyone can do it, then Autodesk can.
In my opinion, unless Autodesk buys a company such as Planit, MasterCAM, InventorCAM, or any of the other traditional CAM packages, then they should steer clear of this area and instead focus on providing all the tools necessary to ease the CAM programming pain. CAM software developers will then need to tap into those.
Summary of the Future
To enable computer-aided manufacturing to commence during the design phase within the design software itself, the top 5 suggestions I have for the Inventor developers to implement, in no particular order, are:
Increasing customization of the Sheet Metal Export pattern tool, along with support for Compound surface flat patterning and additional sketch export.
Manufacturability and Eco Analysis at the part and assembly level.
LWT—define a manufacturing base plane for a part, allow comparison of its size against customizable but templated database of known stock sizes and process limitations.
GD&T Active Tolerance checking and verification.
Increasing PMI via the use of 3D annotation which can be reused seamlessly within the drawing environment and made accessible for third parties.
Conclusion
When I asked Bryan Dreibelbis which part of the Inventor package he was jealous of and wished was part of Siemens CAD software, he replied:
"Unfortunately I am not very current on Inventor's marketplace. I do not see very much of it in the Manufacturing/CAM area. Is Inventor being sold as an integrated Design/Engineering/Mfg solution?"
He then clarified:
"For me a manufacturing engineering system is focused on CAD>CAM quality and manufacturing process all interfaced and as associative as possible."
I agree entirely with Bryan's definition of a manufacturing engineering solution. Autodesk peddle Inventor and Vault as digital prototyping and manufacturing tools and yet they are crucially incomplete in key manufacturing areas. I personally believe that until Autodesk rectifies the situation, Inventor will continue to be in the shadow of the likes of Siemens and Dassault Systèmes when it comes to providing holistic manufacturing design solutions.
It's not all doom and gloom, though. Bryan also said the following about PMI when I asked them if he saw PMI as the largest advantage Siemens CAD software had over Inventor:
"I don't believe we see PMI as a competitive advantage to Inventor. I believe we probably think all CAD vendors have PMI at some level."
He is correct—Inventor does have iProperties. These can be customized in a number of ways and then leveraged by Vault, iLogic, VBA, and third-party applications. All of these options mean you can generate a lot of information about your parts for manufacturing and your company's ERP system.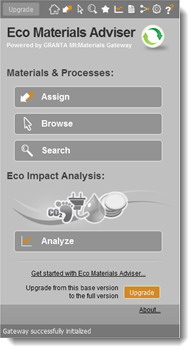 Figure 8: Granta ECO Materials Advisor Dashboard.
In addition, I know of a couple of packages that are heading in the right direction, Granta Eco Materials Advisor and DMSI's Validus software. The Eco Materials Advisor in its basic form ships with all versions of Inventor, but to get the full database and tool set you need to pay for the upgrade, which at this stage in its early development is fair enough. However, I would like to see Autodesk fully integrate this technology into Inventor in the not-too-distant future. To reiterate what John Evans said earlier in this article:
" I would like to see the Granta Eco Materials advisor add strength to their list, so that you can filter materials by minimum strength, and then by other factors such as price and 'eco-ness.' I think it could be introduced into a Manufacturability tool + Eco mat advisor combination; this would be sweet. Then if you went with bar stock aluminum, it would warn you the component is larger than standard stock or the material used has other cheaper alternatives in this alignment and strength configuration, etc."
You can read more about it in its current guise here: http://inventor.grantadesign.com/e2/index.asp and of course on Design&Motion.net.
Figure 9: DMSI Validus 2.0 Inventor add-in.
It's DMSI's Validus 2.0 software that's really got me excited. Al Dean over at Develop3d.com has written a great article taking a first look at the new version, so I won't go into too much detail since I haven't been able to put it through its paces yet. Nevertheless, it really is a great start, covering some of what I have described in this article. It is still in the early days, though and personally, I think they should steer away from some of the iProperty checks since Autodesk Vault and the extremely good value iPropWiz can do a lot of that stuff already. They need to focus more on the manufacturability of the 3D geometry and then pass on process information to ERP systems. I love the idea of their profiles, since this will allow support for different manufacturing plants or maintaining agreed standards with sub contractor.
Overall there is hope, but I am looking forward to the year when Autodesk openly starts supporting some of these initiatives and, of course, I would be happy to offer my services to help that along. Although it may be that Autodesk Nexus 360 is the first step down this essential path for Autodesk. Fingers crossed.
I would like to take this opportunity to thank Paul Munford from CadSetterout.com for his great contribution to this article with his cracking pictures. Also thanks to John Evans for answering a whole host of questions, most of which turned out to be irrelevant, but were still valuable in the form of a great discussion.
Author's Note
Many sources were interviewed during the course of writing this article. Key Autodesk program managers were unavailable until after this article was turned in. Their comments were found to be quite relevant and are included hereafter.
Pete Lord and John Callen, product managers for various Autodesk manufacturing features in Autodesk Inventor, met with me at Autodesk University and afterward to discuss the nature of PMI in Inventor Designs. They noted that substantial efforts have been made throughout the development cycles of Autodesk Inventor to gauge the needs of their customers. PMI has been a recurring topic at Autodesk, however customers often indicated that they were still evaluating the use of PMI alongside traditional documentation tools.
Recently, the Department of Defense (DOD) has begun a campaign to encourage (force) contractors to include this technology in their submittals. This has prompted Autodesk to jump to action on behalf of their customers and subsequently, begin working with the DOD to ensure that Inventor models include every aspect of the DOD requirements. Lord and Callen stated that this effort is already in progress. Hopefully, this will include PMI meta-data embedded in features as well as exportable through the newly adopted Step file protocol.
Lord and Callen revisited a year old conversation with me about the Inventor 3D Annotation preview. This preview allows users to annotate information directly to features in the Inventor part file such as datums, dimensions, and tolerances. While this adaptation of PMI may not be exactly what the industry needs, Autodesk wants to remind users that this is the primary feedback channel that they are eagerly watching for customer needs and comments.
I met with Shaan Hurley and Scott Sheppard of Autodesk Labs recently and during our discussions, the topic of how the feedback channel works with Labs came up. They noted that they scour the web daily for any feedback related to the Labs offerings. Every single comment and email is read by them. Autodesk is very serious about the Labs previews, and uses this feedback as a gauge of customer needs. If you want more manufacturability features included in new Autodesk engineering software, there has never been a better time or place to do that at than with the 3D Annotation preview.
Scott Moyse is the Design Manager for SMI Group, a Super Yacht Interiors company in New Zealand. His background is in Motorsport engineering & CNC programming. Scott has been using various Autodesk software for 9 years; most recently he has been implementing Vault Pro. He can be reached using Twitter @scottmoyse and by email at scott_moyse1@hotmail.com