The Proof Is In the Pudding
My roles as civil engineering practitioner and infrastructure and land development technology consultant means that I am driven by helping civil engineering organizations become more efficient with the use of design technology—specifically AutoCAD® Civil 3D. My industry experience takes me back to the days of DCA Engineering and Software—where Autodesk's civil infrastructure and land development solutions began – and through the transitions from Softdesk, to Land Desktop, and the continual evolving releases of AutoCAD Civil 3D.
Without a doubt, the major challenge that has plagued our industry through the years of technology evolution is underutilization. It is interesting to note that the nature of these challenges has changed with the technology. With the move from mylar/ink and AutoCAD to Softdesk and Land Development Desktop, the challenges manifested themselves in the convergence of drafting and design roles. With AutoCAD Civil 3D, firms have begun to embrace these required role changes, and are finding that employees are able to design more efficiently, but often times struggle with representing designs in good quality production drawings. It is interesting to note that Autodesk has responded to the civil engineering industry's want for better design tools and improved data sharing/collaboration capability. Yet, on a whole, our industry has not responded appropriately to embrace what we have asked for. We need to embrace BIM technology and give it the attention it deserves by developing project-based technology utilization strategies that encompass the development of design/production standards, data sharing protocols, and even staff training—that account for conception to completion deliverables. We are no longer dealing with simple AutoCAD and must give this technology the attention it deserves.
So why do I recount history when writing an article about new features in AutoCAD Civil 3D 2014? This is because much of the new functionality offered in AutoCAD Civil 3D 2014 continues to improve on existing data sharing capabilities, and therefore warrants special consideration by engineering design teams when developing project-specific strategies for data sharing and workflows. Essentially, data sharing and collaboration functionality have improved in AutoCAD Civil 3D 2014, but in order to properly embrace the new offering, we need to put the appropriate systems in place. Furthermore, I was pleased to learn that AutoCAD Civil 3D 2014 improvements are oriented to existing feature set enhancements, as opposed to introducing new feature sets. This is clearly a sign that enhancements to existing functionality and stability of the latest release was at the forefront of the development process.
AutoCAD Civil 3D 2013 and 2014 Model Interoperability
For the majority of the user base, AutoCAD Civil 3D 2013 and 2014 model interoperability is the most significant enhancement to the new product, and will undoubtedly have the most significant impact on the user base when working with clients and other business partners. In the past there have been enormous constraints put on our workflows and software versioning strategies due to lack of backwards compatibility for AutoCAD Civil 3D objects. This is no longer the case because you will be able to use AutoCAD Civil 3D 2013 for opening, editing, plotting and savings drawings that were created using AutoCAD Civil 3D 2014, and vice versa of course. While organizations should strive to standardize corporate wide on single versions of AutoCAD Civil 3D (with noted exceptions), we lack that flexibility when working on large project teams and when meeting record drawing submission requirements of specific clients. This intra-version compatibility will be a welcome change that will undeniably enhance data flow and handoffs between business partners and clients.
Data Sharing Enhancements
While AutoCAD Civil 3D 2013 and 2014 interoperability can arguably be categorized as a data sharing enhancement, there are a few other data sharing enhancements that should be recognized. Before getting into the details it may be a good idea to quickly summarize the current data sharing capabilities in AutoCAD Civil 3D 2013, to put things in perspective. These are summarized in the following bullets:
AutoCAD External References (Xrefs) – for sharing graphical data
AutoCAD Civil 3D Data Shortcuts and Reference Objects – for sharing AutoCAD Civil 3D surface, alignment, profile, pipe network and view frame object data
Labeling AutoCAD Civil 3D through and AutoCAD External Reference
Section View (cross section) production in separate drawings using AutoCAD Civil 3D Data Shortcuts and Reference Objects (to create the alignment) and AutoCAD External References (corridor and surface section data can be pulled through the Xref)
Autodesk Vault Collaboration AEC – a multifaceted data management technology that helps designers manage current and historical model, design, production and other project data
Pressure Pipe Networks – Data Shortcuts and Reference Objects
In AutoCAD 2014 there are 2 new data sharing enhancements that can be added to this list. The first is that pressure pipe networks can be shared with other drawings/users using Data Shortcuts and Reference Objects (read ahead for other Pressure Pipe Network enhancements in AutoCAD Civil 3D 2014).
Figure 1
The new support for Pressure Pipe Network Data Shortcuts and Reference Objects is one of several Pressure Pipe Network enhancements that contribute to their "production readiness".
Corridor Targets Through AutoCAD External References
The second data sharing enhancement in AutoCAD Civil 3D 2014 is that Corridor Targets can now be selected through an AutoCAD External Reference. This new functionality supports horizontal and vertical target mapping using Civil 3D survey figures and feature lines, as well as AutoCAD 2D and 3D polylines. As a transportation engineer, I was very excited with this enhancement because it give us increased flexibility when developing data sharing strategies between model and production drawings for medium to large transportation engineering projects. This means that when creating line drawings that show "offset geometry" for road and highway design projects, we must be more diligent and ensure that offset geometry is well formed using Object Snaps and "clean" geometry. While not immediately apparent, this new functionality means that Feature Lines and Survey Figures can be shared between model and production drawings. These objects are preferred over AutoCAD polylines for target mapping because you can assign a name to the object, and identify clearly which objects have been targeted in the corridor target mapping dialog box.
Pressure Pipe Network Enhancements
Pressure Pipe Networks have undergone a serious upgrade in AutoCAD Civil 3D 2014. Above and beyond the previously mentioned capability to share Pressure Pipe Networks using Data Shortcuts and Reference Objects, there are a number of other enhancements that lend themselves to the "production ready" status for Pressure Pipe Networks.
A summary of Pressure Pipe Network enhancements in AutoCAD Civil 3D 2013 is as follows:
Create Pressure Pipe Networks from Objects – AutoCAD 2D/3D polylines and splines, and AutoCAD Civil 3D alignments, and survey figures can be used to create pressure pipes and bends. Arcs are converted into curved pipe segments and spline segments are converted into straight pipe segments, connected with bends. If none of the available bend angles can be used, then pipes are created without the fittings. Once the pressure network is created, you can use the Design Check command to identify pipes that exceed the allowable deflection or minimum flexible radius.
Sliding and Moving Multiple Pressure Network Parts – You can now adjust the location of parts that branch off a pressure network by sliding them along the pipe, or moving them together.
Figure 2: Sliding multiple pressure network parts in plan view along a pipe (above)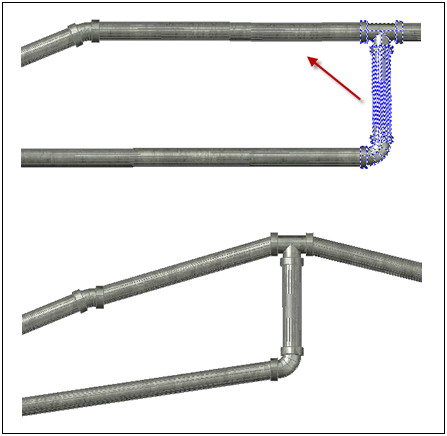 Figure 3: Moving multiple pressure network parts in plan view (above)
Edit Multiple Pressure network Parts in Profile View By Changing Slope or Elevations – When you select the pipes and fittings between them you can modify the slope of several pipes at the same time. When you select the pipes and fittings between them, you can modify the elevation of several pipes at the same time.
Compass 3D Plane – The plan view Layout Compass was introduced with Pressure Networks in AutoCAD Civil 3D 2013 to facilitate layout of pipes using allowable bends and deflection angles. In AutoCAD Civil 3D 2014, laying out a pressure network in model view is facilitated with the Compass 3D Plane.
Figure 4: Compass 3D Plane (above)
Additional Grips and 3D Snap Compass Settings – You can now use the rotate grip and 3D Snap compass setting to rotate pressure network fittings and pressure network appurtenances in model views
Pressure Networks and Section / Profile Views - Pressure networks can now be added to Section Views and displayed as crossing pipes in Profile Views
Pressure Network Part List Sorting – Pressure network parts can now be sorted by size in the Parts List
Pressure Network enhancements in AutoCAD Civil 3D 2014 are numerous and all encompassing, and now make this a viable feature in the modeling and production design environment.
Other Updates
There are a number of other improvements in AutoCAD Civil 3D 2014 that span a range of varying functionality. These are summarized in the following bullets:
Create Sections of Projected Solids – AutoCAD Civil 3D Section Views can currently display corridor, corridor surface, surface, pipe network, material and pressure pipe network (2014) section data. You can now show an AutoCAD solid in a section view. This may be useful if you have represented retaining walls, abutments and wing walls, headwalls and other types of structures using AutoCAD solids, and wish to show these in a Section View created from a Sample Line
Extract Corridor Solids – You can now extract and create AutoCAD solids from corridor model shapes and links. You can extract AutoCAD bodies, AutoCAD solids or AutoCAD swept solids. This functionality is especially useful for creating 3D models and renderings for proposed corridor designs, and facilities the transfer of Civil 3D corridor data to AutoCAD only drawings.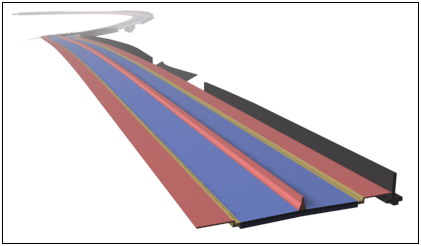 Figure 5: Extract Corridor Solids
New Context Menu Material Lists Commands – There are new commands on the context menus to manage material lists and materials from sample line groups. This is a welcome addition because in prior releases, material lists were created without an editable naming template, and users now have better control over creating named material lists and creating reports for generated material lists.
Figure 6: Context Menus for Sample Line Material Lists
Autodesk Infraworks and Autodesk WS – You can import pipes and civil roads from Autodesk Infraworks. You can also export profile data to Autodesk Infraworks. Drawings and their associated dependency files can be saved to Autodesk 360 and edited using AutoCAD WS. These enhancements will enable a much broader group of project team members to interact with model and production drawings, and will be particularly important in connecting field (construction, field survey and inspection) with office (project design team, reviewers and other stakeholders). Workflow definition as a must with this new functionality.
Annotation, Plan Production and QTO – Pressure network pipes, fittings and appurtenances can be displayed in tables. Also, you can add pressure networks to plan production sheets. Finally pressure network parts can be assigned pay items in a parts list for QTO.
Save Survey Query Files – standardized survey queries can be exported for use in other survey databases.
CAiCE Translator – a CAiCE Translator has been added to the Toolbox to facilitate the movement of CAiCE data to AutoCAD Civil 3D.
Summary
As the title of the article suggests, The Proof is in the Pudding. With this new release of AutoCAD Civil 3D there is less emphasis on new features and more emphasis on enhancing existing functionality. In addition to enhancements and updates mentioned in this article, there are a number of other miscellaneous improvements geared towards increasing performance throughout the system. The most significant enhancements are the AutoCAD Civil 3D 2013/2014 interoperability followed by other data sharing capabilities and then updates to pressure pipe networks. As always, do your homework before rolling out to the masses.