The Forgotten Tools
I remember when Autodesk® Revit® was split into separate applications: Architecture, MEP, and Structure. Then Autodesk joined them all into one Revit. In the 11 years I have been using Revit it has evolved so much, year on year, by Autodesk adding new tools and third-party applications working alongside.
The biggest breakthrough may be Dynamo. When this came along it opened up so many new ways of using Revit, particularly for those who aren't programmers or can't employ someone to build third-party tools.
But because not everyone can use Dynamo yet, we need to consider what other tools are available from the pool of third-party applications. Some you are required to pay for and some are free to use. And what about the forgotten tools like the Revit Extensions for Autodesk Revit?
Where To Find Forgotten Tools
First, you need an Autodesk subscription to download them. You will also need to download the application for each version of the software—e.g., Revit Extensions for Autodesk Revit 2018 only works on the 2018 version.
You can find the application in a few places, including the Autodesk Desktop App, which should be installed on your desktop. Look for the little Autodesk A on the taskbar at the bottom left of your screen.
When the Autodesk desktop window appears on screen, simply scroll down until you find Revit Extensions for Autodesk Revit 2018. Follow the instructions to download the file.
If you're unable to find them here, you will need to log into your Autodesk account. Under Products & Services, find Revit and maximize the window and select Updates & Add-Ons.
All the updates and add-ons should be listed in the window. I suggest filtering the 2018 version as it will make it easier to find. Select download from there. Installation is straightforward. You will find a new tab on the ribbon and you're ready to use the tools.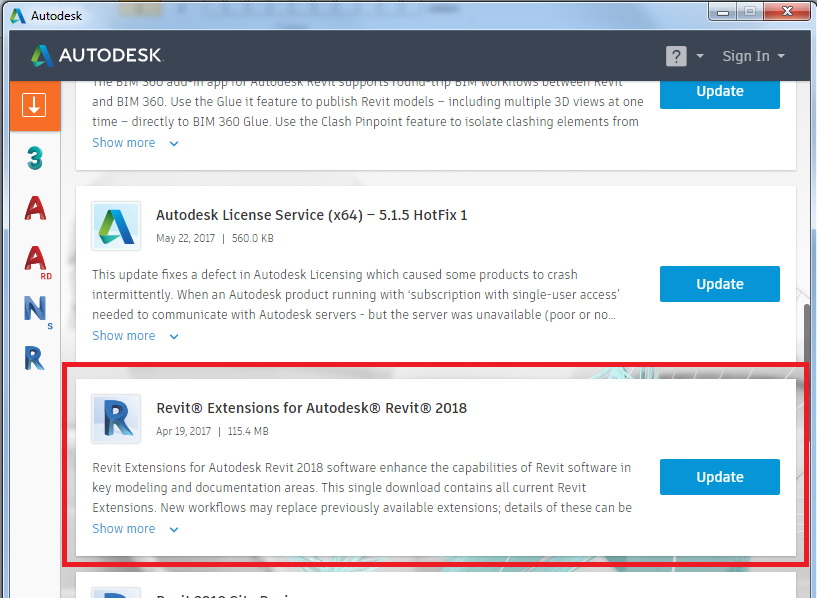 Figure 1: Autodesk Desktop App
Please note in some of the earlier versions you may have additional tools, such as the link with AutoCAD Structural Detailing (Now discontinued) or Steel Connections. These are no longer available as part of the 2018 extensions.
What Tools Do You Actually Get?
There are not as many tools available for 2018 as in previous versions. This is due to the development of Revit year on year, so tools such as the ASD (AutoCAD Structural Detailing) have been removed. Steel connections are now included as part of the out-of-the-box tools.
Frame generator
Grids generator (levels, grids & elements)
Rafter framing
Roof trusses
Wood framing walls
Reinforcement
Compare models
Element positioning

Figure 2: Extensions menu
Grids Generator
This tool can help you create gridlines and levels, and add elements such as columns, beams, walls, and spread footings. Some of these tasks can be a little tedious and these tools can help speed things up.
Adding levels to a project does take some time, especially if you have many levels in a building—a multistory building, for example. Yes, you can draw them manually or draw one then just copy/paste or align, but you then need to create all the views afterwards.
This tool gives you the option to set which type of level system family you require. If you have a company template, you can select the right one and not need to edit it after. You can also name the level as you create it and set the correct elevation height as you add it. Say you need to amend the levels afterwards or add a new one. Simply open the tool again and add another level or amend level(s) accordingly.
One big bonus is the tool actually creates the level plan views for you, once complete. No need to go to View tab and create the views.
Figure 3: Grids Generator
Placing gridlines is not the most fun, and first getting them in the correct location and then getting the horizontal and vertical numbering correct can be a challenge.
The grids generator gives you several options such as the setting start position in x and y, plus the rotation (if required). Then we can set out the horizontal and vertical gridlines by giving the spacing of lines and number of gridlines, if same. You can add as many as required and set the default numbering (i.e., 1, 2, 3 or A, B, C). You even have the option to define the numbering. Plus, you can set the numbering direction so the gridlines are ordered correctly. Finally, you can set the grid system family. Again, if you have a company template you can select the right one and not need to edit it after. Oh, and don't forget to set the distance from gridline end to grid head. I normally set it around 1 meter (3.2ft).
Now there are a few "cons" with this. First, you have an option to display in 3D mode when creating your gridlines. I don't recommend this as it will just draw you loads of model lines and these are not really going to be of any use. Second, you cannot use this tool to edit your gridlines. It will not remember the previous and will just draw a new set of gridlines for you.
When automating the placing of elements, this tool can help you populate a structure if the elements are to be placed on or along the gridlines only. This will place columns between levels, beams at levels, generate walls, and add your spread footings (foundations).
This may sound like a good idea, but I know from experience we don't always have a structural element along every gridline. We could span further or even cantilever elements such as beams. You can only place one type across the whole model, so you will end up spending time afterwards amending to suit. Also, you can only place these elements when you create your gridlines, but not afterwards. If you are creating multiple levels at the same time, this can take a while to complete. Oh, and make sure you have loaded all the family types you need before running the tool.
Frame Generator
The frame generator tool is a great way to quickly generate steel structures like a portal frame. Modeling a basic portal frame does not take too long as generally it is designed so the frame is using the same size columns, beams, trusses, etc. across the whole frame. The span between each frame will be the same across the frame. So the user can model one bay, then copy and paste it across to the rest. Then it is adding the eaves and ridge beams, bracing, and purlins.
This is where the frame generator tool can build the whole frame for you at once. Start off with how many bays you require to the number of frames and the spacing between each.
Before starting, ensure you have set the section database regional settings to your country; otherwise you cannot select the correct steelwork. You can load in the correct element type and size whilst using the tool. I would always load in the correct size of sections beforehand anyway. Then you have all the element sizes to choose from in the selection drop-downs.
You have the option to model a single pitch or gable roof; you just need to make sure you select the type required.
Here are a few things to bear in mind when using the frame generator:
None of the elements are placed directly onto gridlines, but you can give the frame an insertion location. Otherwise, you may need to draw them afterwards or move onto your gridlines.
All columns are drawn on the first level (level 1) and the top and bottom levels are offset from that level within the macro. You will need to adjust to suit once complete.
The same goes for any beams or roof beams/trusses.
The slope of the roof steelwork is offset to default level 1 at both ends.
Reinforcement
Although Autodesk has been enhancing and adding new reinforcement tools over the years, placing reinforcement using the out-of-the-box tools in Revit is still a manual process, and it can take you some time to add all the necessary bars to each concrete element. Users can only place bars to one face at a time or in one span direction at a time, which does take some time to do and requires users to keep selecting the command each time to place more bars.
Using the Reinforcement extensions tools is a great way to add the reinforcement quickly to your model elements such as columns, beams, foundations, floors, and many more elements with Revit. The tool allows users to complete all reinforcement at once instead of adding just the distribution bars, then the stirrups (links), etc. This can be a much faster way to add the reinforcement to elements. Also, if you are detailing a number of elements of the same type, you can simply select them all and the tools will add the reinforcement to all.
Please note: if you select columns and select different sizes or shapes, the tool will not recognize this and will only detail the first one selected.
Figure 4: Reinforcement of columns
Even though these tools help users automate the process it still does not do everything for them. For example, it won't automatically add the bars into the correct element partition, so you can schedule the bars correctly. I am afraid that is still a manual process.
Say you have modeled walls from the ground all the way up to fourth floor. Just like adding bars manually, the extension tools will follow the same rules and model the bar length the full length of the wall, leaving it up to the user to adjust the bar lengths or splitting the wall down into pouring lengths. Maybe the new precast tools will help with this.
If you're looking for tools to help automate the reinforcement detailing process in Revit, take a look at the tools Graitec (www.graitec.com) or SOFiSTiK (www.sofistik.com) have to offer. Don't forget there are a number of Dynamo scripts which have been written to help as well, so check out http://dynamopackages.com.
Autodesk App Store
We have taken a look at just one of the Autodesk apps you can install to help with the production of your models within Revit. There are many more you can choose from in the Autodesk App Store (https://apps.autodesk.com). Why not check it out and see what other tools there are?
Figure 5: Autodesk App Store