The Civil Side - By Subscription Only
This month I'm going to tell you about several options that most of us have access to as AutoCAD Civil 3D users - IF we are on subscription for this product. If you're not an Autodesk Subscription customer, I highly recommend you consider it because you are missing out on a lot of great stuff!
The reason I chose this topic stems from all of the Civil 3D users that I talk to who have no idea about all of the benefits of being a subscription customer - even when they aresubscription customers! They simply do not know of all the extras that come with being in this elite group of Autodesk software users. Many people think it is a just a way to pay for upgrades, but there is so much more!
AutoCAD Civil 3D 2011 Import/Export Extension for GENIO
One of the extensions that are available to us to download from the subscription center is the AutoCAD Civil 3D 2011 Import/Export Extension for GENIO. This extension streamlines the migration of data from Bentley MXROADS software to AutoCAD Civil 3D software. With this extension, we can work on projects that require Bentley MXROADS formatted deliverables and/or the use GENIO or binary "modelfile" format. We can import this other formatted data, alignments, profiles, points, surfaces, and feature strings into our Civil 3D drawings. We can also export our Civil 3D model data (at least some of it). Alignments, profiles, points, corridor, and grading feature lines can be exported in the format needed for Bentley MXROADS.
Autodesk Storm and Sanitary Analysis 2011 extension
Autodesk Storm and Sanitary Analysis is a GREAT added bonus to our Civil 3D software, and it is part of our subscription benefits, at no additional cost. So why isn't everyone using it? I believe that most people do not know that it is available to them! Many of the users I talk to have no idea that this product is part of their subscription for Civil 3D. What's the catch? You simply have to be a subscription customer and have Civil 3D 2011 installed on your computer. That's all there is to it!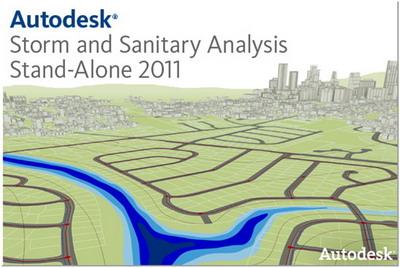 With this extension we can run analysis on our storm and sanitary systems with software that is bi-directional with C3D, meaning you can export from C3D to SSA® and back into Civil 3D after the analysis has been performed. This software doesn't limit the number of pipes or elements you have in your model, and you can use a broad range of hydrologic methods. The extension works for ponds, including interconnected ponds, rivers, streams, ditches, culverts, bridges, pumps, lift stations, and more. There are several more features in this software, but I'm going to force you to go and look for yourself at the subscription center. If you are using anything else for your analysis, especially if you are still using a spreadsheet application, you owe it to yourself and your firm to evaluate this software.
Autodesk Civil Visualization extension
Finally, a live link between C3D and Autodesk 3ds Max Design! With this extension, you can finally start creating those impressive visualizations you have been dreaming about (if you know how to use 3ds Max, that is). With this tool you can share your design intent with clients and planning and zoning committees much easier. It allows everyone to understand your designs. Even people who cannot picture a project when viewing only a black and white print can understand a video presentation with ease. With Autodesk Dynamite VSP Plug-in, you can even create visualizations from other formats such as XML and other common design data formats.
e-Learning
Up to now, I'm the only person I know who has used the e-learning option found in the subscription center. I hope that after reading this article, several people will contact me to let me know they too have taken advantage of the e-Leaarning option. I know a lot of people who cannot get approval to attend any training on the advanced software that their employer has purchased for them to use. (I will not get on my soapbox on how this doesn't make sense, and how the company has very likely wasted its money on the software purchase...).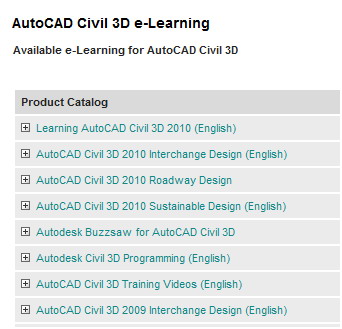 If you need training or additional training, this can be a good option for you. After all, if you are a subscription customer this is part of your subscription benefits. One of the best things about the e-learning is you do not have to use the software in order to learn. Using the software is an option for the exercises, but all you really need is an Internet connection! There is an option to do the exercises in Simulation mode.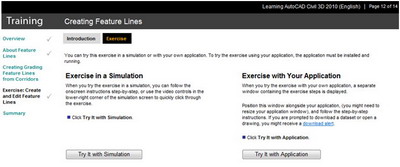 Subscription Technical Support - Web Support
Do you ever have one of those days when no matter what you do, your software just keeps giving you problems and you cannot figure out what is going on? Part of your subscription benefits is online technical support; this too can be found on the subscription center website. Now the company I work for and several other Autodesk resellers may offer the same technical support option to their subscription customers, but this is Autodesk's direct support channel.
So before you get too frustrated, or spend way too much time on an issue, tell them them about your issue. Many users fail to inform anyone of their troubles and expect that one day an update will fix it. This is not a very good way to fix your problem! I too have put off asking for help, only to finally ask and have my problem fixed within hours if not sooner. A couple of times, in nere minutes. Even if Autodesk has never heard of your particular issue, the company has a great technical support staff, so do yourself a favor and take advantage of this option.
Product upgrades
Of course, the subscription center is the place to get your software upgrades the day they are released. I'm pretty sure that everyone knows this, and if not, now you do! As soon as Autodesk releases a new version of a product such as Civil 3D, it is available for download from the subscription center website. Sometimes, and don't tell anybody I told you, you might find the software posted a day early (shhh!). No promises on that little tip, but if you are like me, you can't wait for each and every release. It's like being the first kid on the block with the latest toy.

Use of previous versions
You may also have rights to use previous versions of the software and the subscription center is where you will find this as well. I'm not really sure why anyone would want an earlier version, but people ask for this all the time at my office. One reason that I can come up with is for the 2010 version of Civil 3D, one of the extensions for the release is the Bridge Modeler extension that connects Civil 3D projects to Autodesk Revit Structure bridge objects. I do not know why there is not a version of this for the 2011 release. If you have a project or client who insists you use an earlier version, than a visit to the subscripton center will get you that earlier version. There are some restrictions to this, however, so read the fine print on the website.
Home use
The Home use license is one of my favorite subscription benefits! Have you ever wanted to work at home, but your network license is keeping you from doing that? No longer! Even if you have a stand-alone version of Civil 3D, you can also request a home use license for every seat of Civil 3D and many other Autodesk products. Maybe you would just like to use it to advance in your education of the software, or have it on a laptop that you take home from time to time and do not want to have to borrow a license. This is the answer. I have arrived at home on a Friday night only to realize I forgot to borrow a license before I left the office. Oh, what a bummer... back to the office I go! Now you too can have a full seat of Civil 3D installed at home, and when that nagged by that problem that is preventing you from sleeping, at least you can get on your home computer and figure it out without having to wait until the next day when you get to the office. If you are anything like me, you're liable to forget what you were thinking by the time!