The Civil Side: Back to Basics
What better way to get started writing this column than to take it, and you, back to the basics? I know, "basic" and AutoCAD Civil 3D don't seem to belong in the same sentence. That is because you probably do not know the secret - that there is another way to use Civil 3D, a way that doesn't rely completely on styles, but on a more basic approach. By controlling our objects based on their layers, or more specifically the layer on which they reside - their object layer.
I know that what I am about to explain is going to put several people in an uproar. For years now almost all I have heard about Civil 3D is that styles were everything. Well this quite simply doesn't work for everyone. Many users are not that concerned with Building Information Modeling (BIM), or sharing their data or drawings with other firms. Some users just need to produce existing condition drawings. Let's take surveyors for example. They may only need to produce basic survey plats and do not necessary need to use Civil 3D the way that users in the civil engineering field do.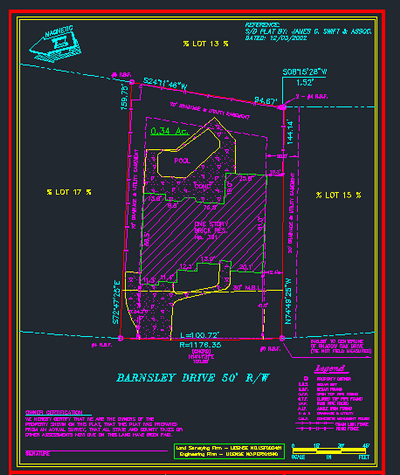 Almost all Civil 3D users are currently being trained on the same method, where styles replace layers, to some extent or, at times, to some complexity. Styles control how an object will be displayed. This is a style-based workflow or method, the standard or proper way to use Civil 3D.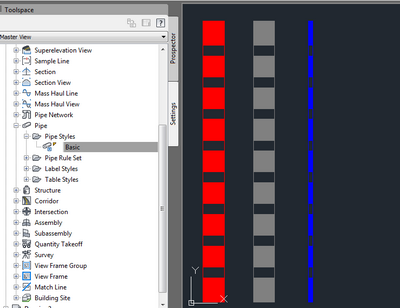 But is this really the only way that it can be used? Of course not! Most of the Land Desktop users I have met or worked with used very few tools in the software. They used it as if it were AutoCAD pro for survey and engineering, not as a land development tool as it was intended to be used. Lots of users simply did not know how or need to learn every function of this software. Their goal was to produce a drawing by any means necessary.
I have wondered many times why so many of the surveyors I met were resistant to the idea of using Civil 3D. The simplest answer seems to be that they already have software (Land Desktop) that does everything they need and they know how to use it. They can import survey data, create parcels, profiles and surfaces, and most other drawing items or data can be represented in 2D, which is the way most users of previous design software created their designs and drawings. There are other tools in their software such as pipe objects, but they do not necessarily use these features. Most importantly, they are very likely happy with the methods or workflows they are using in this software, and for many of them, to continue using it does not require training or a temporary loss of production.
There are other large groups of users that have some of the same issues concerning the use of Civil 3D. They are users who are accustomed to using layers to determine how their design data is controlled in their drawings. There are larger firms with more than 20 users which can have great difficulty implementing Civil 3D or getting staff to use it properly and conform to standards. And I have seen users coming out of their seats in classes when I say, "I do not know what layer an object is on," and then when I follow up with the reason: "I do not care what layer an object is on." Then you see their hands go up, as if to say they are throwing in the towel, they give up! At this point we will go over styles, object layers, and the importance of a standard template file, again.
For these users I'm here to tell you there is another way. The Quick Start method, I call it. Many people will call it the "wrong" method, but just as a snowmobile will go across water for a while (at high speed), so too can Civil 3D be used without controlling everything with styles.
You can have one style for all of your different pipe networks and, if you use one visual representation for all of these objects and the different layers control their appearance (for Civil 3D this would be their object layer), then one style may be all you need. It is more likely that you'll need more than one, but you should only need a couple using the Quick Start method. Some objects such as points are still likely to have several more styles; it will depend on how you use your software and work with your points.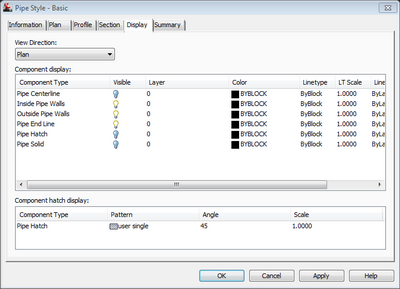 In order for you to get your style to use the object layer, you have to adjust your style to use byblock for the object's display layers. Then if you have Civil 3D use the desired layer for the object layer, and for other pipes you can select them after they are created and place them on any layer of your choice, then the pipes will use that layers properties for their display. You can also have all of your object layers set to use layer 0. You simply have to select them and place them on the desired layer after you create them, or at some time during the drawing or design process. This method is more like the way many users operate in Land Desktop, Land Development Desktop, Softddesk, and AutoCAD, which are the products many C3D users were using prior to their move to the Civil 3D platform. If there was an option in the object layers to use the current layer, this would be how many AutoCAD users are accustomed to designing. Currently, there is not and I do not expect that Autodesk will add this option since this is not how Civil 3D was designed to be used. We are cheating, if you will.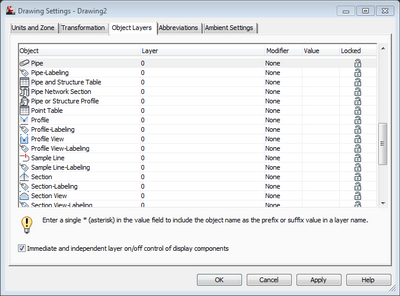 Of course, there are limits to using this method to operate in Civil 3D, but for existing condition drawings this can be another option and a quicker transition from another software platform to Civil 3D. For larger firms, this could be an option as well, maybe as a multi-stage approach to implementing Civil 3D. These firms could begin with the Quick Start method and then after users are more comfortable with this BIM platform, they could implement standard Civil 3D and a stronger style-based workflow.
Another option is to have some users in a basic drawing workflow and have objects in other final drawings through the use of data shortcuts or vault references. The more complex company standard styles could then be applied in the plot drawings.
Of course, there is no one workflow that fits every firm. Your ability to use my proposed method depends on your company's workflow or project requirements. A BIM or IPD (Integrated Project Delivery) project may require your drawing data to be organized a certain way; still, this method may be easier for everyone involved to use and review your designs.
View a short video on this method.