Surveys: Meet your typical AUGI Member
AUGIWorld Magazine's September issue is off at the printers and should be arriving on doorsteps soon (for those who have Professional level memberships, everyone else may download electronically from the site, of course).
CWC's favorite statistician, Corey Daun, reminded me of an idea we'd tossed around in the past, of describing your average AUGI member. While we all know what a variety of us there are, from industry to job to personality, I thought this was a great idea to revisit.
These numbers have come from the 2014 annual survey, so consider this a sneak peek.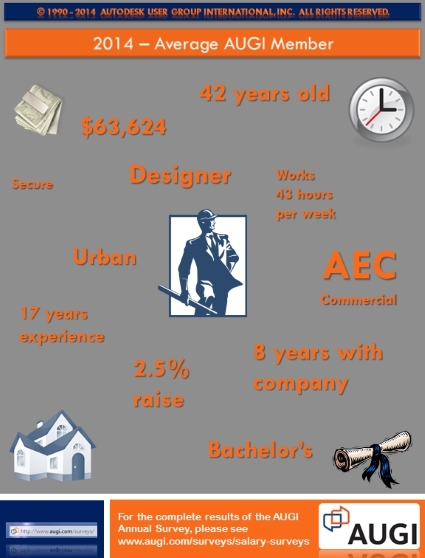 The AUGI homepage poll will now return to its regularly scheduled (non-salary survey) monthly topics, so, look forward to a recap of those responses here next month.
Thank you, once again, to everyone who contributed to the annual survey this year. It is always a great time to reflect on our past and plan for the future.