Surveyor's Companion: Removing the Guesswork & Increasing Efficiency
AutoCAD® Civil 3D® has created methods to figure coordinates that are fairly simple and efficient, but Eaglepoint's Surveyor's Companion takes the process a step further. Since there are too many options available in Surveyor's Companion to cover in a single article, I will concentrate on figuring points including for construction staking and imputing record legal descriptions.
Placing Points Manually
After the software is loaded, and you open up Civil 3D, you'll see another tab on the Ribbon that says "Surveyor's Companion."
Figure 1: Surveyor's Companion ribbon

Placing points manually is similar to Civil 3D, except a different dialog box pops up (See Figure 2a). (Note: Every command within Companion starts with the Batch Processing settings dialog box, but I rarely use it. It's good if you want to keep track of what points were figured, or for some reason need to reset the same points later on.)
Figures 2a and 2b: Placing points manually
The difference between this and Civil 3D is instead of imputing the defaults under the Point Settings in the Toolspace including starting point number and description, you input it in the Place Points dialog box (Figure 2b). The nice thing about this is if you don't know the next available point number, you can type in one that's close. It will warn you if you chose one that already exists, and, if not, will find the next one available. It also uses the Description Keys that are already loaded in your drawing.
You can also add a secondary description that follows the Description Key, or you can leave it blank and only the Description Key will end up in the final point description. You can input the coordinates manually or click on the small point icon in the upper right of the dialog box to place it in the drawing. I use this method when setting only a few points at a time such as property corners or points where the description changes fairly often. I find it more user friendly than Civil 3D because I don't have to keep looking at the command line to see where I am in the command.
Points along Alignment or CAD Entity
When you're not concerned about elevations, but need to set points along either an alignment or CAD entity at a particular station, click on "Place by Station & Offset…" In the next dialog box (Figure 3), you can either pick a named alignment or CAD entity (by using the point icon in the upper right).
Figure 3: Place points by station/offset
The next dialog box (Figure 4a) shows all the options similar to the Place Points box except it also asks for a station and offset. If you want to set more than one at a time, click on the "Multiple" button. Figure 4b shows how you can do multiple stations at a specific interval. This is especially handy when setting points for a roadway or points along a property line.
Figures 4a and 4b: Staking multiple points by station/offset
Staking Along an Alignment with Elevations
Now you may be asking: What about setting stakes with proposed elevations such as final centerline grade or curb and gutter? Note: This next section goes under the assumption that you created an alignment with a proposed profile in Civil 3D.
Click on "Place by Alignment and Profile..." command. The Station and Coordinates (Figure 5a) dialog pops up. Here you can choose the alignment and profile you want to set points for. It defaults to 100' intervals, but if you want 25 instead, simply replace it with 25 and click the "Calculate" button. You can also include horizontal and curve stations. The command also defaults to the centerline of the alignment. The real beauty of the command is not only the ability to offset the points at a specific station interval, but also to add or subtract an amount from the chosen profile.
This can be used for creating points with back-of-curb elevations or even dirt grades depending upon your needs. To accomplish this, click on "Additional Constant Offsets" button (Figure 5b). Note: Positive numbers in the offset figures points along the right side of the alignment, whereas negative numbers figures points on the left.
Figures 5a and 5b: Station and coordinates
If you click on the New icon, you can also add other stations if needed. Once you've chosen all the stations and offsets, simply click on "Place Objects." The next dialog box (Figure 6) gives you even more options, including the description. Usually only the Place Points option is highlighted. The other two options are equally self-explanatory.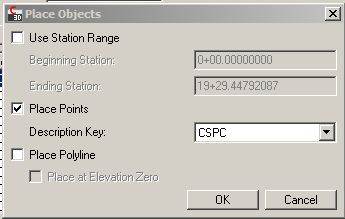 Figure 6: Placing objects
Besides adding the points along the stations specified, Surveyor's Companion also adds the alignment name, station, and offset in the point descriptor (See Figure 7).
Figure 7: Coordinate listing
Imputing Legal Descriptions from Record Title
One other useful command is "Boundary Traverse." How often do we need to draw in a recorded deed or easement? Too often to count, I bet. Boundary Traverse beats drawing it in using simple AutoCAD commands or even Civil 3D's method of first having to create a Site and adding Parcels. The first dialog box (Figure 8a) gives you the option to add points along with an object (a polyline), points only, or object only. Figure 8b lets you either pick an existing point, type in the coordinates manually, or pick a point within the drawing. It asks for a starting traverse point which you can either place, or click on "Next" to ignore.
Figures 8a and 8b: Boundary Traverse settings

The next dialog box (Figure 9) asks for Traverse Direction (N/SE/Wdd.mmss format ex: NE89.2325 or AZdd.mmss for azimuths) and distance. If there's a curve in the next leg, simply click on the curve icon. All the data required for developing a curve is available (Figure 10), but you don't have to add all of it. One of the first three such as delta and one of second three such as arc length are enough, and Surveyor's Companion will fill in the rest. This is useful as a check if the legal description has more information.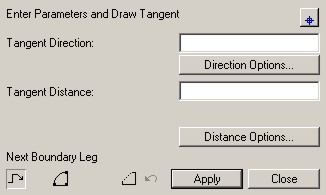 Figure 9: Entering boundary line data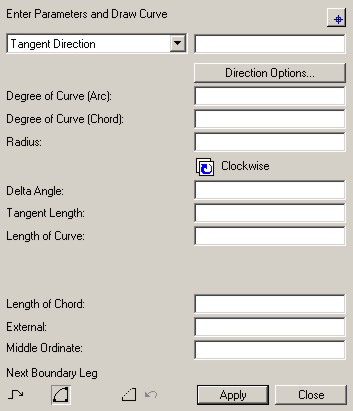 Figure 10: Entering curve data
Conclusion
Surveyor's Companion contains many more commands including writing legal descriptions, rotating and translating, and field data traversing, but to go through all of it would take up far too much space. As good as Civil 3D is at calculating points, Surveyor's Companion makes the job even more efficient. In a field where time is money and at a price of $595 (yearly subscriptions also available), it's more than a reasonable purchase.
For more information, including videos on how it works, go to www.eaglepoint.com/products/surveyorscompanion.
Andra Marquardt is a Professional Land Surveyor in the State of North Dakota, and has worked for Toman Engineering Company in Mandan, ND since 1997. She has used AutoCAD starting with Version 9 to the most current version of AutoCAD Civil 3D. She is also AUGIWorld's Content Manager for AutoCAD MAP, so if you'd like to write articles specific to Map, please email her at amarq013@yahoo.com