Start with a Solid Foundation
Why do you need an Autodesk® Revit® Structure template? Well the answer is simple: for the same reason you would have a company CAD or modeling standard. It is so everyone has a standard to follow and it is applied across all drawings or models created by anyone working at your organization or an external contractor working for you.
Just think of the efficiency of staff when they are not spending their time having to recreate the same things again and again. The quality of information should be to the company's high standards and be consistent across that specific project and all the others undertaken.
As good as the out-of-the-box templates are, one template doesn't fit all. But they are a good starting point.
Keep templates simple—the more you add, the more difficult it becomes keeping things up to date. If you do need a more detailed template, then plan it out and record what you have done. This will make it easier if someone else takes over or you leave the company.
What Are Templates?
A Revit template is a file that contains all general settings, views, preloaded families, schedules, possibly sheets, and in some cases geometry. It is possible to set up many different types for projects such as residential, industrial, commercial, or even templates specifically to suit specific clients (see Figure 1).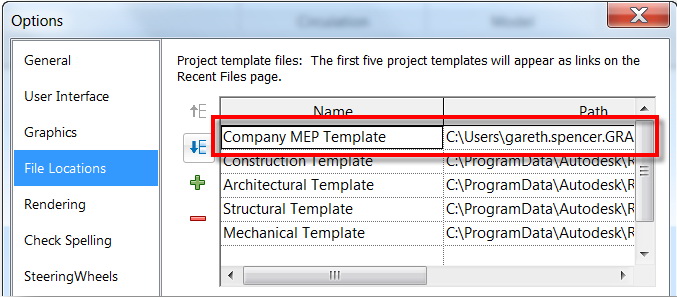 Figure 1: Client- and discipline-specific templates
Why Should We Use Them?
Templates are a great way to ensure effective content and reinforce your company standards. Having a template will also reduce the workload on overburdened users, who by other means would continually be doing lots of rework tasks every time they start a new project.
When Should We Set Them Up?
Straightaway—there is no time like the present. If you have just started using Autodesk Revit, then it would be a good idea to create a template as soon as you can. For those of you who have been using Revit for a while—why haven't you set up yet?
Figure 2: Structural template
The best place to start is the standard out-of-the-box Structural template and simply do Save As. Give it a logical name or follow a set industry standard. Note: It is best having a location on the server where everyone user's machine is pointed. Then you have the master template everyone uses, so any changes or updates happen in the background.
Creating levels and views can take a large amount of time when you start a new project, so it's a good idea to consider the average number of floor levels for the buildings you work on. For example, if five, create six (one for roof), but if more, then create more. It is quicker to delete them than to create new ones.
Then look at setting up project browser views. Say you need one for steel work, concrete, reinforcement. Again, setting them up now saves time in the long run. Also, you can name them correctly now. You may wish to have working views you don't use other than to create the information, but they are never placed on a drawing sheet.
Drawing sheets are important. You may only use certain sizes but make sure you have created all the ones you may need. You don't necessarily need them all saved in the template, but at least have the main one loaded in.
Splash Screen
Set up a splash screen with your details and information about the project and set this to the starting view. Every time the file is opened it will open on the splash screen. It also looks professional and stops the project opening on the last view you or others saved the project in.
Presentation Styles
Set up all the typical line styles and patterns required. Adjust the out-of-the-box line weight thicknesses and object styles so everything will display and print to the correct thickness, color, and style. Customize the gridlines, levels, sections / elevations /callout tags to suit your company standards.
So you can control the graphical display of your views, adjust the visibility graphics setting for each view type. If it's something you haven't done before, there may be some trial and error to get them just as you require. Creating view-specific views templates allows you to apply those to other views at any time and amend multiple views at once. Consider any filters you may need to help control information shown in the view.
Annotation Styles
Revit has annotative scaling, so you don't need to set up a text or dimension style for every scale. For example, as default we use Arial and the text sizes (2mm, 2.5mm, 3.5mm, 5mm, and 7mm). So I would simply set those up, but I will need to do the same for dimensions as they don't include the text sizes like AutoCAD®. It is good practice to name each to include the height of text and you should consider if you need to add the units (metric or imperial) also. Create typical fill regions (hatch patterns), detail components, arrow heads, color fill legends, and symbols. Create tag families and load those you plan to use regularly, but make sure you use the same styles as your text styles.
General and System Families
Reviewing the default out-of-the-box families and removing the ones you do not require is going to reduce the file size of your template. Also give them your naming conventions so they are standard across the projects. If you need to create further loadable families, simply save them to your network so everyone can load them in.
The more families you preload the larger your template will become.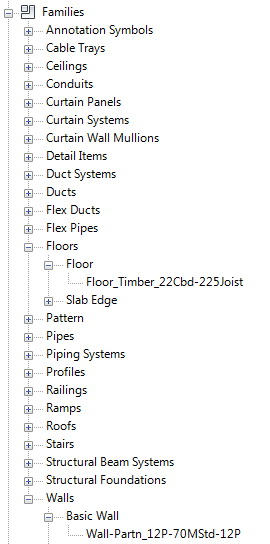 Figure 3: Revit families
Printer and Plotter
Printing a drawing doesn't take long, but setting up the page every time does, so make life easier for you and the company and create some default ones. Then you can just select from the list and click OK.
Standards
Not everyone will follow the company CAD and modeling standards, so adding typical presentation style legends and symbols legends will help those users follow your standards. Having all or the majority of your schedules set up and organized with the information you require is again going to save time.
Project Settings
Create your own company shared parameter file and load in all required and assign them to relevant categories. Then all users will need to do is add any information required during the project.
Consider This
You will need to create a new template for each version of Revit (i.e. 2016, 2017, 2018, etc).
Don't create a template to serve every purpose (i.e., all types of projects in one template). Create as many as you need, even by department or discipline.
Don't overload the template with families—add a few and then add others as needed.
Test the template as you are going along to make sure it works before it goes live to all the users within the company. Don't forget you can always add to the template when needed.
NEVER take an old template, project, or someone else's template and just delete the data you don't want and Save-As… You don't know where it could have come from or what potential problems could be in that file.
Company Standard Revit Template
One thing I can't stress enough is making sure you have your own standard template, as "Your model is only as good as the template you started with." Starting with a good company template will not only save you time, but also improve efficiency, quality, and consistency across that project and all projects.
Don't forget—it's never finished, and it is forever going to evolve. So start as you mean to go on and set the standard.
Gareth Spencer is currently the CAD & BIM Manager at The University of Manchester in the UK. He was previously a trusted application and BIM specialist at two of the UK's Autodesk Platinum Resellers. Gareth is a certified professional in Revit Architecture and Structure. Has twice been a speaker at Autodesk University in Las Vegas. Follow Gareth on Twitter @Digital_GS or email gareth.spencer@live.com.