Revit Training: The Right Step Forward
The use of building information modeling (BIM) continues to grow among firms around the world with little regard to discipline or professional boundaries. Though our methods to train ourselves or our staff hasn't changed in several decades, BIM and more importantly Autodesk® Revit® is pushing us further away from the days of the self-taught professional. And here we go…
For Starters
One word, Autodesk! The Autodesk website is the place to start, and even if you don't know how to find it, "Question Mark" in the top-right end of the Revit title screen will present you some options that will take you to the website.
At first glance, we all gravitate toward the easiest method, and the web-based training using the self-taught approach in Revit appears to be as practical and as simple as following either Self-Paced Tutorials, Guides, Express Workshops, and Skill Builder learning exercises found on the Autodesk website's Training page: http://usa.autodesk.com/revit-architecture/training/.
For the beginner, these systems are fairly easy to use and follow. The Self-Paced Tutorials are a complete set of training exercises that will help you to learn basic product functionality.
The Guides include the User's Guide, to describe concepts as well as step-by-step procedures of simple operations, and the Families Guide, to provide family creation concepts and hands-on tutorials to help you understand the basic assembly of Revit Families.
The Express Workshops provide quick and easy videos to illustrate conceptual information with real-world applications. The Workshops are not used directly from the web, but are file downloads that you may run anytime or anywhere it is convenient to do so.
The Skill Builder learning exercises, providing advanced videos focused on specific tasks, are broken down into three major areas including The Conceptual Design Environment, Transferring Site Data between Revit Architecture and AutoCAD Civil 3D, and Working with Titleblocks and Sheet in Revit.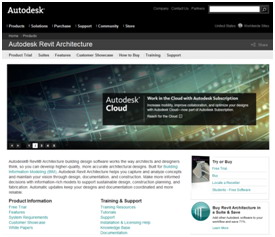 Autodesk Revit Architecture webpage
Even through the use of these initial Autodesk training sources, you'll find questions still come to mind and remain unanswered. Therefore, additional interactive information is available to you on the web through Autodesk WikiHelp to present Help Pages, Videos, Discussion Forums and a Support Knowledge Base to answer many search queries left unanswered by non-interactive training websites. http://wikihelp.autodesk.com/enu
If you have a major hurdle and feel the explorer within, you can jump into the labyrinth of the Autodesk Knowledge Base. This is a good source of advanced information, but it might not provide every answer you seek.
Autodesk.com also provides Discussion Groups for its major software to provide you with many of the hot topics users are contemplating.
Autodesk does not fall short when offering web-based solutions to learning most of its software offerings.
Web to go
Also on the web you can find a wide variety of training assistance for Revit Architecture, Structure, MEP and Family Creation in the form of how-to videos from some common websites such as retrieve.com, youtube.com, caddigest.com, dgcad.com, reviting.net, and revitcity.com, just to name a few. Again, there is no shortage of help here. Most of the sites illustrate text/images or video instruction from some well-intentioned creators who mean to help you. I advise you to tread carefully here. In these days of easy-to-access Internet information, it can be difficult to tell the good training and information from the bad and to recognize Certified Trainers over those with no official credentials.
Membership has its Privileges
Autodesk User's Group International (AUGI) offers the AUGI Training Program (ATP) to members only. This online training program will sharpen your technical skills and has the added advantage of keeping up with your training needs.

AUGI also provides AUGIWorld magazine and AUGI HotNews monthly newsletter and a host of diverse discipline-specific forums and software related communities such as RAC Community for Revit users, to allow members to search for issues similar to their own or simply to allow you to learn and become part of the web-based community of your peers.
One of the features most enjoyed by the members is the AUGI Wish List for Revit. I have never seen a better hint as to the development direction of software as this list.
Travel Anyone?
For the adventurers in the crowd, the total emersion of your person is everything to maintaining the fun in learning. The ultimate in these learning and entertainment experiences is Autodesk University. I am referring to a wonderful four day event just after Thanksgiving (late November every year). Here, you can meet with your professional peers in a traditional lecture-like classroom setting and leave the class somewhat overwhelmed by the information blast to your brain. It is definitely the best career-building trip you will take any year, not to mention the exciting entertainment attractions.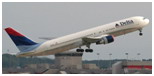 AUGI also includes a set of education on-the-ground tools to support its members. AUGI CAD Camp is a full day of learning your discipline's application software of choice in an AU-style event, and highlighting tips and tricks to advance your application abilities.
Information, Please
In addition to these online and traveling road shows, we often find ourselves searching for a more hands-on approach to learning, one that allows us to work on a real computer in a real training environment with an actual instructor to help us through each command that continues to baffle us.
This additional resource is known as Instructor-Led Training and is provided by Autodesk resellers known as Autodesk Authorized Training Centers (ATC). The ATC can provide the simple hands-on training many students require to get up and working in their early attempts to learn Autodesk products. They often offer flexible schedules and training from Autodesk approved training manuals and by instructors trained to teach you.
Speaking of training manuals, one should never forget to have an assortment of the most valuable and current training manuals, authored by leading practicing Revit trainers or practitioners. Not all software has a latest and greatest manual like Revit Structure but a few leading titles for Revit Architecture and MEP are No Experience Required (by Eric Wing), Autodesk® Revit® Architecture 2012 Essentials (Autodesk® Official Training Guide: Essential) by Phil Read, Eddy Krygiel and James Vandezande; Creating Revit Family Content (by Ken Jolly) and Mastering Autodesk Revit MEP 2012 (by Don Bokmiller, Marvin Titlow, Simon Whitbread).
The Right Step Forward
And when we find the follow-the-book method of learning doesn't work as well as we remembered from school, we look for the next big idea. We recall the method handed down to us by our mentors—one-on-one professional instruction. Now you're talking! For many of us just out of college, we sat down in front of our drafting board or computer, and a mentor-like manager stepped us through the creation of each element using each command until finally we understood the methods necessary to duplicate our mentor's work. That system worked then, and it still works best to this day! However, the projects got bigger and more complicated with the onset of BIM and the use of Revit.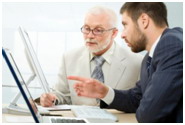 Today, professional services trainers are not simply the guy around the corner, but experienced discipline practitioners with over 15 years of practical on-the-job experience and over eight years of actual Revit project experience. Professionals who have taught themselves or have been taught by other very experienced trainers, regarding all the possible mistakes one can make on actual projects. They have learned through years of tears on projects the best means and methods to building accurate and professional models. They know what works and why, and that is all the reason in the world to work with them.
They will save you work hours, headaches, and in the end, your project will be delivered on time and under budget. These men and women have been tested and approved as Autodesk Certified Professionals having passed the Associates and Professional Autodesk exams. If you can find an Autodesk Certified Trainer, you are the better for it. These people holding both certifications are very well trained to not only support your training in the use of your software, but also to train you in the actual application of your software in your professional discipline on your projects. These trainers we call mentors, and they are very rare indeed.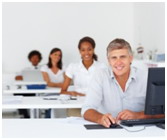 Mentors will plan and schedule out your training first in a classroom setting similar to an Autodesk Authorized Training Center. The mentor will go well beyond training students in the essentials and advanced classes known in traditional classroom settings. Mentors begin not with the software, but with your professional discipline and how to apply the software in your firm's type of projects. Not all projects are the same and not all construction types are the same. The mentor knows this well and doesn't accept the philosophy that all project templates are created equally. There are particular workflows that fit every design lab or engineering department, and the mentor will guide your firm in the best creation of these systems.
Once the mentor has completed the creation of these systems and management conditions, he or she begins training the staff by groups or teams, and usually by project. The training goes quickly with the emphasis not on teaching the students from a book using a step-by-step methodology, but by working with modeling systems and components, much the way we think of our design and engineering systems.
Mentoring on the actual project is an action of patience and persistence to ensure the student understands the subject matter and can apply the trained methods during the actual modeling of the project. As each student develops his or her Revit abilities, the team begins to improve quickly as there is a kinship that develops during this kind of training. The team completes the first project eagerly anticipating the next, and the confidence and knowledge base grows. The mentor continues to the next team and repeats the process until all teams have been trained.
This mentoring works because of the education and experience of the mentor not only understanding how to train, but also understanding how to apply the discipline's application.
Personal Training…
As you embark on your self-taught education, don't forget you always have the option to get personal training. Manuals and online help are good, live training venues are better, but one-on-one mentoring always works! Our best chance of success has always been getting a head start by a mentor showing us the shortcuts first.
Scott A Ebert is the Revit API CM for AUGI, AEC/O Industry Analyst, and CEO of Advanced AEC Solutions, LLC, in Atlanta, Georgia, and can be reached at sebert@aaecs.com & http://www.linkedin.com/in/scottaebert