Revit Structure: popIcon Puts Families at Your Fingertips
Rutherford & Chekene, a 52-year-old structural engineering firm in San Francisco, has developed popIcon software, a third-party plug-in for Autodesk® Revit® Structure. PopIcon addresses the difficulty that Revit sometimes poses in finding families, components, and symbols by incorporating new ribbons and tools into the Revit interface.
The popIcon interface is ribbon and task based with easy icons, consistent with Revit's out-of-the-box user interface; and features are logically grouped based on task.
Ribbons for Detailing and Modeling
1. Steel Ribbon

PopIcon's Steel Ribbon is for loading 3D and 2D steel components in one menu.
Along with speeding up the load time of regular steel shapes, popIcon's API contains a number of custom families including three different buckling restrained brace (BRB) systems commonly used in the United States from two different manufacturers, Nippon (Unbonded Brace) and Star Seismic (Powercat and Wildcat BRB systems).
The API also includes a unique tool to enable modeling of steel framing with fireproofing. There are three main reasons for wanting to model your steel framing with spray fireproofing. They will make others on the project team happier and might help you win more work in the future.
Enable accurate clash detection inside Navisworks
Aid the architects in their detailing in Revit
Quantify fireproofing volumes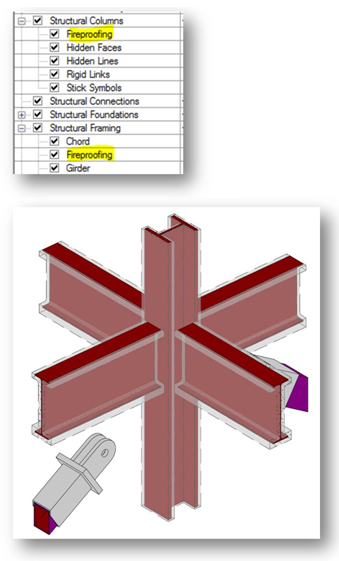 2. Concrete Ribbon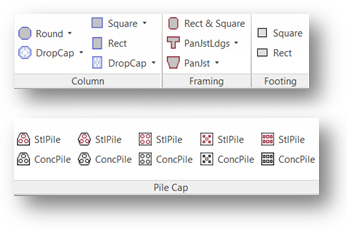 popIcon's Concrete Ribbon accesses 3D families for columns, beams, footings, and pile caps.
3. Rebar 2D Ribbon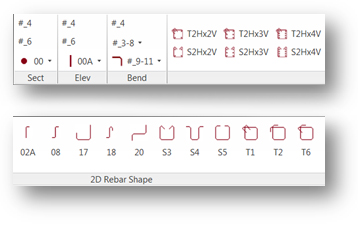 The Rebar 2D Ribbon has 2D components for rebar detailing.
The main reason most practicing engineers do not tend to model rebar for construction documents in 3D is that (honestly) for every element modeled comes a opportunity for error, or a requirement for extra work to keep the model accurate. For these reasons, 2D rebar detailing prevails. Out of the box, Revit does not provide a 2D palette of ACI-compliant rebar shapes to aid in the 2D reinforcement detailing process. This is a bit of a problem. Of course, you could just draw your own rebar shape using the line work tools, but this is not ideal. PopIcon provides a Rebar2D ribbon to perform the rebar detailing tasks in 2D using parametric families.
The ribbon contains tools for individual bars (in section and elevation), stirrup sets, and longitudinal bars for column and beam sections in one parametric family (see above), and various other ACI bar types for general concrete sections and distributed bars for plan rebar callouts.
4. Connection Ribbon
The Connection Ribbon features 2D components for steel details.
5. Symbols Ribbon
The Symbols Ribbon features commonly used symbols.
Below is a Symbols Ribbon example showing various slab step symbols in action. Typically on a project you need to document where there are folds or steps in your structural slabs. PopIcon provides common symbols for ridges, valleys, curbs, single steps, and multiple steps.
]
Below is another example of a typical steel detail that uses 11 different symbols from our symbols ribbon (highlighted in blue in the second image) to complete the detail. These symbols include the following:
Break line
Custom double break line
Two different welding symbols
Custom two-click section cut
Detail box callout
Grid head bubble
Construction joint
Level symbol
Large arrow head (for shoring this detail)
When detailing steel framing in 2D in Revit, a problem commonly encountered is how to efficiently apply coping to the out of the box 2D beam elevation families. There are a number of ways to solve this problem including filled regions, masked regions, or customized version of the beam families. However, all of these options have their drawbacks. PopIcon solves this basic but frustrating problem by creating a specialized "break" family as shown below.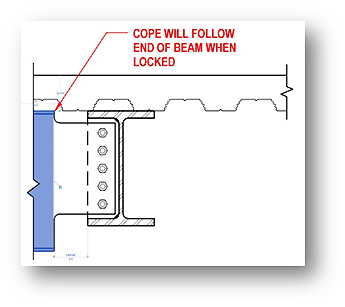 6. Tools Ribbon
popIcon's Tools Ribbon contains a variety of miscellaneous useful tools.
An example of one of these custom tools is the Delete Selection (DelSlct) tool, which is primarily used for compressing Revit files for project coordination with the other design team members. It can also be used to audit models to purge out unnecessary views that creep into a project over time.
On our firm's structural models (fully detailed in Revit with no linked 2D CAD files) the use of the DelSlct tool has reduced file size to one-fifth of the original size.
Remember, the smaller your linked file footprint, the more stable your session of Revit is due to reduced memory requirements. This can be quite significant on "mega" sized projects where linked files can add up to gigabytes.
Another useful tool provided in the Tools ribbon is a hosted floor opening. The rectangular openings can be dropped onto the floor in plan, documenting the opening in 2D and 3D. Compound shapes can be made by aligning multiple instances as shown below. The user also has control over whether the "OPEN" text and linework "X" are visible.
The Tools ribbon contains tools for hosted slab depressions as well.
No More AutoCAD Detailing, Please
The Revit/AutoCAD workflow has many drawbacks when it comes to overall CAD productivity. PopIcon allows you to "cut the cord" of reliance on a workflow that combines the use of Revit for 3D modeling, plan work and smaller scale elevation with AutoCAD for larger scale details.
Below are sample details from the last project where we had to endure a combined Revit/AutoCAD workflow. The details show a reasonably intricate support frame for an expressed architectural cladding system. As all of you practicing professionals can probably appreciate, over the course of the development of this building's design many details needed to be tweaked many times to meet the final architectural expression of these key building parts. The tweaks led to the following productivity problems.
We still had to model these elements in 3D for coordination with the architect plus we had to manually re-draw from scratch in another CAD program.
We had to link each individual .dwg file back into Revit.
We had to then cut dummy sections to link the CAD details to callouts on the plans.
If the details on the sheets needed to be reordered, we had to rename the CAD file, go into Manage Links, and tell Revit where to reload the file with the new naming to get everything to work correctly.
Text and dimensions fonts and difficult to get "just right."
PopIcon has been used office-wide at R&C since 2010 with great success.
Our Revit 2013 release is in beta testing and we plan to make it available on the Autodesk Exchange App Store in the very near future. This release is also being developed for the international market to provide architects with similar tools for modeling and detailing productivity.
For more information, please feel free to visit popIcon software's website at www.popiconsoftware.com or visit our YouTube website to see more of popIcon in action: http://www.youtube.com/user/popicon4revit.
Paul Chambers is a BIM guru at Rutherford & Chekene Structural and Geotechnical Engineers in San Francisco. He has been working with Revit since 2005. Mr. Chambers is a licensed civil and structural engineer and has designed numerous buildings in Revit including four major hospitals. His other Revit projects range from solar energy laboratories to community centers.