Revit Structure for Beginners
Getting started with Autodesk® Revit® Structure can be a little overwhelming for some. The term you hear a lot is "you don't know what you don't know." If you are a beginner, where do you start when tasked with trying to use Revit Structure? What do you want to accomplish by utilizing Revit Structure? Those are some of the questions you need to answer before moving forward.
What are some reasons for making the move to using Revit Structure? Is it a project requirement? Are you trying to be more efficient in developing your models? Are you trying to share the physical model with your engineers? These are all valid reasons for making the leap to using Revit Structure.
For my firm, it was a combination of all of those reasons that we started to use Revit Structure on projects. Our top two reasons were that projects required us to provide a BIM model (Revit file format) and we wanted to be more efficient in the design and engineering arenas.
Understanding the Basics
When getting started in Revit Structure, I first recommend that you familiarize yourself with the Revit's tool palettes and menus. Getting an overview of the basic tools may help generate questions to ask if/when you set up formal training or work with technical support to address issues. The second most important thing is to set up and start learning the shortcut key-ins with Revit. These two items will help you get familiar with Revit and help you become as efficient as possible when modeling.
The Shortcut key-ins come pre-defined out of the box; however, like most Autodesk products these shortcuts are completely customizable. Not all commands in AutoCAD® are in Revit, but there are some similar ones such as Move, Copy, and Offset. Then there are those commands that are unique to Revit that you will want to get familiar with before starting a project. The more commands you can learn/define as a shortcut key-in, the less time you will spend hunting in order to use said tools.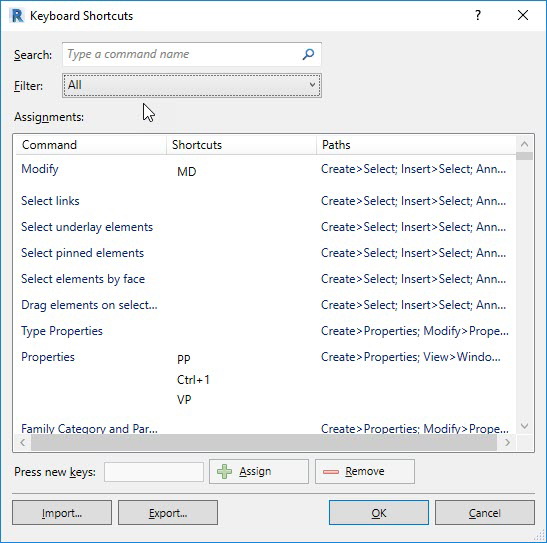 Figure 1: Revit shortcut key-in dialog
If you are running the Building Suite, you may have some shortcuts defined that need to be reconfigured so you can assign their value to Revit Structure tools. Make assignments meaningful so the mapped key-in is easy to remember.
Here is a link to the Revit Keyboard Shortcuts Guide:
https://damassets.autodesk.net/content/dam/autodesk/www/products/autodesk-revit-family/docs/pdf/Revit_Keyboard_Shortcuts_Guide.pdf
Figure 2: Revit shortcut key-in definitions
Get Appropriate Training
After taking some time to get familiar with the location of the various tools, menus, and shortcuts key-ins in Revit Structure, you should next concentrate on getting some form of training.
You will benefit greatly from training before just jumping into a project. There are three basic types of training. The first is training from a certified trainer—either from a Value Added Reseller (VAR) or an Authorized Training Center (ATC).
The second type is a subscription-based, on-demand training program such as Lynda.com or CadLearning.com. Both offer a library of recorded training sessions on numerous topics as well as essential training sessions.
On-demand training is good if you have end users who can watch the videos and pick it up. This method won't work as well for those users who need interaction with an instructor.
The third type of training is internal, where someone from your firm either already knows Revit Structure or takes a training course, then trains the other staff members.
Certified Training
Before working with your VAR or searching for a local ATC, work with your firm's management team to establish a budget and guidelines for the training. Doing this will show that management is behind the staff—getting them the training they need to be successful with Revit Structure. Establishing some guidelines and a budget will also help you when you work with your VAR or the ATC to determine the type of training your firm needs.
Part of setting up the guidelines is sitting down with your staff and getting feedback from them on the specific areas where they need help. You may find out after the initial understanding of the basics that your staff has figured out some of the basics for modeling with Revit Structure.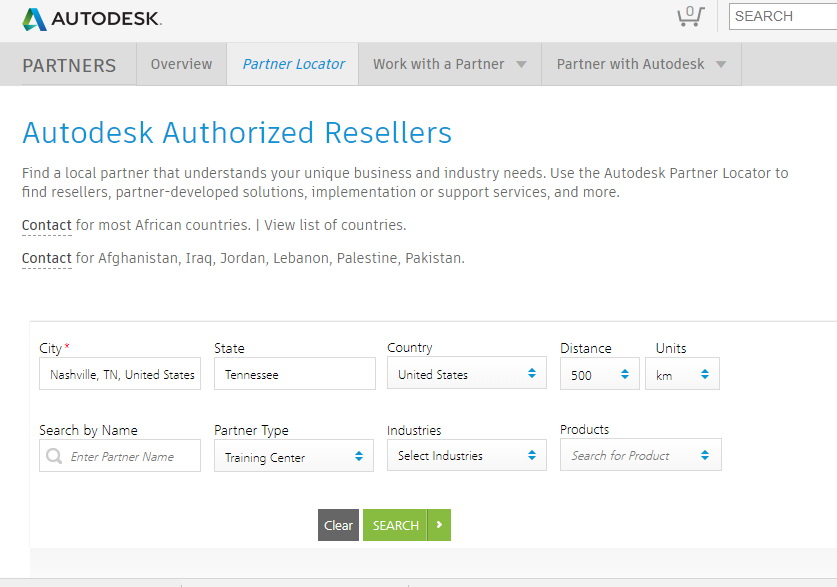 Figure 3: Reseller search at Autodesk.com
If you choose to use an ATC, there is a tool on the Training and Certification web page called Authorized Training Center where you can search for a Training Center or Training Events.
Most times your VAR or ATC will offer multiple levels of training, which include On-Site Trainers, Instructor-Led Web Training, Custom Training, and Modular Training.
One advantage of training with an instructor (either in person or in a web training), is that you can stop and ask questions when you hit a complicated topic that needs further explanation. The downside to the live instructor (on-site classes) is that these training sessions are usually the most expensive forms of training. Your price is based on not only the training sessions but also on the travel and lodging times the number of days the instructors are on site doing the training.
Subscription-Based, On-Demand
Subscription-based, on-demand training is another option for getting your staff the training they need to be productive with Revit Structure. These types of subscriptions typically offer either monthly or annual pricing (sometimes you get a better deal by purchasing the annual subscription).
Depending on the level of support, you can either opt to purchase just the training session or the training session and dataset for the class. The advantage to a subscription like Lynda.com is that once you have a subscription, you can go through their database of courses and build a playlist of the courses you wish your staff to complete.
Figure 4: Personalized playlist
Lynda.com sessions allow you to access your account after you cancel your subscription so you can look at any notes you typed during the training sessions. The downside to the subscription-based, on-demand sessions is that they are recorded, so if you have issues with any of the content or the technique shown in the session you are on your own to resolve the issue or call technical support for assistance.
The positive aspect to the subscription-based, on-demand training is that you don't have to work out a schedule to have someone do the training. When a new hire starts, you can have them do the training on their first day if they need it.
There is also a minor cost associated with the on-demand training versus the instructor-led training. On average, the basic plans start around $20 per month and the premium package starts around $30 per month. Note: The Premium package gets you the dataset to the training classes. Most subscription-based training prices can be bought in blocks; the more you purchase, the lower the cost. This is something you need to negotiate if you choose to go the subscription training approach.
Internal Training
The third method is to train your staff internally. Firms will sometimes hire someone who knows Revit Structure; other firms will send a BIM/CADD manager to an off-site training event to come back and train the other staff.
If you decide to do the training internally, I recommend you invest in a published training manual rather than develop your own training material, unless you have a small internal group that does nothing but training for your firm. You will spend a ton of time developing the content and material to train your staff. We tried this at my firm and had a hard time getting the content written and teaching the class in a timely manner. I think it would have gone a lot smoother had the content been developed and published before trying to schedule the training sessions.
A good resource for purchasing training material is a company called ASCENT, a certified Autodesk publisher that offers training material for all versions as well as many of the different Autodesk products (not just Revit).
From ASCENT, you can purchase training material (and dataset content), in both Metric and Imperial format to fit your needs. When you place your order, you select the type of material you need such as Student Copy, eBook, Video Enhanced eBook, and Instructor Tools.
If you choose the internal training route, it is important that your trainers not only know the content, but also are good public speakers that can keep your staff enthused and engaged to ensure they get the most out of the training.
We started with an essentials class and once people were comfortable with the basics, we held intermediate and advanced classes for staff to continue their learning.
Build a Resource Library
One thing we have done to help our staff after training is completed is build a resource library that they use if they get stuck or want to continue learning more on their own.
The first items in the library are the ASCENT books (Student and Instructor tools). We also have a copy of Mastering Revit Structural and Mastering Revit Architecture (for items like walls, stairs, railings, etc. that we occasionally need to model on industrial projects). We also have Essentials of Revit Families for the rare occasion when we need to custom build some families for projects.
Aside from the published content we have purchased we also download each year's content handouts from Autodesk University and other conferences including Midwest University and the RTC conference. This content is stored on the server categorized first by application name (Arch, Struct, and so on), then by the subcategory of the version year (2015, 2016, 2017, etc.). This allows our staff to look for new content quickly and walk through the handouts during lunch and learns or when things slow down and someone wants to try and learn something new on their own.
Pick a Pilot Project
After training a core group of individuals with the goal of using Revit Structure on a project, it is time to select a pilot project to work out some of the workflow bugs.
You are bound to run into some stumbling blocks on the first project that were not covered in the training. If that happens, don't panic. Take the time to look at everything as a team and work through the solution. A lot of times when modeling if you break things down to simple forms it is easier to build complex items in smaller pieces. Think how the structure will actually be built; this will come in handy when you start to transfer data to the engineering applications.
Don't try to make things too complex. In fact, if you over- constrain things, Revit will let you know if something can't be constrained or build a shape. Pay attention to the comments in the lower left corner of the display where the tool tips show up when you are modeling. If you get the circle with a slash through it, look at the prompts as they often tell you why something can't be placed or moved. In an elevation, this typically means something is locked to a plane and the action you are attempting can't be moved from the plane it originated from.
Another key when modeling is to pay attention to model warnings and keep your model as clean as possible. Some warnings are just notifications that won't harm the integrity of the model. Other warnings will slow down your model and affect the performance of your model moving forward. The one you may see in Revit Structure most often is the warning that components are slightly off axis.
Set Pilot Project Goals
Setting goals for the pilot project will help keep it and the team on track. Make sure your goals are measurable and obtainable for the first project. Then as you continue to do projects, add more goals with each new project until you are comfortable performing everything on the same project.
On our first project, we choose to develop a complete, accurate model. Was that a measurable goal? Yes. But was it a well-defined goal? Not really. The reason I say this is that we did not define anywhere the LOD (Level of Development) for the project.
We dove in, not really doing our research and understanding what LOD meant to a BIM project. That was our first lesson learned from the pilot project. The second lesson learned was that we did not develop a good BIM Execution Plan and make it part of our project contract.
Not having a BIM Execution Plan that defined what was and was not going to be included in the BIM model meant that with each weekly meeting we had with the client and contractor, our list of things to model kept growing (scope creep).
Had we defined what LOD the delivered model would be and included that in our BIM Execution Plan that everyone signed off on, we would not have been modeling all the miscellaneous steel that the steel fabricators typically would model (for free).
By the time the next project came around we had done our research on LOD, developed a BIM Execution Plan Project Template document, and developed what we called the Scope of Services document. All of these are now included in our project contracts that get signed-off on before the start of any models.
In the Scope of Services document, we define what we will model in the base deliverable. We also define in the Scope of Services document what we can provide, but indicate that these items are an extra service as it is typically out of our project scope. These include such items as connections, embed plates, all the kickers and miscellaneous steel that the fabricator usually provides in their model(s).
We set three to four on our pilot project and added a few more goals on the next project. After the second project, we held another post-mortem meeting to resolve other issues before we got the whole firm together and shared our findings, then made some further adjustments based on more feedback. My point is that nothing is perfect and I advise you to be flexible. Not every project is cookie-cutter that fits the perfect mold.
Evaluate the Pilot Project
After your pilot project is completed (or if it makes sense, at the end of each major phase), take the time to get the team together and discuss what worked and what didn't. If need be, schedule multiple meetings with the team to then discuss possible solutions moving forward. Make sure these meetings are documented because at some point someone will want to bring a topic back up and the documentation will come in handy.
After the items are discussed, make a list of those items that can be quickly resolved and another list of items for which you need help from other parties, such as technical issues that might need involvement from your VAR or trainers to resolve.
In other cases (and this has happened in our case), some issues can't be resolved even with the VAR involved. The VAR can pass the issue, which may include software bugs, onto Autodesk developers for them to investigate. This is another reason to make sure things at the meeting are documented so every detail of an issue can be forwarded onto the developers for resolution.
After the series of meetings is concluded, share the final report with management so they can see how things are progressing for the project team. This will show them that their investment has been worth the time and money.
Firm-Wide Standards
After the pilot project and feedback have been shared with the firm, take the time to review the OOTB content (families, symbols, templates, etc.). Now have the core group (or your IT group) make the necessary modifications (if needed) to make the content follow your firm-wide standards.
Develop standard symbols and abbreviation sheets, standard legends, and cover sheets and add these items into your master project template for future projects. Most likely, a lot of these items were developed by the pilot project team and can be used as a springboard to the development of your firm-wide Revit standards.
When building our project templates, I found a checklist written by Michael Kilkelly, who also has a web page dedicated to the explanation of the various parts of the checklist: The Best Strategy for a Super Effective Revit Template (http://archsmarter.com/revit-template/).
After those standards are developed, start looking at your typical and standard details. Take it from our lessons learned and redraw your typicals and standards from scratch. We originally chose to convert them to Revit details and we learned there is a ton of clean-up in converting details from CAD and trying to use them in Revit.
We learned that by converting them and using them on the first few projects we cluttered our models with AutoCAD line types and patterns and trashed our models. After spending hundreds of hours cleaning up the details and purging the garbage from our details, we started seeing cleaner models and from sheet to sheet our details looked more consistent. For example, details used the same patterns and line types that were Revit-based lines types and patterns as well as using detail items for components like steel shapes.
Get Management Support
Like all good standards, getting buy-in is the key to a good set of standards and getting people to work like a well-oiled machine. Getting management support helps make sure that everything downstream follows the firm-wide standards.
We learned that Revit does not look like CAD, so as we developed standards for Revit we had to make some changes along the way. When we had to make those changes, we made sure to discuss the options with management to get their buy-in and explain why something had to be tweaked slightly.
Doing this helped us when we rolled everything out to the rest of the firm. Did it go over without any backlash? No, but getting management to buy into the changes helped leverage things so that those who didn't like the changes were encouraged to follow the standards.
Moving Forward
Now that you have some of the major items under control and have some direction, your core group can help facilitate, teach, and manage staff that will be coming on board with Revit Structure soon (either new to the firm or those existing staff using Revit for the first time).
With each passing project, this new software will make things easier. The more you use Revit Structure the more efficient you and your staff will become. After a few projects, you can start investigating other tools and better ways to work smarter instead of harder.
After having a few projects under our belt, we investigated the development of the analytical model from Revit and sharing that analytical model with the engineers. As we worked through the issues we could start roundtripping models between Revit and engineering software such as Bentley Structural applications and RISA. Now we have developed a workflow that most of our projects follow.
I hope this article has been helpful in giving you some insight as you begin to use Revit Structure. Learning how the tools work is the key component to being successful with Revit Structure.
Kenn Farr is the BIM Manager for Teasley Services Group and has over 24 years of experience in modeling, development, and the implementation of technology.