Revit Structure: Advanced Support for Work Loads
Over the years Autodesk® Revit® Structure has matured into a structural modeling and detailing package that provides for the backbone of your designs. As the product's sophistication progresses, we are getting closer to having the ability to design our structures from concept to fabrication and facility management—all in the same package.
We'll explore some of the new enhancements related to modeling, documentation, and analysis. Some of the features will not be platform-specific, but nevertheless have a decent impact. Don't become static with your old habits. Adopt the new features and reap the benefits.
Really Big Small Enhancements
What Autodesk refers to as "Small Feature Enhancements" can often be the most useful in speeding up day-to-day production. Don't underestimate the power of these minor improvements.
Multi-Segmented Grid Lines: You can now draw funky-shaped grid lines instead of just straight lines or arcs. The tool will take you into sketch mode to accomplish the task. It might just be some crazy scheme that rarely occurs, and I won't argue here why this might be good or bad, but in any case this is no longer a limitation in the software.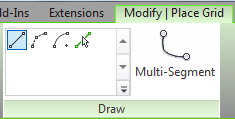 Figure 1: Multi-segment grid lines
Dimensioning: Some nice little enhancements include a "Diameter" tool to complement radiuses, splitting dimension chains into multiple strings, and new equality text features. Within the dimension type properties, equality text can be customized and then users can choose which kind of equality text they wish to use for each dimension instance. This will be great for all of those equally spaced beams on floor framing plans.
Figure 2: Equality dimensioning
Materials: Autodesk is making a major overhaul of the materials library, extending assets to include appearance plus thermal and structural properties. This involves a new user interface that will take some getting used to. You will want to check over the material assets, especially if you've customized materials in previous templates. Beam and column materials now have a consistent "Structural Material" name, which allows the structural material to be scheduled. This will facilitate better interoperability with analysis software.
Figure 3: Physical material properties
Figure 4: Wall assembly properties
Wall and Floor Structural Materials: Walls and floors can now be refined within one of the structural layers in the core boundary to define the "Structural Material." This will enable the analytical object to take on the physical material assets of that layer, enabling us to utilize multi-layered walls and floors for analysis.
Parts and Assemblies
While we saw the introduction of parts and assemblies in Revit 2012, it has been difficult to put these tools to good use. The biggest improvements are focused on the design-to-fabrication workflow of precast concrete. The idea is that a designer can focus on the overall design by using continuous walls and columns, then split those objects into constructible parts, and finally combine those parts into assemblies and shop drawings at the appropriate stages of the project.
Parts: Parts can be merged and excluded, then later restored. Since we often don't know the final solution, it can take many trials to get the splitting of parts correct. Being able to manipulate these without going back to "square one" is a much-needed improvement.

Figure 5: Modify parts
An additional feature is the ability to divide parts with a gap and a custom profile. A perfect example of this is precast concrete wall panels. Now we can maintain the original construction of a wall—as well as the parts it is made of—with proper construction joints.
Figure 6: Split with profile
Assembly Drawings: The next step towards facilitating fabrication is the workflow to create shop drawings. Assemblies are a great fit to do this. Once an assembly is defined, six new view options have been added for creating detail section views around the outside of the assembly. Assembly views can now be placed on project sheets and project views placed on assembly sheets. Element creation tools are now available in edit assembly mode. Assemblies will have an origin, allowing the assembly type to be changed for an assembly instance, and provide a local coordinate system, which can be used to determine how the assembly geometry is displayed in views on a sheet.
Figure 7: Automated precast column assembly shop drawing
Structural Reinforcement
Fabric: Structural Fabric Reinforcement is a new element that can be hosted in structural floors, foundation slabs, and structural walls. This is an item that was typically covered in detailing, but can now be accounted for in the model. The layout functions are easy and intuitive, which can help builders get a quick and accurate estimate of how many sheets of wire fabric they'll need on the job. I can imagine similar tools surfacing later for such things as metal decking.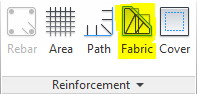 Figure 8: Reinforcement Panel
Figure 9: Fabric reinforcement
Host a Rebar: Area and Path reinforcement can now host a rebar. This new behavior makes these elements containers for hosting structural rebar in a manner similar to how beam systems and trusses host structural framing. The prior behaviors have been maintained and the user can control which behavior is used in the Reinforcement Settings dialog on the Reinforcement panel of the ribbon. Layout rules such as a fixed number or maximum spacing for Area and Path reinforcement have been updated to follow Rebar Sets.
You can now display rebar elements in floors, walls, or foundation slabs; schedule rebar; and remove the area or path system to expose the individual rebar elements. Units have also been added for structural rebar: Reinforcement Area and Reinforcement Area per Unit Length.
Rebar Snapping: Another good rebar improvement attends to snapping and alignment to fillets and hooks. It is now easier to avoid interferences and collisions with other rebar while placing a rebar/rebar set in the fillet or hook.
Figure 10: Rebar snapping
All of these new features are getting us very close to a complete rebar detailing package that can be leveraged by multiple parties from design to fabrication. Since most rebar detailing packages are 2D, this model-centric workflow may very well turn heads in the industry.
Structural Analysis
Anybody who has attempted to round-trip a structural design from Revit Structure to analysis software knows that the process isn't exactly straightforward. There is typically some preparation before doing so. Now that structural analysis is becoming embedded into the product and cloud analysis is on the brink of reality, tools are needed to bring the documentation model even closer to the analytical model. That's where a string of new features comes into play.
Manual Adjust: When setting up analytical floors, edges need to be aligned with analytical supports such as beams or walls. To do this task, one would select the "auto-detect" alignment method. If that didn't succeed in automatically detecting the closest support, than one could align them using grid lines or manually placed reference planes in every location.
While this was achievable, it was a daunting task for complex projects. To address this, Revit Structure 2013 now allows direct manipulation of slab edges and corners (see Figure 12). In addition, new instance properties of analytical elements have been added to facilitate identification of analytical elements such as Member Number, Surface Number, Foundation Number, Node Number (Analytical Nodes), and Comments.
Openings: Floor openings can now be ignored on a case-by-case basis. Each opening in an analytical model will have a check box when performing an "Analytical Adjust" (with the floor selected and the Openings tool selected) that can be simply unchecked when the user wants to remove the analytical opening but keep it in the physical model (see Figure 11). That'll be handy when simplifying the analytical model from all of those small openings.
Links: Where analytical beams and columns don't quite come together, we need to set rigid links between them. This was previously done by turning on automatic Rigid Links. An update has been implemented that renames these to "Analytical Links" and distinguishes the links to be either manual or automatic. These links have types that allow the user to configure link release conditions (see Figure 13).
These improvements will greatly simplify the task of prepping the model for structural analysis.
Figure 11: Ignore slab openings in the analytical model
What Does It All Mean?
Someday, in a perfect world, we'll be able to design and document our structural projects in a single platform. I don't think that day has come yet, but when you look at the process with a holistic mindset I think you'll agree that there isn't a better solution out there than Revit. This updated version gets us many steps closer to that utopia by expanding the virtual model to more users. So don't take the little stuff lightly and don't ignore the new features, because they will undoubtedly save you time and money. Keep learning and keep developing your efficiency with the tools available.
Figure 12: Manual manipulation of analytical floors
Figure 13: Analytical links
Greg Hale is a BIM Manager with SWBR Architecture, Engineering & Landscape Architecture. His main focus is on the implementation and practice of Building Information Modeling. Now specializing in Revit and Navisworks, he provides training, implementation strategies, product optimization, and best practice to designers, building owners, contractors, and educators. Greg is a licensed professional engineer, a regional leader in BIM and VDC, and has spoken at many professional events. In addition, Greg is co-founder of the RocCity Revit User Group, PSMA Design Technology Group, co-chair of the NCS Wave Task Team, and an active member of NCS and NBIMS. He brings a passion to design and the progression of integrated practice.