Real Life Perspective: Transitioning from AutoCAD to Revit
According to the fifth annual "SE BIM Survey," conducted by the BIM committee of the Structural Engineering Institute (SEI) and the Council of American Structural Engineers (CASE) with the Structural Engineers Association of Texas (SEAoT), 67 percent of respondents reported using BIM in their projects (Post, Nadine. "BIM Survey Says More Structural Engineers Use Building Information Modeling." Engineering News-Record 12 May 2014. Print). Who are the remaining 33 percent and what are their predominate reasons to resist BIM adoption? Is it possible to convince these BIM holdouts to make the transition and catch up with the recent technological advancements of the AEC industry? This article will attempt to diagnose the concerns of non-Revit users and provide real-world experience and advice to ease those concerns.
Revit Adoption Challenges
There is no doubt about it, Autodesk® Revit® adoption is a daunting task for architectural and engineering companies of all disciplines and sizes. Revit represents a completely new approach to creating construction documents. It is understandable that there are uncertain feelings toward learning an entire new design process and software package. As BIM manager responsible for Revit implementation across structural, mechanical, and electrical departments, I am very familiar with the skepticism and reservations associated with switching from 2D CADD programs to BIM software such as Revit.
If your company is still using AutoCAD®, the following comments probably sound familiar:
There is not enough time to properly train employees.
Who within the company will lead the implementation process?
Completing a project in Revit is more time consuming than AutoCAD.
We will have to create new drafting standards and content libraries.
Computer upgrades will cost too much.
AutoCAD drawings just look better than Revit drawings.
Revit is just a fad and it is not practical for our business.
We have been successful creating drawings the same way for many years. Why change now?
These thoughts are certainly valid, but numerous other questions must be asked and answered before deciding to switch from AutoCAD to a 3D BIM platform such as Revit.
The above comments boil down to a few key points. First, Revit implementation is too time consuming due to employee training. Second, Revit implementation is too costly due to hardware upgrades and new software packages. Last, and perhaps most important, companies struggle to foresee the advantages of utilizing Revit that overcome the time and cost of the implementation process.
Jon Kirk, chief engineer at Nitterhouse Concrete Products in Chambersburg, Pennsylvania, is a Revit holdout. Nitterhouse produces hollow core plank, parking structure components, total precast buildings, and architectural panels. Why has Nitterhouse resisted Revit adoption? Jon claims, "It is obvious that transitioning to BIM and Revit Structure will take significant time to develop company standards and train our current staff of detailers to efficiently use the new software. Aside from time constraints, the downstream efficiencies for our plant and field services personnel are difficult to quantify. Therefore, the unknown return on investment of time and capital provide little incentive to dive in without any immediate and urgent need to make such a transition." Jon articulates the anti-Revit argument perfectly and his comments represent the feelings of many others.
Fortunately for Jon and the other Revit holdouts, the benefits to using Revit and a BIM workflow far outweigh the implementation challenges and can provide immediate return on investment. The remainder of this article focuses on the specific advantages to using Revit Structure for construction documentation.
Revit Structure and BIM Advantages
Despite various concerns and reservations, many companies have realized immediate benefits following Revit adoption. The most obvious and significant advantage to using Revit Structure over AutoCAD is the creation of a virtual 3D building model. While using Revit Structure for the first time, it is difficult not to spend an abundance of time rotating the model in all directions just to explore the 3D structural model. Working within the virtual 3D environment truly brings the structure to life.
Figure 1: 3D Structure
Not only does the structural model look impressive, but it also provides many practical purposes.
Cat Conlin, CADD Technician at Beers and Hoffman Architects in Lititz, Pennsylvania, explains, "When dealing with clients, Revit Structure is an incredibly useful tool for communication, especially when the client does not have the ability to visualize what you're talking about or know how to read 2D drawings." Revit Structure allows a new way of communicating information due to the ease in which 3D views are created. Generating 3D perspective views for construction documents or presentations is a powerful communication tool. This is an important point not just for owners, but also for all contributors involved in the construction process. Specific views can be created directly from the model in order to answer questions or provide clarity to difficult 2D details for the contractor during construction. Being able to view a structure or building component from any angle at any time within the model is a tremendous advantage.
Another major advantage of a Revit Structure model is coordination between other engineering disciplines. When the entire design team is working within Revit, coordination between architectural design elements, structural members, and various types of mechanical equipment could not be easier. As an architectural designer, Cat has noticed these advantages first hand. "Revit Structure has been very helpful in identifying conflicts and coordinating solutions during the design phase," she says. "This allows the design intent to come through by avoiding in the field change orders that often affect the way a space feels and is perceived." Every individual of the design team immediately becomes more cognizant of the other engineering disciplines. This increases coordination throughout the design process, which ultimately creates a superior building design with fewer conflicts.
Revit Structure also automatically creates standard 2D views from the building model, which dramatically decreases drafting time. Simple yet accurate sections, elevations, and enlarged plans are all easily generated from the model.
It is difficult to overstate the advantages of 3D modeling, but if you think that Revit is just a program to create a virtual 3D building, you are missing the entire picture. Revit is parametric building modeling software. In simple terms, a parametric model manages object data to create relationships between all of the model's components, views, and annotations. Parametric modeling allows Revit to be "smart" and is the foundation to Building Information Modeling. At first glance, the advantages to parametric modeling are difficult to grasp. However, parametric modeling is the game changer to which Revit holdouts may not be attuned.
Utilizing the parametric nature of Revit Structure is where tangible efficiencies are gained when compared to AutoCAD. Revit Structure can be used to automatically extract information from the building model to create schedules, tags, notes, and various other annotations. These items are instantly updated when information within the model is changed, which completely eliminates the need to go back and forth between separate drawings to verify information has been updated correctly. Determining how to use parametric modeling at its fullest provides significant benefits to the design team.
One of the underappreciated features of Revit is the Project Browser. Cat explains, "Revit helps lay out the drawing set because you can quickly get the framework for multiple views in place at the same time within the Project Browser." Each Revit file contains all of the model views, details, schedules, plan notes, and drawings sheets for a single project.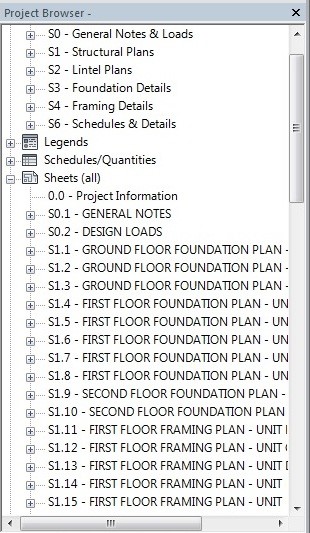 Figure 2: Project Browser
The Project Browser can be organized to suit a project's specific needs. By using the Project Browser, Revit has eliminated model/paper space and clumsy x-reference file organization. And yes, more than one person can work within the same Revit file at the same time.
In addition, Revit adds another service to your arsenal to impress clients. When clients ask, "Will you utilize the latest BIM technology on this project?" You can respond with a resounding "Yes!"
Making the Transition
Transitioning to Revit Structure is not a simple task, but the numerous advantages over AutoCAD to the design team and the overall project show that the endeavor is well worth the effort. A useful strategy for Revit implementation is to consult with an expert. There are numerous national and regional companies that offer Revit training and implementation services. These companies will guide employees and develop efficiencies for your specific business and design processes.
The Revit implementation process also provides an excellent opportunity to review your company standards and improve upon current design workflows. It is important to take the extra time necessary to review current AutoCAD details, notes, and schedules to ensure they properly reflect current design standards before creating standardized Revit content. This exercise is essential to successful Revit implementation. Once working within Revit, the design/drafting process and workflows must be overhauled to receive the largest benefit to utilizing the software. Do not try to use Revit as AutoCAD; Revit represents a fundamental change in creating construction documents.
Another extremely useful resource is your local Revit user group. Members of these groups possess real world experiences with BIM projects and Revit software. Typically, members share ideas and lessons learned in an open forum setting at regularly scheduled meetings. Coordinating with individuals who have already been through the implementation process will ease the frustrations that are inherent to such a significant transformation. Visit http://www.augi.com/user-groups/local/local-usergroup-list to find a Revit user group in your area.
Keeping Up
Due to recent rapid technological advancements within the AEC industry, many companies may get left behind. To stay competitive, companies must transition to BIM practices. Revit, however, represents only an initial introduction to BIM. Autodesk Navisworks is project review software that utilizes a Revit model to enable architecture, engineering, and construction teams to coordinate disciplines, resolve conflicts, and plan projects before construction begins. Autodesk ReCap provides the ability to organize point cloud data, millions of individual points generated from 3D laser scanning, for efficient use within Revit. Implementing both of these powerful BIM tools is also necessary to thrive in this competitive industry.
The future hints at even more advancements for the industry. Tablet computers may completely replace traditional paper drawing sets at the construction site. 3D printer software linked to Revit models may replace traditional physical modeling materials. Virtual reality headsets may redefine the way construction sequences are established.
Switching to any new product can be difficult, but rewarding. Remember when you started using Google instead of Encyclopedia Britannica? Remember when you starting using Netflix instead of driving to Blockbuster? Remember when you dumped your flip phone and started using a smartphone? Yes, simple analogies, but technology continues to shape our world for the better.
At my company, the transition to Revit has not only represented a change in workflow, but also a positive change in company culture for the better. At first, Revit implementation was very challenging and company morale was low as we agonized over perceived problems. However, as everyone became more familiar with the software and realized the advantages to Revit, attitudes quickly changed. Today, every designer, engineer, and project manager is truly pleased with how Autodesk's BIM tools have transformed the way they complete their work. Implementing Revit has taught us that we should work every day towards improving our craft. We now actively seek any avenue to gain Revit efficiencies instead of waiting for a push from outside our office walls. We have learned that as technology continues to change and become more advanced, it is simply unacceptable to have a complacent attitude.
Building information modeling with Revit has provided an inarguable benefit to me, my company, and our various clients. There is no doubt it can do the same for you.