Quick Tip: How to Use Layer Walk Effectively
Layer Walk [Home tab> expanded Layers panel] has been around since the Release 11 Bonus CD and is still a mighty powerful tool. The Layer Walk dialog box displays a list of layers and when you select one, it displays the contents of that layer … even if the layer is Off or Frozen.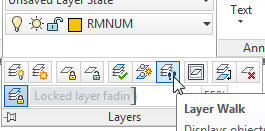 Quick Tip: Right-click on Layer Walk, then click Add to Quick Access Toolbar.
Cool Features of Layer Walk
Default: Layers that are currently On. Layers that are not highlighted (white) are either Off or Frozen. Use Ctrl or Shift to select multiple layers to view the layer contents.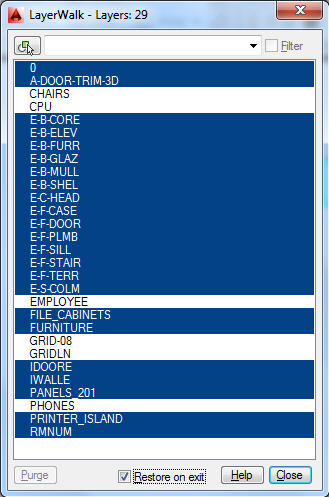 Need To Know: Restore On Exit check box at the bottom. If that box is checked, after having your way with layer visibility from within the Layer Walk dialog box and when you click Close, the drawing's layer condition goes back to what it was when you first launched Layer Walk.
Nice feature: Right-click menu with Select All and Save Layer State.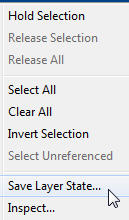 Ideas on When to Use Layer Walk
A. When you receive a drawing from an outside source, Save Layer State and call it 'RECEIVED' or 'GOT IT LIKE THIS'.
B. Use Layer Walk to Thaw and turn On every layer using Select All, then Save Layer State called 'ALL LAYERS'.
C. Identify which layers are the building shell or key components of your drawing, then Save Layer State and call it 'BUILDING SHELL'.
D. After selecting the primary layers of interest, click Hold Selection, then you can click additional layers to view without using Ctrl or Shift.
Such a fun command! Hope you enjoy it, too.