Product Review - Lenovo E31 SFF ThinkStation
I have spent some time recently with heavy-duty solving stations and laptops, but have not had the opportunity to dive into a decent CAD workstation. Lenovo agreed to let me take a look at the Lenovo E31 SFF ThinkStation.
I wanted to see how the entry level to mid-priced machine would perform with my standard regimen of routine modeling and analysis tasks. The following is a summary of that experience.
Article Outline
Overview of the Lenovo E31 SFF ThinkStation
Specifications
Benchmarks
CAD/CAE Performance
Wrap Up


Figure 1: Lenovo E31 SFF ThinkStation
Overview
The Lenovo E31 SFF (Small Form Factor) is part of the Lenovo line of ThinkStation desktop products designed to perform well with engineering-type software, but still retain a reasonable price point. The unit has a very small footprint and fits into small areas that make it more convenient than many other workstations in a small office environment like mine. (I have this unit installed in the bookshelf adjacent to my desk, which I prefer because it keeps any dust issues to a minimum).
The case is still robust; even at the affordable price tag it is made to hold a good deal of weight. I like having duplicated ports up front, and this one includes the Headphone and Mic, Card readers, DVD drive, and (2) USB ports for easy access. It is styled in the typical Lenovo manner, which is quite appealing to me.
The internals are well chosen for typical computer-aided design and engineering work. This 4 core Xeon E3-1230 is a good performer for standard engineering. The 7200 rpm hard drive is fast and offers plenty of storage for modeling production; hard drives are easily accessed in a removable caddy, held in place by plastic tabs.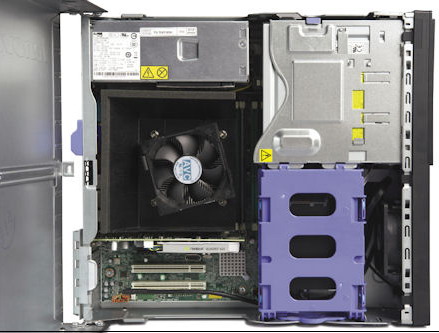 Figure 2: E31 internals
The SFF case offers little space and limits the selection of high-end graphics cards. I do not do a great deal of rendering, and as such occasional extended rendering times would be the understandable tradeoff.
Specifications
(as tested)
OS: Windows 7 Professional 64 bit
Dimensions (WHD): 175mm x 25.2mm x 430.8mm
CPU: Intel Xeon E3-1230v2 (3.30GHz) (up to E3-1280v2 3.6GHz)
MB Chipset Lenovo with Intel C216 chipset
RAM: 8GB PC3 1600MHz uDIMM (16GB Max)
Graphics: NVIDIA Quadro 600 1GB Dual link (DVI+DP) LP (up to NVIDIA Quadro 2000)
Storage: WD 1TB SATA 7200 rpm 3.5" Drive (RAID and 2x240GB SSD available)
Media Card Reader
16x DVD +/- RW DL
Integrated Ethernet adapter (no wireless available)
Priced at $1,274 USD as tested
Benchmarks
In this review I used the Passmark PT8 software benchmark. I also worked with specific CAD / CAE software to help convey a realistic expectation of the E31's performance on daily tasks.
Additional information and benchmark results can be found here at:
http://designandmotion.net/category/reviews/
Passmark PT8:
Mean performance: 2275.2
CPU: 9281
2D Graphics: 754
3D Graphics: 703
Memory: 2147
Disk: 881
CAD/CAE Performance
Overall I'd say the workstation performed well, in accordance with what we expect from an entry-level upward to a mid-level engineering computer. Here's how the units performed in different computer-aided drafting and engineering CAD/CAE settings.
Inventor Professional 2014
The graphics were sufficiently crisp and the anti-aliasing was acceptable. Highlighting was instant and assembly manipulation was smooth with the RC Car Assembly. I would say that CAD work was definitely a comfortable experience.
Figure 3: The RC Car model in Inventor
In the Static Stress environment, setup and standard manipulation were snappy and the graphics were acceptable. Solve times were unfortunately slower than I would have liked; the hard drive swapping began, which I suspect was a result of only 8GB of RAM. Nevertheless, an SSD would have perked things up a bit. While switching from one result display to another, the typical delay experienced was about a full second. This is slower than desired when less than 12 components and only ~200000 elements are involved.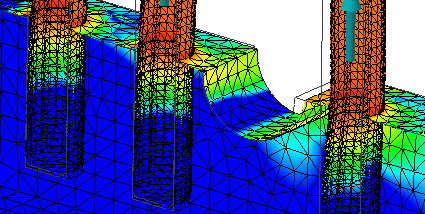 Figure 4: A portion of the sample model shown in the results environment
The following are an account of comparative timeframes during work activities, using the E31 (and the compared reference machine):
RC Car model load and update: 49 sec.
Start screen load time, including local host Vault login: 11 seconds.
Step file place / import: 11 sec.
Sample linear static stress meshing of 212162 elements: 5.9 sec
Sample linear static stress solution time: 3 min. 26 sec.
Autodesk Simulation Mechanical 2014
Standard setup workflows were what you would expect; reasonable response, quick highlighting. The Simulation Mechanical Editor Interface is not graphically intense so reasonable performance is expected there.
Once the solver kicked in, the hard drive swapping began and remained quite intense. Adding 8 GB of RAM to max the memory capacity of the E31 SFF may have squelched a good portion of that, but I would look to the tower version of the E31 for CAE work in order to get a faster GPU and more RAM.
Figure 5: Windows CPU and hard drive behavior
Sample brick meshing of 198664 elements, 11 components: 33 sec.
Sample Linear Stress Analysis Solution time: 6.08 min.
Wrap Up
I think the E31 SFF is well placed in organizations that perform CAD work and traditional engineering, both in mechanical and construction services. Its small size also makes it ideal for home offices that need solid performance with a small footprint.
The only significant issue drawback that limits the unit to CAD and lightweight engineering is the RAM availability. The processor was willing, but the lack of RAM (as tested) and non-SSD hard drive seemed to drag the system a bit more than I'd like. A maximum of 16GB would be great for most modeling workflows, but marks a significant performance point that CAE, CAM, and visualization professionals have to consider. That said, Lenovo also offers the E31 in a tower configuration in order to get some more hardware inside.
The opposite side of that coin is that the Lenovo E31 SFF is priced low enough to allow companies to furnish numerous users with good mid-level performance and save enough in order to purchase a couple multi-CPU Lenovo D30s to handle the big ticket studies.
I would suggest this machine to most CAD professionals and those analysts performing FEM setup and small studies. Purchase this machine with the full 16GB of RAM and at least 1 SSD. Configured like that, I believe you will enjoy the performance of the Lenovo E31 SFF ThinkStation.