One Man Shop: Consulting vs Freelancing - Part One
Getting started
Presentation equals perception. Establishing your identity and branding that identity is fundamental to generating a steady stream of work. Think of yourself as a company, and present yourself as such. You are a professional consultant, not just a lone artist taking on freelance work.
For example, my studio, Onion 3D, is not incorporated. However it is a DBA and I am a sole proprietor. I occasionally sub jobs out, but for the most part I do all the work myself. This makes things more manageable at tax time.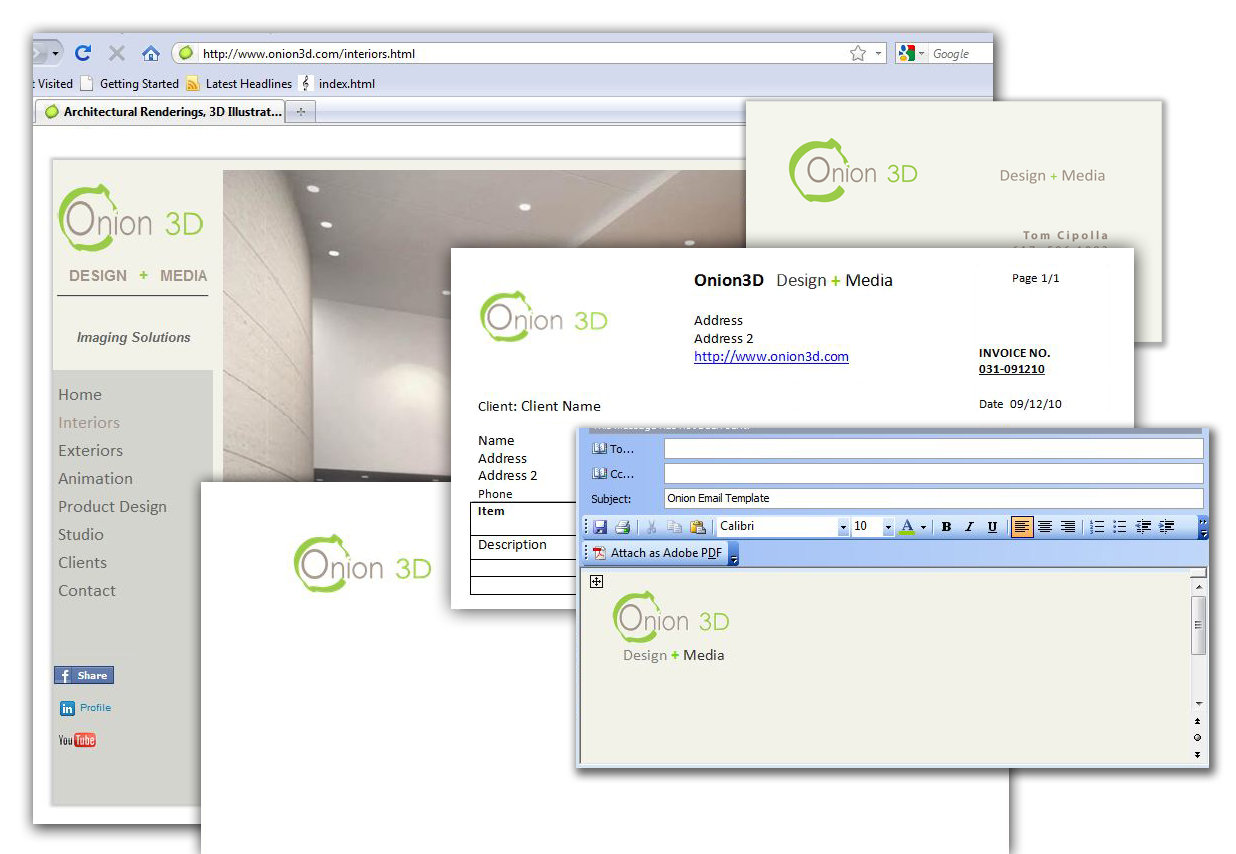 Consistency - Successful branding is more important that one might initially think, and it's not just for large corporations. Branding relies on consistency. This consistency indicates credibility, reliability, and inspires confidence in you. On the graphical side, design your logo and create a style guide which dictates your color palette, specific font, standard spacing, and so on. Limit your palette to one or two main colors. You can also have an accent color for specific situations. Be sure the logo translates well in black and white, or Figure 1: Website, business card, invoice, email template, letterheadNov/Dec 2010 27 design a version specifically for faxes, copies, and the like. Adhere to this guide in all communications and representations
of your business self. First off, you'll need to create a website, email template, and hard copy template. Apply the style guide to all other documents including invoices, agreements, contracts, advertising, business cards, and any other documents you use for the business.
Website
If you are a visualization expert, your website should be about your viz work, not your web skills. Your site should be distinctive, clean, and simple to navigate. Don't be fancy here; your site indicates the way you communicate and how you'll interact with the client. In lieu of splashy intros and 3D flash slideshows, it is best to keep your design clean. Proofread your copy. Then proofread it again. Don't skip this step - typos damage your professional image and compromise the confidence you are looking to engender. What is a client supposed to think of your attention to detail if you have misspellings in your first communication? This goes for everything you do, so make proofreading second nature.
Email template
The email template should be simple, with your logo at the top left and a footer with contact info. The logo should be a link to your site. Always use your chosen font. When choosing your standard font be aware that your goal is to show the world what you want them to see. Don't let the look of your copy be decided by what your client's computer thinks is close to what you've called for. To help standardize your look, choose a common font and alter it slightly with color, grey scale, or experiment with size. This is a good example of balancing richness versus reach.
Raise your visibility
Involve yourself actively in the 3D community. Post your work on sites specific to your chosen field. Gamers can skip arch viz sites, and vice versa. Do more than just browse 3D sites. Participate by posting work and it is important to comment on others' work. Though not geared specifically to attracting clients, these sites help to keep you current, and expand your visibility online. There will be more listings for you on search engines. Update your online portfolios, follow other group members and communicate with them regularly. To further increase your visibility, be sure to update your friends and connections as you achieve new professional milestones. I recommend that you avoid showing work only on picture sharing websites. These have their place, but it not a good idea to send a prospective client a link to your work stored on a social networking site.
Nuts & bolts
When negotiating with clients, ideally you'll have a written contract for every job. Sometimes you'll be required to sign a non-disclosure agreement (NDA) before a job can move forward. It is important that you have your own standard agreement which establishes terms to be accepted by both you and the client. Address image ownership. Although possibly not the best business practice, I will typically only require that the images I produce are mine to use in my portfolio. Not every job will yield work that you want in your portfolio. It's still good to remain consistent and get your agreement signed. Avoid non-compete agreements and non-comp clauses in contracts. These are typically for employees, but you may see one from time to time. Avoid it even if the job is very lucrative. You may have other clients who need you, and you should be there for them.
Negotiate the revision process. I cannot stress enough the importance of this. If you quote a job at a flat fee, you must establish a limit to the number of rounds in the back-and-forth tweaking process. Beyond this limit your work becomes an additional service to be paid hourly. That's it, take it or leave it. Skipping this step is a sure way to lose your shirt on a job.
Also, if the client company is small or new, get in writing that there is indeed the budget to cover your fee before you proceed. If you don't establish this expressly, several things can happen, all of which are bad. Excessive unpaid revisions will chew up your fee and take time away from other jobs. If you don't address this up front you may be perceived as an amateur and treated as such. In further negotiations you could be in a position of weakness. This goes back to the importance of being perceived as a professional visualizer and not a hungry student. Even if you don't accept the job you are more likely to be paid for any time spent, than if you are vague or seem unsure about your role in the professional relationship.
Payment structure and terms
Here is another opportunity to project professionalism. This is important because it means that you are a dependable professional, not just a talented artist who may or may not be reliable. Your fee is a function of the time you estimate to complete the project, time actually spent, the client's budget for the job, and your expenses. I apply the - rule of thirds - to payment. The first third is due upon agreement to do the job, before any work has been done. The next third is due upon written approval of a low resolution version of the finished project. The balance is due upon delivery of the final product. If this is not acceptable to a client it can speak volumes as to how you'll be treated. Payment up front means that you are committed to each other to complete the job.
Have I ever done a job for a less than an ideal fee because the result would strengthen my portfolio or add a high-profile client to my list? Well, yes. But make this the exception rather than the rule. Also keep your drafts small and just enough to get the point across. Some like a watermark on drafts, but this appears paranoid and indicates you've been burned before, which suggests that you allowed yourself to be duped.
Competition
Compete where you have the edge. Maintaining excellent client relations and communication are areas where you can outshine the competition. It may not be possible to under-price offshore competition, but there are other measures of your value to a client. Here is where direct communication and responsiveness come into play. Being local, fast, and talented can give you the advantage. Most designers I know would much rather discuss their projects face to face with the visualizer, rather than send off information and wait to see if they got it right. Language barriers and time zone-related delays work to your benefit.
Conclusion
With repeat clients you will have an established relationship; you both know what to expect from the process and each other. If you are working with a new client it is your job to be consistent. This inspires confidence and respect. Occasionally you will be seen as a skilled laborer rather than a talented artist. In such cases - indeed in all cases - your job is to be professional, coolheaded, and easy to work with. Good luck