New Features for Roads & Bridges
Spring is here and you know that means? It's time for the latest Autodesk software releases. As most of you already know, AutoCAD® 2018 was recently released, and this month Autodesk will release InfraWorks® 360 2018.0. Several key changes were made and enhanced when working with roads, bridges, visualization, and city furniture. In the next few paragraphs I will briefly discuss some of the key 2018 feature enhancements in InfraWorks 360.
Road Improvements
To streamline and automate features and improve work efficiency, Autodesk added a new feature for use when you are converting design roads to components roads. When you right-click on a design road and select "Convert to Component Road," you now have the option to select "Automatic" feature (Figure 1). The Automatic feature basically replaces design road styles with matching component roads assembles. This feature mimics the road attributes, materials, and road width by reading the elements in the style zones and converting them to road components. For those who want to use road components but don't want to build their own road assemblies, this feature tool basically helps elevate multiple steps into one for the user.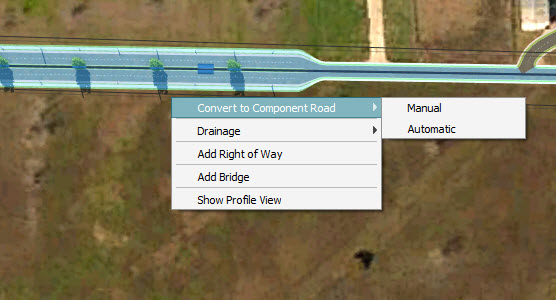 Figure 1
The next new road enhancement is road stationing labels (Figure 2). Version 2018.0 now displays 100' and 50' interval station labels along a component road when selected. The station units can be controlled through Application Options – Unit Configuration – Transportation tab.
Figure 2
It is import to note that when zooming out, the labels readjust. At one point, the station labels will only show 100' intervals. When you zoom in closer, the 50' station interval will appear.
When sketching out roads, it is important that roads meet design standards according to either local or state standards. In order to
help design professionals with the design process, InfraWorks has implemented design check features to ensure designed roads meet the road design standards such as AASHTO Imperial 2011. When a horizontal road curve or spiral curve does not meet the assigned road standards, the road curve centerline is highlighted yellow. This is a visual design check aid that greatly helps designers (Figure 3).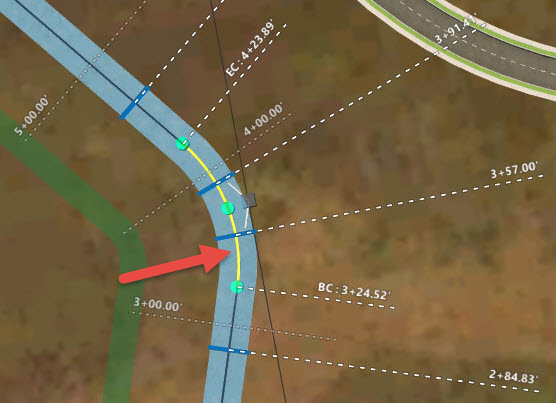 Figure 3
In addition to the curve being highlighted yellow in the model, on the Stack the Curve Geometry attribute section is also highlighted yellow, indicating that the road radius needs to be revised to meet the current drawing road design standards.
The road standards assigned to the road can be found in the Model Properties tool at the bottom of the dialog box, under Road Design Standards (Figure 4).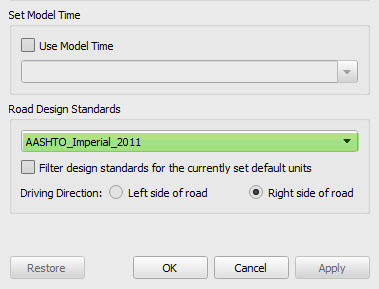 Figure 4
Bridge Improvements
Another big improvement to InfraWorks 360 2018 is the ability to import and export Parametric Bridge Content from the Styles palette. When you open the Styles palette, the Bridge Template is now included as a tab (Figure 5). Pre-built bridge templates have already been included in the Bridge Template Tab for you to use.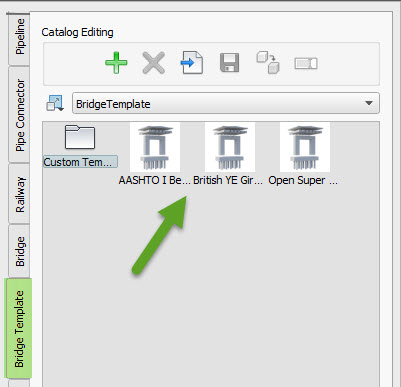 Figure 5
One of the best benefits from this feature is when you customize and build a bridge, you can include it to the Bridge template library by simply selecting the bridge and right-clicking. This will bring up the context menu, and at the bottom you have the options to "Add to Library." A small dialog box appears asking you to provide a name for the bridge template (Figure 6).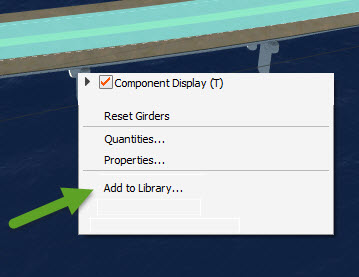 Figure 6
Another bridge enhancement is the Send to Revit feature, which allows the user to select a bridge and send directly to Revit as complete model (Figure 7). This a great tool for bridge designers who want to make changes to the bridge model within Revit. To use this feature, you must have Autodesk® Revit® 2016 or more recent release. In addition, if your model is using a geographic coordinate system such LL84, InfraWorks 360 will ask you to assign a new project coordinate. Once InfraWorks 360 finishes processing the part element conversion, Revit will automatic open to display the bridge model.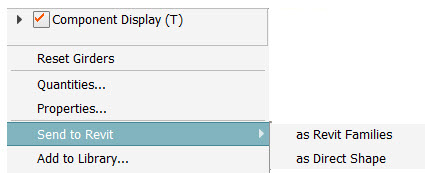 Figure 7
Other Enhancements
Now in 2018, the default visualization setting for new models is the Engineering View. Typically, the Engineering View is the best visualization setting to use when design and importing data into InfraWorks 360 because it reduces the visual effects and produces faster performance. When you have finalized the design, change the visualization setting to Conceptual View to produce much higher resolution rending quality (Figure 8).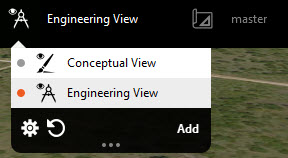 Figure 8
To improve model performance and level of detail for models that contain a large number of trees or forests, Autodesk created the adaptive trees. Adaptive trees provides a high level of detail by geometry automatically adapting to the camera distance, thus improving the model visualization and performance (Figure 9).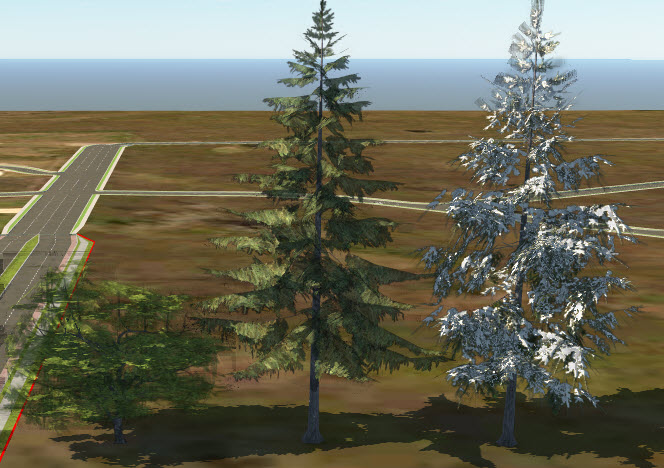 Figure 9
Also new to 2018 are the ROW text labels and marker display on Road Cross Section Viewer (Figure 10). When you add ROW to a road it will now display on the cross section view. For now the ROW markers show up only on the Cut Fill Area view settings.
Figure 10
In conclusion, Autodesk has made several enhancements to road and bridge features to help improve the software performance and feature efficiency.