Inventor 2014: Increasingly Social
In this year's new Autodesk Inventor® release, Autodesk focused on increased productivity in the Assembly environment, as well as some user-requested improvements scattered throughout the platform, along with the ever-increasing shadow of social networks and sharing, Autodesk has added features to help users help each other and to share their models through the Autodesk 360 service.
This article focuses on improvements in these areas:
Inventor
User Interface
Sketches
Parts
Assemblies
Materials
Drawings
Interoperability
Inventor Professional
Communication
Autodesk 360
Grapevine
Inventor IdeaStation
TeamWeb
Other Enhancements
User Interface
Basic Skills Interactive Tutorials
Basic Skills Interactive Tutorials are available to assist users in creating their own 3D objects in Inventor.
Figure 1: Interactive tutorials
Connect Interactive tutorial – interactive introduction to the Connect Command.
New location for Interactive Tutorial files – permits unrestricted access to allow users to add their own. The new default path is: Drive:\Users\Public\Documents\Autodesk\Inventor 2014\Interactive Tutorial\en-US\.
Interactive Tutorial visual enhancements – new size, shape, and color of Ribbon command pointer and video play button.
Create Interactive Tutorials
Instructions and sample files for use in creating your own interactive tutorials are in a separate download provided by Autodesk here (including sample files):
http://www.autodesk.com/interactive_tutorial-2014-64bit
http://www.autodesk.com/interactive_tutorial-2014-32bit
Sketches
Linear and Arched Slots
New tools allow sketched slot profile geometry to be created along centerline using the following options:
Center to Center Slot – centerline orientation, length, and a width parameter.
Overall Slot – overall length, orientation, and width parameter.
Center Point Slot – Midpoint to end of centerline, orientation, and width parameter.
3-Point Arc Slot – 3-point arc and width parameter.
Center point Arc Slot – radius point, start, angle, and width parameter.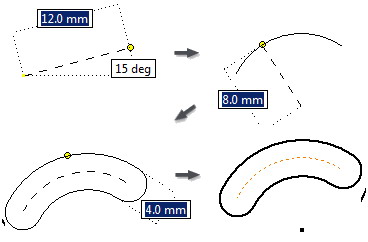 Figure 2: 3-Point Arc Slot
Parts
Create a work point at the center of a sphere.
Color overrides in derived components can be discarded and those override settings are now persistent.
Self-Intersecting Sweeps
This has been an issue for a long time. Inventor doesn't warn users that a problem exists until after the command is issued, nor does it specifically assist you in determining the resolution. Autodesk Inventor 2014 provides users with an enhanced sweep command, which allows large profiles to be swept along small fillets and bends. Where radii overlap in tight corners, the obvious intersection is retained.
Figure 3: New Sweep solutions
Note: This functionality only applies to solids at this time.
Non-tangent Surface Sweep Paths
New sweep capability permits creation of swept surfaces along paths where the geometry is non-tangent.
Enhanced Boundary Patch
Two options have been added:
Automatic edge chain – provides streamlined workflow when selecting multiple edges, and includes non-tangent geometry.
Boundary patch – create complex shapes using weight factors for smooth and tangent boundary patch types.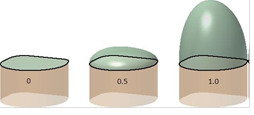 Figure 4: New Boundary Patch functionality
Fillet Success Dialog
This is a nice addition. When a fillet fails to be developed in a selection of numerous edges, the possible solutions are previewed. Once the successful portion of the operation is completed, a dialog is displayed showing:
unsuccessful features count
total count of selected edges
option to accept the successful features
Once accepted, a repeat operation will include the original radius size and selection in an attempt to add remaining features to the updated model shape.
Assembly
Export of driven constraints improved by optimizing the WMV and AVI export for optimal quality (default).
Appearance property available in Bill of Materials and Parts List.
Joints
This is probably the crown jewel of the release. A new command called Joint provides a one-step method of positioning components and defining their motion. The selected geometry determines the joint type by default, which can easily be overridden by the user.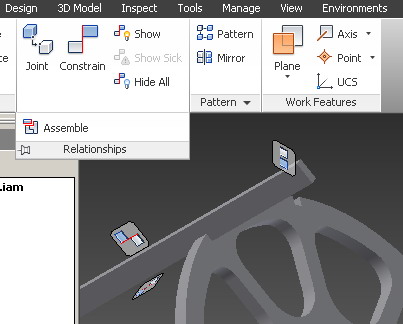 Figure 5: Relationships (note that the Assemble tool remains)
With the addition of this tool, constraints and joints are now referred to as relationships, and are grouped together in the ribbon on a panel named accordingly. The constraints folder is renamed to "Relationships" and appears in both the Assembly and Modeling views.
These are similar to the joints in Simulation, which I like as it reduces the difference between the modeling and simulation environments. Some conversion of names between the two still has to be made when entering the Simulation environment.
The joints are defined as follows:
Rigid – Removes all degrees of freedom (DOF)
Rotational – one rotational DOF
Slider – one translational DOF
Cylindrical – one translational and one rotational DOF
Planar – two translational and one rotational DOF
Ball – three rotational DOF
Note: You can use joints with constraints to position and describe motion.
Simulation Joint Conversion Types
Created joints are automatically converted to joints when you enter the Dynamic Simulation environment. The converted joints are listed as standard joints in the Simulation Environment browser.
The following are the automatic conversions:
Inventor Joint Joint in Dynamic Simulation
Rigid Welding
Rotational Revolution
Slider Prismatic
Cylindrical Cylindrical
Planar Planar
Ball Spherical
Relationships can be further modified with two other options:
Lock – maintains the current position until a connected component position is changed.
Protect – alerts you if an added relationship violates the required DOF.
Note: Lock and Protect are not available for constraints.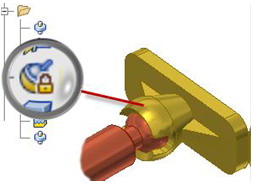 Figure 6: Locked ball joint
Relationships Display
Visual management of relationships is provided by glyphs that are attached to components.

Figure 7: Joint visibility Icons
Show – when active, relationship glyphs appear when the component is selected. Further editing of the relationships is provided through the related contextual glyph menu.
Hide All – removes all relationship glyphs from the display.
Show Sick – displays the glyphs for all sick or damaged relationships.
Grounded glyph – 'Pin' appears when you mouse over a component.
Once shown, the display is persistent until the Hide All feature is reactivated.
Place Component
When placing the first component into an assembly it is no longer automatically grounded. This is provided through the Place command's context menu which contains new options for rotation and placement. This option is deselected by default.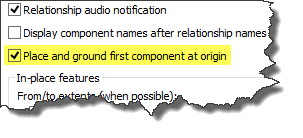 Figure 8: Place Component
One of the favored features is found by selecting multiple files from the Place Component dialog, allowing users to place all of those components at their grounded origins in one shot. Many users will also love the ability to rotate the parts about the origin axis on placement.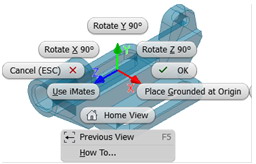 Figure 9: New Place tool
Place Grounded at Origin feature works wonderfully.
Free Move / Rotate
Allows components to be dragged about the canvas, while relationships are "put on hold." A rubber band is added to show the component is in Free Move. The relationships are indicated with glyphs, which can be selected to easily see how and where they were applied, offering a context menu in which to edit the constraints as needed.
Free Move is a temporal state. Once activated, the components are free to be moved about until an update is performed, whereby the component relationships will be reinforced. Free Rotate functions in a similar manner.
Figure 10: Free Move tool
Assembly Copy and Paste
Enhancements allow the assembly to be copied with the joints and orientation intact.
Symmetry Constraint
An option in the Plane Constraint dialog; allows two objects to remain symmetrically placed in relation to a plane or planar face.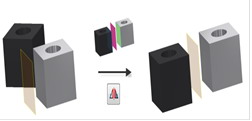 Figure 11: Symmetry Constraint
Angular Constraint Improvement
Improvements include Status Bar instructions, visual cues of direction and angle in Graphics window, and an updated model preview.
Express Mode
Large assemblies typically open 4-6X faster. When enabled, assemblies are loaded in Express Mode when the unique files threshold has been exceeded. Some commands are not present until the assembly load is completed.
Note: Part data is stored in the assembly file in this mode, enlarging the file significantly. Keep this in mind.
Improved Graphics Performance
Pan, Zoom, and Rotate of large assemblies has been enhanced in both Full and Express modes by:
Increased frame rate from 10Hz to 20Hz
Largest component is drawn first
Multi-core support
A New Consolidation Background operation draws object with same appearance as a single group, improving GPU performance.
Insert Frame Command Enhancement
This option in the Insert dialog allows construction and center line types to be excluded/included in the frame geometry selection.
Camera setting in View Representations
Context menu options are now available to Save Current Camera, Restore Saved Camera, and AutoSave.
Materials
Materials Browser
Figure 12: Materials Browser enhancements
Additions to the Materials Browser include:
Show/Hide Library panel and tree icon – greater control over your view.
Home Button – control display of saved libraries.
Library Folder icon – provides more access to Library operations.
Tabbed Interface in Materials Editor.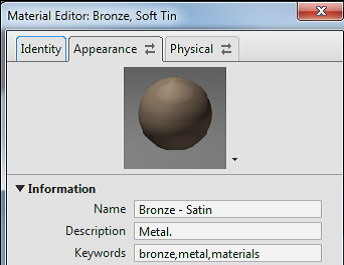 Figure 13: New Tabbed Material Editor
Multi-select materials and appearances to add to a library.
Lock and refresh icon – shows when shared libraries are being edited (locked) or need to be refreshed (out of date).
Visual Aids – italic and underline text indicate differences between the document materials and appearances and library. These improvements are related to those in the Inventor 2013 service pack 1.1.
Lots of behind-the-scenes changes to improve performance and usability.
Drawings
Appearance property can be added to BOM and Parts Lists.
Split Tables
Now various tables such as parts lists, holes, revisions, and general tables can be split into multiple segments, retaining the common header for each. Split/Unsplit Table options are now present in the table's context menu, which splits the table into two parts. The new split segment table is displayed as a child relationship to the original parent table in the Drawing browser. Changes to the parent propagate to the children, but not vice-versa.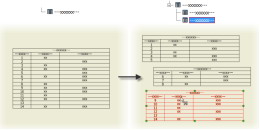 Figure 14: Split Tables
Raster Views
New option in the drawing view dialog creates raster views that do not evolve into precise views until user specified. This allows immediate update to views that contain large assemblies without the delay of a full recompute. Traditional green brackets surround the drawing view, and a red diagonal is present for the view in the Drawing browser.
A context menu permits individual views to be made precise, as well as a Graphics View menu which now contains the Make All Views Precise/Raster option.
Interoperability
BIM Simplify
Where complete component definitions are not required for transfer, intellectual properties can be removed and simplified product representations created with Simplify tools. This feature can also produce Revit Family files with native form features.

Figure 15: Simplify tab
The following options are available:
Include Components – create view representation with selected components.
Define Envelopes – box or cylinder envelope representation of selected features .
Create Simplified Part – Uses current view representation to exclude hidden components.
Figure 16: Define Envelopes tool
Revit Feature Recognition
This set of tools uses geometry simplification tools that allow users to represent the model with features Revit will recognize.
Figure 17: BIM Simplify and Recognition tools
Remove Details – recognized fillets and chamfers are removed along with user selected faces.
Fill Voids – cap off holes and pockets with surface patches resulting in solid fills.
Define envelopes – simplify a component with box/cylinder envelopes of selected features.
Recognize extrude – converted to Revit feature.
Recognize revolve – converted to Revit feature.
Recognize sweep – converted to Revit feature.
Auto recognize – automatically recognizes extrude and revolve features, and removes fillets and chamfers.
BIM Exchange
Parts can be exported to a native Revit Family file using the Export Building Component in the BIM Exchange environment. Connector, property, parameter, orientation, category, and insertion point information can be added.
Check Revit Features
Displays HTML report with model information contained in the Revit Family file feature translation rules. This is used to determine the success of the Revit Family file translation, including the status of each feature, and reasons for unsuccessful translations.
Translators
Additional model translation support has been added.
Export:
Parasolid version 9.0 through 25.0
Pro/ENGINEER Granite version 1 through 8.0
CATIA V5 version R10 through V5-6R2012
Import:
CATIA V5 version R6 through V5-6R2012
NX version Unigraphics 13 through NX 8.0
SolidWorks version 2001 plus through 2012
Up to Wildfire 5.0, Creo Parametric version 1.0 through 2.0
Revit Interoperability Sub-Component
Import a .rvt (Revit project) file in Place Components dialog.
Export .rfa (Revit Family) file in the Export Building Components dialog.
Note: There is an option to install this functionality that is not present by default.
Mold Tooling
Extend Runoff Surface Command
Rule and component tangent-based solution allows direction of the developed runoff surface.
Autodesk 360
A new Launch Website command is present in the Online Documents panel of the ribbon, giving access to the user's managed files on Autodesk 360.
Autodesk 360 files can be opened and saved through File/Place/Create Component dialogs.
Autodesk 360 notification icon – installed in the taskbar notification area, allowing mouse-over status updates.
Dependent File Tracking
Assembly and related part dependency tracking is now fully supported through Autodesk 360, so all related parts are automatically sent to the cloud when the parent assembly is saved there.
Drag and Drop to Windows Explorer
A new Autodesk 360 Drive feature is placed in Windows Explorer, allowing users to drag and drop files that sync to their account. All reference files are synced automatically.
Grapevine
A new online problem-solving community has been developed to allow Inventor users to ask questions in a comfortable community environment. Easy-to-use visual tools such as screenshots can be annotated and attached to the question post.
Figure 18: Grapevine commenting
The Grapevine is accessed through the Help panel, and users are notified when their responses are available. The Grapevine is intended to allow social interaction and encourage participation.
Autodesk Inventor IdeaStation
Autodesk has developed a forum to allow users to share their ideas directly with the developers. Features include tracking of users' ideas, peer comments, and "kudos." The more kudos an idea receives, the better the likelihood that feature will be turned into a reality. Idea statuses change and can be tracked from post to release implementation.
Team Web (CAD Administration Tools)
Team Web allows a company to employ an intranet portal for customized company help, which might include regularly updated standards, easy lookup tables, and various resources. The Team Web command launches the site and is configurable in the Inventor Application Options. Team members can access the site through the Help Menu -> Team Web. This functionality is not new, but is being refreshed along with the numerous social tools.
Other Improvements
Update Design/Migration in Task Manager
The Task Scheduler now includes options for both the Update Design and Migration tasks, where you may control the inclusion of assembly graphics for Express Mode. This option is turned off by default.
Export errors from Task Scheduler log file to Excel.
Deploy Additional Software
Users can include add-ins, components, and other applications when creating a deployment. This can be accessed through the landing page of Inventor.
Autodesk Exchange Control - Block access to Autodesk Exchange through the deployment.
Point Cloud Enhancements
Autodesk ReCap, a separate installed application, indexes Point Cloud scan files and creates .rcs and .rcp (Reality Capture Scan and Project) files that can be imported into Inventor. Multiple scan files can be collected into a project and then attached as a group in Inventor.
New Insert at origin setting permits users to insert the Point Cloud at 0,0,0.