InfraWorks BIM 360 Docs & Shared Views
One of the hottest topics in the AEC industry is BIM software collaboration. Like most companies, collaboration between client, stakeholders, design teams, departments, and offices are a crucial key to keeping companies updated with projects milestones, design status, and construction updates. With the latest 2019 version of InfraWorks®, designers can now use BIM 360 Docs for their collaboration needs.
InfraWorks with BIM 360 provides powerful collaboration tools, which allow design professionals to share, view, edit, and comment online models between design teams and clients. InfraWorks 2019 uses BIM 360 Document Management (BIM 360 Docs), a web services cloud-based platform, and the Share View feature to provide a better way to monitor and streamline the approval process on projects.
BIM 360
Autodesk BIM 360 is a cloud-based collaboration technology platform that has been around for a few years and has already been incorporated into software such as AutoCAD®, Revit®, and AutoCAD® Civil 3D®. There are various types of BIM 360 web service applications including BIM 360 Design, BIM 360 Glue, BIM 360 Docs, BIM 360 Build, BIM 360 Plan, and BIM 360 Ops.
If you have an AEC collection license, Autodesk provides a 12-month free preview, allowing designers to evaluate the online cloud collaboration platform and features. If you don't have a BIM 360 account or an AEC collection license you can sign up for a free 30-day trial through the BIM360.Autodesk.com website.
Using BIM 360 Docs
The first step in using BIM 360 Docs with InfraWorks is logging into the Autodesk BIM 360 account (b2.autodesk.com/access). After login, the Project Home page will appear with the current projects, weather conditions, and document issues (Figure1).
Figure 1
If you are using BIM 360 Docs for the first time, it is best to create a new Project folder by clicking the Module Selector and selecting the Account Admin option (Figure 2).

Figure 2
Figure 3
Then click the Add button to create a new project folder. A Create Project Profile dialog box will appear (Figure 3) where you can input all the information about the project.
After clicking the Save & Continue button, a dialog box will appear prompting you to activate the Document Management and Project Management features. Click the Activate button and then assign project administrator by just typing in your email address (Figure 4).
Figure 4
Once the project is created, click on the Project name under the Name column. The next display will show the current members who have access to the project. You can click Add to add more member and assign permissions.
Next, click the Module Selector and select Document Management (Figure 5).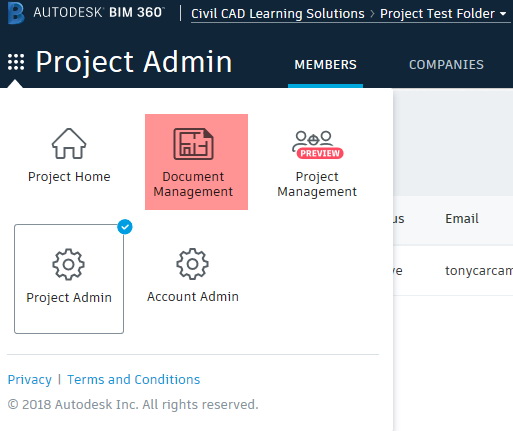 Figure 5
On the next page display, you will see the Project Files folder that was created. To place all the InfraWorks models in one location, hover over the Project Files folder to activate folder editing tools. Select Add Subfolder from the list and name the folder InfraWorks models (Figure 6).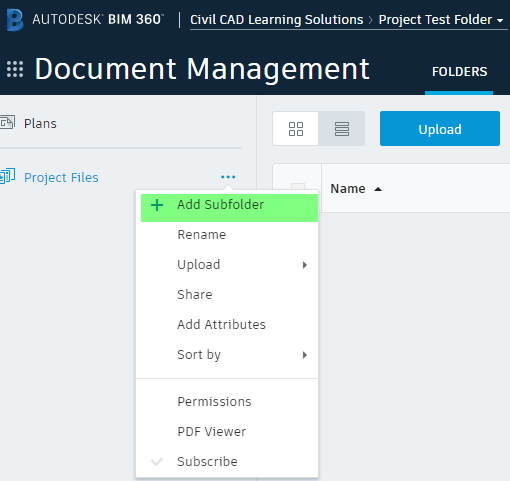 Figure 6
Now that a project folder has been created in BIM 360 Docs, you can then open InfraWorks and open Model Builder. Within Model Builder at the bottom right, you see the BIM 360 Docs projects that have been created and available (Figure 7). Select your InfraWorks Models folder under your project folder, then select the project location with your map viewer, assign a name, and click Create Model.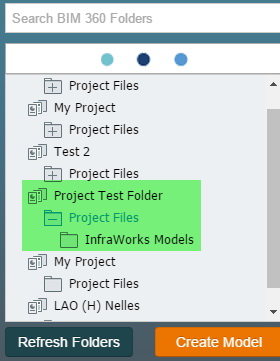 Figure 7
After a few seconds or minutes, depending on the size of your model, the site model will appear on the Home dashboard. You will notice the new BIM 360 Docs cloud icon. Once you open the new model site you will notice that the cloud icon now has a check mark (Figure 8). This means the model has been cached locally and within the BIM 360 Docs cloud platform.

Figure 8
Shared Views
Shared Views is another new collaboration tool that allows a designer within InfraWorks to share a visual presentation model to other design teams or clients that don't have a BIM 360 account. The ability to quickly and easily share a model through the Shared View feature helps streamline the approval process during the design, analysis, and construction phases of a project.
The Shared View feature is located on the utility bar on the top left (Figure 9).

Figure 9
Once activated, the Shared View stack appears. Click the New Shared View button to create a new Shared View (Figure 10).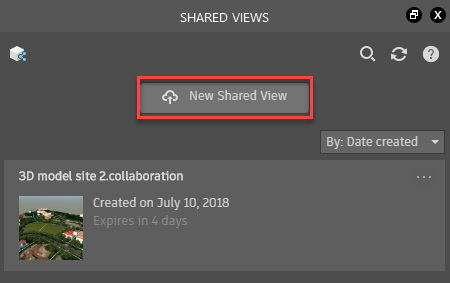 Figure 10
The Create a Shared View dialog box appears. Here, you can assign a shared view name, the extents of the model, and bookmarks and properties to be shared. If the model is small, I would recommend selecting the Use Entire Model option (Figure 11).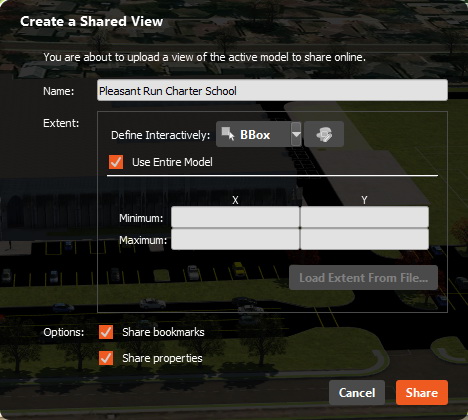 Figure 11
After clicking the Share button, InfraWorks will spend a few seconds generating and uploading the Shared View. Once completed, the Create a Shared View dialog box appears (Figure 12). From here you can copy the hyperlink webpage to email to other design teams or clients, or you can open the shared view through the View in Browser option.

Figure 12
When viewing the shared view through the browser, the model is displayed with the Autodesk Viewer web application (Figure 13). The shared view is available online for 30 days, but can always be extended.
Figure 13
The Autodesk Viewer is a free viewer that allows users to view shared views models with a few measurement, visualization, and collaboration features. Within the Autodesk Viewer, the user can view different proposals, 1st Person views, and section views. In addition, collaboration features such as markup and comments can also be used to make design changes instantly (Figure 14).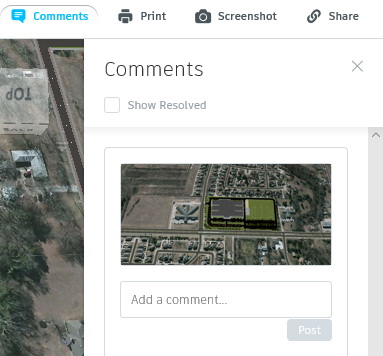 Figure 14
To take advantage of the comments features, users need to sign into their Autodesk Account. Autodesk Viewer also provides visualization control features that allow the user to turn on/off objects such as roads, trees, coverage areas, water areas, and builds. It is important to understand that the Autodesk Viewer can only view models that have been published to BIM 360 Docs from InfraWorks desktop software. Autodesk Viewer cannot generate or create views from InfraWorks models that were uploaded to BIM 360 Docs from a web browser.
Q & A
Here are few questions that have been asked about the new BIM 360 Docs and InfraWorks.
Do I need to have a BIM 360 account or a BIM 360 Document Management project to work with InfraWorks 2019?
No, InfraWorks models can still be saved locally.
Can InfraWorks files be downloaded from BIM 360 Docs online platform?
No, the online InfraWorks models are saved as an IWM file, which can only be used online by the viewer.
What happens when an InfraWorks model is upgraded?
First is it important to understand that once a model is upgraded to the 2019 version, it is not backwards compatible. When upgrading an older InfraWorks model you are provided two options: Upgrade Model or Upgrade a Copy.
The Upgrade Model option will upgrade the local cache copy. A cloud model will be created and synced.
The Upgrade a Copy option will copy the local cache files and prompt you for a new a new location and name. Once you sync the model to BIM 360, a copy is created within the BIM 360 Docs cloud platform.
What happens after my 30-day or 12-month trial preview of BIM 360? Can I still access my data files?
Autodesk provides access to your data for 30 days. Within that time frame you will need to subscribe to BIM 360 to continue access to your online data.
How are permissions handled with the new BIM 360?
Project folders and project member permissions are now controlled through the online BIM 360 account under Project Admin and Account Admin.
What happened to InfraWorks mobile apps?
The Apple InfraWorks app has been discontinued. InfraWorks models are now viewed through the new BIM 360 app for Apple and Android platforms.