Improve Your Water Distribution Workflow with PressureCAD
When Autodesk introduced Pressure Pipes in AutoCAD® Civil 3D® 2013, I was always asked when the analysis portion was coming out. I figured it would be right behind, but Autodesk has yet to come out with anything in the software. So I decided to take that on myself, with some help from people WAY smarter than me! I wanted an add-on that let you utilize the pressure pipes from Civil 3D for a dynamic water model.
The result is PressureCAD, which bridges the gap between AutoCAD® and Civil 3D and your water distribution analysis workflow.
This article takes a quick look at PressureCAD, which can be found in the Autodesk® App Store or by going directly to www.PressureCAD.com.
Figure 1
About PressureCAD
PressureCAD is built off of EPANET, the industry-standard engine for water distribution modeling, and works directly within your AutoCAD and AutoCAD platform products such as AutoCAD Civil 3D.
​PressureCAD is simple to use and produces professional results quickly and easily within your AutoCAD products. No more going back and forth between design and analysis software—simply design your distribution network and analyze as you go.
AutoCAD Integration
With a simple ribbon interface, PressureCAD installs directly onto your AutoCAD software (Figure 2). Even without the robust modeling of Civil 3D, you can get instant results from PressureCAD by laying out your network with lines and nodes.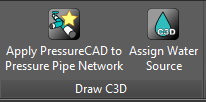 Figure 2
Civil 3D Integration
PressureCAD also has full integration with the Civil 3D pressure pipe modeling tools. Simply model your network using the pressure pipe tools, apply your PressureCAD settings, and analyze the results quickly and easily. Take your BIM model further with PressureCAD.
And the best thing of all: UNLIMITED pipes and nodes!
It is a very simple download and install and just adds another tab to your ribbon (Figure 3). You are up and running within moments.
Figure 3
Key Features
Settings
The Settings options allow you to set up the model parameters, defaults, and min/max values. You can modify your Hydraulic settings and time settings as well as change your pattern curves and all curves for pumps, volumes, headloss, and so on.
Draw (AutoCAD)
There are two options in PressureCAD for drawing and analyzing your system. The first option can be done in plain vanilla AutoCAD, or any AutoCAD platform product from 2012-2018. This allows you to draw your pipes, water supply, and all your nodes while also being able to read a Civil 3D surface (Figure 4). This works great for those who have not yet utilized the Civil 3D pressure pipe module.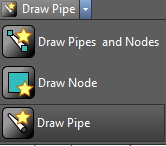 Figure 4
Draw (Civil 3D)
For those who use Pressure Pipes inside Civil 3D, all you need to do is simply "Apply PressureCAD" to your existing network and you are off and running! With one click of the button you can apply EPANet data to your model.

Figure 5
Editing in the Panorama
Use this one-of-a-kind panorama to view all the data within your network in real time. Select a line item and zoom directly to that item in plan view. You get all your model properties and analysis data in one location where you can easily pinpoint problem areas and adjust directly from the panorama.
This was a late addition to PressureCAD, but is really popular with users.
Figure 6
Labeling
Simply create a label by adding any information you wish to see on your plan. By using the label composer, you can add any data necessary directly to your plan view for quick and easy report exhibits.
You can label all nodes, pipes, and other features by using the Label Composer dialog box. You can also add a simple legend to your drawings as well.
Analyze
ANALYZE – Use this icon to perform an analysis of your network if using the AutoCAD based product.
ANALYZE CIVIL 3D – Use this icon to perform an analysis on your pressure network model inside Civil 3D.
For either option, there are three types of analysis you can perform:
Steady State
Extended
Fire
Integration with EPANet
As mentioned earlier, PressureCAD is built upon the EPANet engine, and with that in mind, we also included the option to directly import EPANet files and export out to an EPANet file (Figure 7). This will help in the transition to PressureCAD or to share files with those using EPANet.

Figure 7
Conclusion
PressureCAD may be the new kid on the block, but the tools work great for projects of all sizes. The software can fit right into your workflow and you could even add to the code if you get a little adventurous! Check out some of the videos on the
App Store or on www.PressureCAD.com.
I would love to hear from you regarding this add on and I appreciate any feedback you may have: awautocadcivil3dcm@augi.com.