Focus on Engineering
Mmmmm, there's nothing like that new software smell in the spring. Every year we ritualistically tear through the new version of Autodesk® Revit® to crown our favorite new abilities and celebrate the wish list victories made. Much like last year, there are major changes and minor tweaks in the new release. In the case of MEP activities in Revit, the clear trend is incremental growth in BIM while sprinkling in long awaited Wish List items to help satisfy the Revit foot soldiers on the front line. The groundwork laid in previous versions allows the 2014 version to stretch even further into design, heavier calculations, and truly leveraging the synced linked data in the architectural and structural models. Let's walk through this year's offerings for MEP users one at a time.
Major Updates
Autodesk 360 Energy Analysis
For MEP users, the biggest thing for 2014 has to be the ability to do energy analysis. This is building on the thermal properties that were added in the 2013 release. As a subscription benefit, users can now leverage cloud-based energy analysis tools powered by Autodesk Green Building Studio. This can be done with massing elements and models with or without rooms/spaces. This supports early and often analysis. The procedure is to go to a three-dimensional view and select the 'Use building elements for simulation' tool in the Energy Analysis panel of the Analysis tab of the ribbon. The Energy Setting dialog appears. Users have the ability to either specify material thermal properties or building constructions can be used. If spaces are present, the space data will be included in the analysis. Once the user is satisfied with the energy settings, the energy simulations can be run or rerun. The amount of time the analysis takes depends on the size and complexity of the model. Revit will inform the user when the analysis is complete. Results can be exported to gbxml, DOE2, or EnergyPlus formats using the Results and Compare tool.

It is important to remember that this is the first release with this capability and there will doubtlessly be tweaks and improvements in the future. In the meantime, remember: garbage in, garbage out. Models with missing floors, ceilings, and gaps between elements will pervert the results. Be aware that two walls that are directly adjacent like bread in a sandwich will result in no wall if the gap between is approximately 1-½" to 3".
OK, onto the soapbox.
If there was ever a HVAC reason to model, here it is. Face it, this will change the way calculations are done and for the better. It might take some time, but someday it will be clear that the game changed in the 2014 release.
Stepping off.
Non-Rectangular Crop Regions
This is not necessarily an MEP thing, but what a difference maker and so long awaited. Cut out any shape for plans, elevations, section crop regions, detail callout views, and section callout views as long as the shape contains only straight lines. On the downside, column lines and scope box regions don't provide the ability to create irregular shapes. It's hard to complain much when a seven-year-old wish finally gets answered, even if annotation crop remains rectangular.
CSV Data Embedded in Families
This feature eliminates the need for external CSV files to be linked to MEP families. A new Lookup Tables Manage button In the Family Types window allows users to import, export, and delete lookup tables related to the family. The thought here is that piping and conduit families become more transportable and their management more centralized.
Nice Upgrades
Divide Systems
The Divide System tool is available in the Modify|Duct System contextual tab of the ribbon. Use it to divide systems that are not physically connected. This help keep system sizes at a manageable level, but it must be done before there is a physical connection made between the system's parts.
Air Terminal on Duct
The reality is that air terminals get placed directly on ductwork. It hasn't been easy to accomplish this in Revit. The Air Terminal on Duct tool can be used to attach terminals to rectangular, oval, and round duct and still propagate CFM through the system. Terminals that are attached to a duct segment can be copied along the segment at will. Currently face-based terminals are not supported. Since face-based terminals are pretty common, creating terminals for the express reason of attaching directly to duct is encouraged.

Use Specific Angles
Embedded into the Mechanical and Electrical Settings dialogs is the ability to restrict the available angles used when adding or modifying pipe, duct, conduit, and cable tray. When enabled, the user can set an angle increment to apply. When in use, the preview angle is misleading as the placed entities will conform to the closest available angle while the preview doesn't. This parameter will not apply to elbows when entities are dragged to maintain connectivity. Similarly sloped connections and objects that have their type changed may be slightly off angle to accommodate the changes without breaking the system.
Improvements to Working with Materials
The Materials browser has been updated to allow for easier navigation of project-based and library-based materials. Materials now have a property called Class, which can be used to easily group or sort materials by the users' needs. The Materials browser and editor have been merged into a single dialog to facilitate usability.
Dockable Window Framework
For anyone with monitor envy—this is, people with one monitor or small monitors—Revit now offers the ability to combine the Project Browser, the properties Palette, the System Browser, and the Reconcile Hosting Browser in a single combined and tabbed dockable window. The individual palettes can be dragged by their title bars in and out of the combined palette.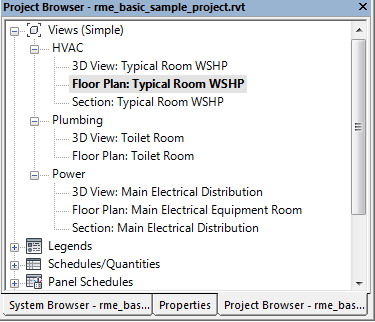 Schedule Updates
Schedules now have a contextual ribbon full of tools for editing including the ability to add embedded images. This helps simplify dealing with schedules.
There are also some new categories that can be scheduled. Flying under the radar is the Level category. This sounds like the ticket to finally be able to quantify objects by level without a lot of Revit gymnastics.
Little Tweaks
Cap Open Ends
The Cap Open Ends tool has been added to both the duct and pipe contextual tabs. As expected, it will add a cap to open ends of selected duct and pipe when invoked. It has also been added to the Connectors right-click menu, which is quite handy for closing ends on the fly.

Selection Enhancements
Tired of the accidentally moved or selected linked model, even when pinned? Problem solved—just deselect the links, underlay, or pinned elements to exclude them from being selected. Also in the list is select elements by face. The drag elements on select check box has been moved into this part of the interface as well. The interface makes total sense and takes zero training to understand. Well done—5 for 5.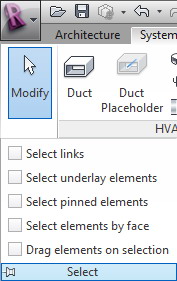 Double-Click to Edit
Here is a no-brainer. Most items that have this ability are architectural in nature, but there are a few general ones that should make a real difference to MEP designers. Favorites include the ability to double-click on schedules and views on a sheet and open them for edit. When revision clouds are double-clicked, Revit will now go directly into sketch mode. And when building families, double-clicking on forms such as extrusions and blends will put Revit into Edit form mode. To edit the double-click actions, select the Double-Click options tool found in the User Interface tab of the Options dialog.
Apparent Fixes and Side Effects
Moving Circuited Devices and Panels
The previous release came with the unfortunate feature of locking down panels and devices after a certain number of devices were circuited to a panel. The result was the inability to rehost devices and panels without extreme measures. Limited testing is showing that this may be fixed in the 2014 release. This should come as a great relief to electrical users.
Displace Elements Tool
This tool's intended purpose is to create exploded architectural views. The side effect may be that plumbing risers can more easily be created from locked 3D views. It takes a bit of experimentation, but the ability to push and pull elements in a selected view may have more uses than originally thought.
Conclusion
There was a time when the MEP flavors of Revit were considered not quite ready for prime time, but it seems those days are behind us. There is more fit and finish activity than new capabilities when it comes to MEP in Revit. Electrical users may be disappointed in the apparent lack of any true electrical progress and the same may also be said for mechanical. While there is plenty of room to grow, this release exemplifies Revit's continuing evolution to a much more complex engineering tool. At the same time, improvements to Revit's base ability to draft are still being added and modified. It is well worth the upgrade—not just for compatibility with architectural project files, but also to exploit the engineering capability it offers.