Execution Is Key to Implementation
Definition
The definition of Implement is to put into effect a plan, idea, contract, or some decided action. The definition of Implementation is the execution or the act of accomplishing some aim or executing some order.
Based on these definitions, to implement Autodesk® Revit® Structure the decided action could be to purchase the software and install it on everyone's computer. However, the implementation is all about the execution and thought behind the shift in technology. This article is not going to dive into the technical aspects. Instead, we are going to concentrate on the thought process to help you better prepare.
Set the Stage
Proper implementation of Revit Structure or any new technology is to get a good grasp of your current workflow. This requires some information gathering. Some of the items to gather on your list may include:
Legacy data (details)
Analytical software used
Quality control process
Current staff members' abilities and willingness to learn
Training needs and assessments
Legacy Projects and Details
Any shift in technology forces you to look at your active projects. During a transition period you may run more than one CAD platform because financially it does not make sense to switch/convert. Your first step should be to study your projects: what stage are they in, which ones should remain on their current path, and which should use the Revit structure platform? Usually this is a financial and/or deadline-driven answer, so it should not be difficult to get this step complete.
Working with legacy CAD details is usually a big concern. A structural firm I worked for in Florida had more than 700 standard CAD details that were used to put together their construction documentation. When we looked at implementing Revit Structure we had to have a strategy to leverage those details. The ultimate goal would be to have a Revit detail resource file that you could pull from as standard details are required. That sounds great, but what about the 700 details? There certainly is not a budget to redraw them all. The following are valid solutions to the problem.
Import Existing CAD Details into Revit
1. Set up your import settings so the DWG has the proper Revit Line weights assigned.
Figure 1: Location for DWG import settings
2. Create a drafting view (at the appropriate scale) and insert or link in the DWG file.
Figure 2: Create Drafting view
3. Use reference view function for drawing coordination to detail view.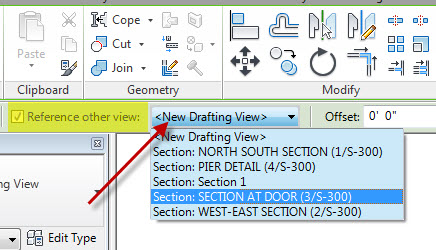 Figure 3: Reference another view
This method works perfectly fine—you just need to be aware of some issues you may encounter. I have found that Mtext from AutoCAD® does not act the same in Revit—the text actually takes up more real estate in AutoCAD. When the detail is linked into Revit, the text wrapping is slightly different. If you explode your Mtext into single line text in AutoCAD before linking into Revit, that problem is eliminated. The second issue is that AutoCAD hatch patterns do not always come across as expected. So even though this is a great process to leverage existing legacy details, understand you may be exploding them in AutoCAD to their simplest representation before you link them into Revit.
Creating a Revit Resource File for Details
Depending on the size of your existing detail library you may want to consider redrawing your details in a Revit project file, which can be used as a resource for other projects. This allows you to insert the drafting views into new projects as needed.
Figure 4: Insert view
Of course this may take some time and you may want to develop a whole separate team/strategy for getting those details converted. From my experience it is a great housekeeping exercise. You will find some details are no longer relevant because of code changes; some were drawn incorrectly; and so on. You also need to consider how the drafting views will be organized in the project browser and how they will be named.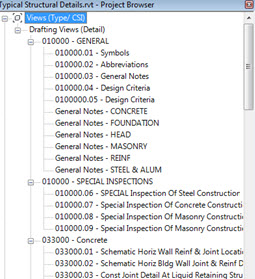 Figure 5: Browser organization
Keep in mind that when you are inserting your drafting views into new projects you do not see the project browser organization. You may want to be creative with the naming of your details to make it more efficient to find them in the list of drafting views.
Analytical Software
Typically the workflow for a structural engineering department/firm over the past 15 years or so is to use analytical software to analyze and size members. Once that is accomplished, a draftsperson would draw the project all over in 2D CAD to create construction documentation.
In the past few years, workflow has shifted from duplication of effort to leveraging the analytical model to help generate the construction documents. It only makes sense that if you are modeling in a 3D software tool that you should not have to draw it from scratch to create construction documents. The analytical software's primary role is to develop load paths, do calculations, and size members. The primary role of Revit is to create a 3D model to be used for project coordination and the production of construction documentation.
The best advice I can give is to consider the following when trying to create a new workflow and implement Revit Structure.
Establish what is the best tool to start with.
Work with the analytical software venders such as RISA Technologies or Autodesk for Robot to know the interoperability between Revit and the analysis tools.
Start with a small project to help build up the confidence of the structural engineers so they are comfortable with the process and calculations they are getting from the new workflow.
Most analytical software companies will give you rules to follow when preparing your Revit model so you can take advantage of the model and limit the rework needed.
Most likely the structural engineers have several software tools they have been trained on and are comfortable with, so make sure you look for overlap and keep focused on workflow and standardization.
Quality Control Process
When implementing Revit Structure, you need to have a grasp on how it will affect your quality control process. Just because your structure is getting modeled in 3D does not mean that there is no need for quality control. I personally feel there is more of a need. Not only will you go through a traditional paper QC process to check submittal sets of construction documents, but also you now need to implement some sort of 3D model QC process. Some of these processes to consider may be as follows.
Model Coordination
Every project will be unique and possibly made up of a combination of resources from a CAD-based product and a Revit platform product. Consider using Autodesk's BIM 360 or Navisworks Manage to hold coordination and clash meetings prior to each submittal.
Custom Schedules
Consider creating custom schedules to help you QC your Revit Structure model that will not be used for your construction documents. You may create a view list schedule that lists all the view names and disciplines to make sure the naming follows office standards. It is much easier to view and edit this in a schedule then on paper after the project is printed. Schedules can be your best friend when it comes to a quality control process. You can schedule just about anything, and the review process is much easier looking through a schedule.
Building Sections
One practice I adopted when performing a BIM QC on a model is a building section. Create a section and get all your visibility settings set up. Once complete open your plan view and section side by side. Move your section 5' at a time as you review your section view. Do this horizontally and vertically across the entire model. This process will allow you to catch any major issues that are not easily seen in a plan view. You could also incorporate some color filters for your section view to help you identify columns, beams, and braces more easily.
Staff's Ability to Learn and Adapt to New Workflow
With the evolution of BIM, the engineers, EITs, and structural draftsperson roles have changed. You will find more is expected of everyone. The engineer and design-level person is expected to work in Revit along with the analytical world. The draftsperson now has to understand 3D and, more importantly, how things go together.
In the past, 2D drafting could be accomplished without a lot of understanding because the draftsperson was guided by the engineers passing redlines back and forth. Now those redlines are more difficult to fix unless the draftsperson really has a good understanding on how things connect and go together. Take into consideration the skill set of everyone involved in the implementation of Revit Structure into your organization. Poor planning with this will lead to a failed implementation.
There are a lot of options when it comes to Revit training including what your reseller has to offer: e-learning, blogs, textbooks, and more. I think the Revit training is the easy component. Getting the existing draftsperson to understand the model may be your more difficult task. My recommendation is to hire people who understand construction and have some technical mindset. They can be taught the tool.
Summary
The topic of implementation could fill up a 500-page textbook (in fine print) and you still will not cover everything you need to know. It is so important to have an evaluation process in place. You need to constantly look at processes and workflow. Take on small tasks one at a time and keep moving forward. Do not abandon the technology because Revit is here to stay.
Referring back to my definition of implementation, it is the execution that counts. Good luck!