Efficient Edits
Interpreting hardcopy edits is a routine every drafter has to get accustomed to at any new company. Individual engineers have their own "language" when redlining drawings. (For clarification purposes, I'll stick primarily to the mechanical and civil disciplines during this article.)
With the handwritten nature of hardcopy edits, unless the engineer has nearly perfect handwriting skills, it's sometimes difficult to distinguish between edits and actual drawing entities/elements. Fortunately, just about every 2D drawing is in black (on white paper) and the editing is of some color. I once received a stack of edited drawings from a client that were copied (in black and white). The company kept the originals and sent us the copies. Luckily, that particular engineer's handwriting left a lot to be desired. So while the edits could easily be distinguished from the drawing itself, some parts could have slipped by unnoticed. This is where color coded edits come into play.
Professional engineer and VMI graduate Mark Vasco uses an editing procedure similar to the following. His standards for redlining establish communication with drafters that require little intervention. Procedures of this nature improve accuracy, efficiency, and limit downtime spent on determining an engineer's intentions. My thanks to Mark for helping me prepare this article. Here's his procedure:
Red - Represents the actual structural changes to be made to the part(s), as well as the drawing itself. Here, changes to the product as well as the final hardcopy will appear. This is the most common edit.
Green - Note to the drafter. The engineer/designer may offer you a choice or need to review some unresolved issue. She/he may be waiting on input from some other source. This note is not intended to appear on the drawing, but is to inform the drafter of an intended outcome that may take place in the near future; to give directions on what to do.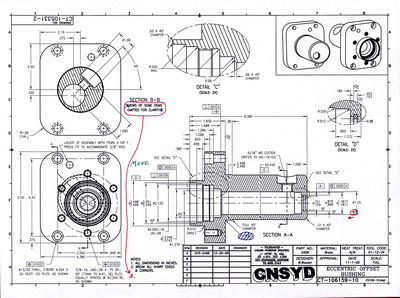 Blue – Delete/Remove. This one is the least common as changes (in red) usually involve removal of one entity and replacing it with another.
Pink Highlight - Ignore Edit. Leave as is.
Brown - Place on Reference Indicated. Some drawings, especially civil drawings, use numerous external references (xrefs). Edits of a particular reference aren't always placed on that reference (i.e., abandoning slashes on a pipeline.) Even though the pipeline is on one reference, the "slashes" may be placed on another reference. Some companies receive drawings from government contractors (survey drawings) that cannot be edited. Communication with the engineer and close adherence to company standards is of the utmost importance here.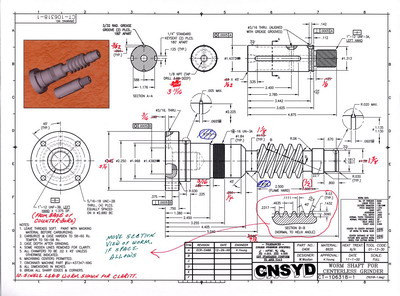 Yellow Highlight - Completed. This is important especially for drawings with extensive editing. Check them off as they are done; very helpful if another drafter takes over.
These are just suggestions - our attempt at establishing better communications between drafter and engineer, thus improving efficiency within the organization. Color choices should be based on the structure of the company. Such a procedure should be considered for inclusion in company standards.