Easy & Effective: ProSoft PowerTools
The ProSoft PowerTools is a collection of tools developed by civil designers/engineers for civil designer/engineers. These tools bring new functionality to AutoCAD® Civil 3D® to help improve your workflow and increase productivity. In conjunction with CGS Software, ProSoft, based out of Utah, helps bring these tools to a whole new level.
Figure 1: ProSoft PowerTools from ProSoft of Salt Lake City, Utah
These tools help out by providing some overlooked functionality that does not exist within Civil 3D. They are simple to install, simple to use, and a valuable add-on to your software. Following are the details of what I felt were the top tools within this product.
Overview Highlights
With full integration with AutoCAD Civil 3D, the intuitive user interface follows the core concept of the Civil 3D UI. It feels as though you are working in native Civil 3D because of the ribbon interface and the fact that the tools work with your Civil 3D objects, therefore preserving the Civil 3D model.
With an emphasis in dynamic updating, objects created within the ProSoft PowerTools are dynamically connected with the Civil 3D objects. Users can control how objects are updated, either automatically or manually.
One of the biggest benefits of utilizing these tools is that fact that ProSoft is always developing new, better, customer demanded tools. As the newest tools are released, the user can easily update the tools using the fully automated update process.
Survey/Points
One of the most used tools within PowerTools is the ability to Add a Station and Offset to Points. Many customers buy the tools for this feature alone.
The points associate with an alignment and adds the appropriate station and offset values to the point.
Figure 2: Station and offset points
Users can easily create a point table that shows the station and offset along with other information you wish to see. If points or alignment changes, then the table is automatically updated.
Figure 3: Station and offset points in table
Another useful tool within the Points options is the ability to Extract Blocks from Points. Many firms choose to use point groups and/or description key sets to automatically put in their symbols, but this tool allows the user to extract those blocks and automatically have them inserted into their file. The user also has multiple methods of doing so, either ALL, by Group, or by Numbers or Selection.
Alignments and Profiles
For the surveyor in you (and me!), you now have the ability to Create Alignment with Stick Method, an innovative, effective, and simple way of creating a Civil 3D alignment and recreating deeds or calls. This tool allows you to sequentially draw lines, arcs, and spirals without the need to jump back and forth between commands.
Figure 4: Alignment with Stick Method
You also have the option to Create Profile from Points, which lets you define left and right alignment offset within the command, as it is searching for the points. Points with lower or higher elevations then expected can be excluded from the selection.
Use Create/Edit Traverse to create or edit polylines by entering traverse data (bearing / distance / delta) into a table. This easy-to-use tool can also be used to edit existing polylines.
The Alignment to LandXML converts polylines and C3D Alignments to LandXML file, specifically for Lieca Geosystems gear. The LandXML output from Civil 3D is different from what Lieca requires.
Pipes
There are several great pipe tools! Some of these can really help improve workflows and add another dimension of accuracy to your plans. I'll save the best (in my opinion) for last.
Edit Pipe Profile – a good example is that a user can edit a pipe run between structures by defining a new start invert and a slope while still preserving the drop within the structures. This tool is a dramatic improvement of the Civil 3D pipe usability.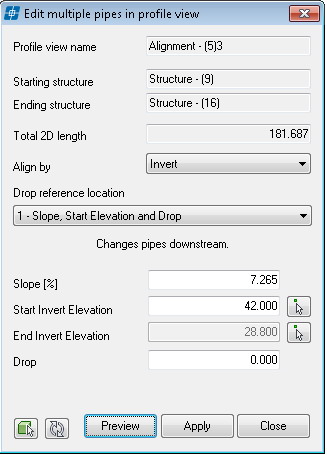 Figure 5: Edit pipe profile
Pipe Network from Multiple Polylines – Doesn't need much explaining, right? Very nice tool.
Swap Multiple Parts – Yep… about time, huh? You can now select multiple parts within plan or profile and swap them all at once! Users can also swap between different pipe catalogs if needed.
Label Pipe Interference – The best for last! I like this tool—it really helps with design checking and quality control. It labels the existing pipe network interferences within the drawing. It creates a table with important interference data such as Northing, Easting, Elevation, and Difference between pipes.
Figure 6: Label interference
Miscellaneous Tools
It seems at every class, in every training session, I get the question, "How do I get the stepped offset of a feature line to be dynamic?!"
Well, one option is to grade it. Or you can use your new favorite tool from the ProSoft PowerTools, Dynamic Stepped Offset. The command creates 3D Polylines and the XYZ from the original object is maintained. When the original object is edited, guess what. All new objects adjust accordingly!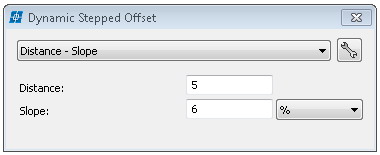 Figure 7: Dynamic Stepped Offset
Another tool, Label Assemblies, places a named label on each selected assembly in the drawing that is dynamically linked to your assembly name properties.
Versioner
The Versioner enables contractors to easily verify plans for the latest versions on site by adding a unique QR code to the design sheet and avoid mistakes and mishaps caused by outdated documentation.
Every change made to the design is instantly available on any mobile device, smartphone, or tablet that has the Versioner mobile app installed. Users can easily identify if a drawing is current or out of date by simply scanning the Versioner generated QR code. There is also a mode that enables team members to get instant notifications concerning any further design changes.
Future Evolution
As mentioned briefly above, these tools are continually being developed. The developer has an online form to submit a "wish list" of features and any feedback is very much welcomed. As new tools are released throughout the year, the user can update the tools with a simple process. No waiting for the next year to get the cool stuff!
New for Civil 3D 2015
There are several new items new for the first rollout of the 2015 version. Here I chose to highlight the grading tools.
Grading tools enables you to create 3D projection polylines from any polyline or feature line. Grading is defined with a set of grading criteria, which are applied to a footprint. The following grading criteria are supported:
Offset/slope
Offset/relative elevation
Slope/relative elevation
Slope/surface
Drape
Offset/drape/elevation
Figure 8: Grading tools
Grading object consist of several 3D polylines, each one representing grading criteria. Grading definition can be saved and applied on other footprints. Several grading objects can be applied on a single polyline or feature line.
Grading tools enables you to verify different designs by changing grading criteria or footprint. You can move or modify a footprint and grading is updated automatically. Or run an edit grading command and add, change, or remove grading criteria from a grading dialog.
This powerful functionality will help you design complex 3D objects and tasks such as road/railway embankments, dikes, intersections, road islands, sidewalks, landfills, and plateaus.

Figure 9: Grading tools ribbon
Finally, there is the Pipe Depth Summary Report, a tool that calculates pipe depths for selected Civil 3D profile and creates a summary report. We can set different depth intervals: 0-8, 8-10, 10-12, … 20+. Pipe depth can be calculated from: bottom, invert, center, crown, or top of the pipe. If pipe profile is changed, summary depth report is updated automatically.
Conclusion
One last thing that I really like about the tools is the easy access to the team, via social media or direct contact. There is a Social Media icon with access to videos and more information directly from the ribbon!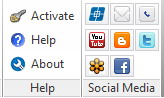 Figure 10: Social media
I know there are a lot of tools out there, some very useful. But I have had the opportunity of seeing these tools in action and seeing how helpful these tools are for customers of any size. So take your productivity to a whole new level and give the ProSoft PowerTools a free test drive.
Shawn Herring is a Civil Engineer based out of Utah. Shawn has been a part of the design engineering community for roughly 12 years in all aspects of design, construction and software implementations. He has implemented and trained companies across the country on Civil 3D and other infrastructure tools and their best practice workflows. Shawn can be reached for comments or questions at awautocadcivil3dcm@augi.com.