Documented Workflows: A Key Collaboration Tool
We all use workflows. From the time we take our first AutoCAD® class we're taught techniques that develop into personal workflows. Over time these get ingrained into our minds and muscles. We seldom write them down or document them in any way because they are second nature to us. They serve us well and, hopefully, are profitable for us. These workflows instill themselves as an essential part of our occupation. In a single-user or smaller engineering firm they are adequate for the day-to-day drafting and design tasks required for project efficiency.
But in larger firms with multidisciplinary departments like Survey, Land Development, Structural and Municipal Engineering, and a constant revolving door of employees, documented workflows become an absolute necessity. Documented workflows provide a standard for drawing consistency, a stable guide for project collaboration between departments, and a tool for training or retraining mind and muscle memory for incoming associates.
What is a Documented Workflow?
Documented workflows are company standard documents designed by the CAD manager and/or a committee of power CAD users who determine the best possible process for achieving efficient results within the parameters of the software as it applies to the project lifecycle. They may be in the form of PDF documentation or video files. Drawing templates for 2D graphics, 3D models, title blocks, legends, and supplemental layer standards are then created or altered based on these documented workflows to establish a consistent build and appearance to project drawings. They can be as complex as a 14-page outline for Designing ADA Accessible Curb Ramps, or as simple as a two-minute video on Adding Labels to a Pipe Network Profile.
However, in creating the documents, the CAD manager must be aware that the workflow should be general enough for the beginner CAD user to follow, but not so basic that it fails to utilize the power of the software or the advanced understanding of the experienced CAD user. This middle-ground can often be difficult to achieve. However, with a few pages of basic procedure and valuable input from the design staff who will actually be using the workflow, the CAD manager should be able to get a handle on the skill level and depth of explanation required for the users.
The construction of a documented workflow begins when a designer contacts the CAD manager and asks, "How do I…?" This, for me, begins a quest to not only find a way to perform the task, but also follow that up with research and testing to develop the best way to accomplish the request with a workflow that functions within our existing process.
These procedures are documented in PDF format available to all design staff at any time. Many of these workflows are subsequently demonstrated in regular company-wide webinars that are recorded for future reference.
Another beneficial idea that came from our users was to create a Video Library Index that makes finding the desired video more efficient. This index is categorized by directory and topic. By keeping a vast library of PDF and video documentation in an easily accessible system, collaboration between departments becomes more streamlined, training lessons are reinforced, and troubleshooting for the CAD manager can be as easy as "check out this video," saving time and money.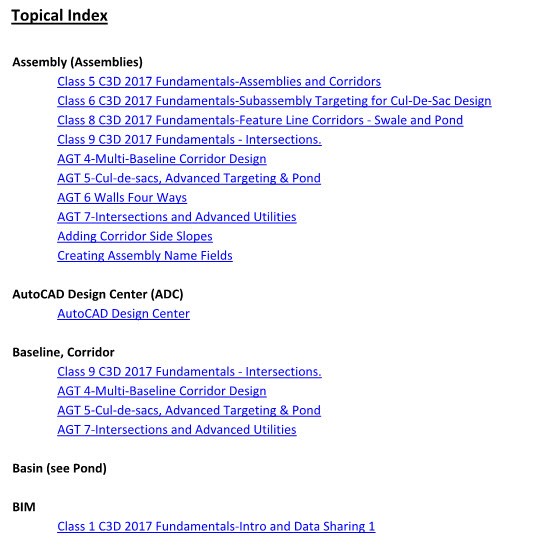 Collaboration Between Departments
Between departments, documented workflows can alleviate the struggle that often occurs when disciplines with divergent goals must collaborate on a single project.
The best example of this is between the Survey Department and the Land Development Department. Survey's goal is to provide accurate documentation of what's out there in the real world via CoGo Points, Survey Figures, and Surface Data. In contrast, the Land Development engineers seek to overwrite this data with a design that fits the client's requests and reviewing authorities' requirements with AutoCAD® entities, Feature Lines, Corridors, and Grading Objects. Then, the design is thrust back to Survey for stake-out for construction.
The conflict occurs, first, when Land Development fails to understand how the Survey Objects work and attempts to treat them as standard AutoCAD entities. Then, again, when the project is passed back to Survey and there is no clear understanding of how the project drawings are constructed. External References and Data References abound and where the correct data for stake-out can be found is anybody's guess. Enter the documented workflows.
A documented workflow of how the Survey Department is to "build" the initial Boundary and Existing Condition Site Plan as well as how to handle the CoGo Points and Surface Reference when constructing the initial Building Information Model (BIM) standardizes the types of files Land Development should expect to receive. This gives them the opportunity to verify that they have a complete data set to begin the design.
A documented workflow for how Land Design is to handle 2D Design Plan Graphics, 3D Model Data and where to appropriately use labels and text gives them the guidelines for creating project files that can be more efficiently used later by the Survey Department for construction documents. Survey will know the location of the data they need to complete their tasks.
Between the departments there must also be documentation for how to handle demolition of the Existing Site Features or the addition of supplemental survey data, meaning that Land Design must now get their hands on the coveted survey data objects and understand how they function.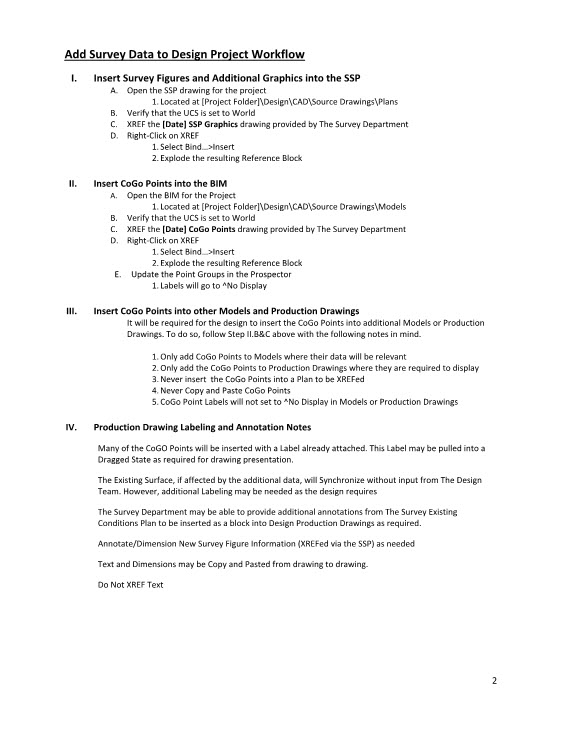 Writing down these workflows can greatly reduce the amount of interdepartmental conflict that often occurs in multidiscipline firms. Other similar struggles can occur between Survey, which works in foot units in a Geo-coordinate system, and Structural Engineering, which works in inch units on an orthogonal plane. A documented workflow of how to incorporate Structural Engineering's design into the Geo-referenced Survey drawings will go a long way towards expediting a positive project outcome.
New Employee Training
New employees bring a fresh outlook and new energy to a firm. What they lack is experience. The software now performs many of the necessary calculations dynamically. In turn, today's civil engineering environment has evolved and, as a result, in many cases, the dedicated drafter has gone the way of the Dodo or has become the CAD Manager.
Now, recent Civil Engineering graduates populate our offices and most have had little to no CAD training. Beyond the three-day AutoCAD Basics class and the four-day Civil 3D Fundamentals "Fire hose Training," newer employees need a click-by-click documented workflow to fall back on to help them develop the techniques that will get them pointed in the right direction.
Documented workflows also provide them with the basic understanding of the BIM process and following company standards for drawing content and presentation. Performance expectations may expand as the trainee shows potential for adhering to and adapting to the documented workflows provided.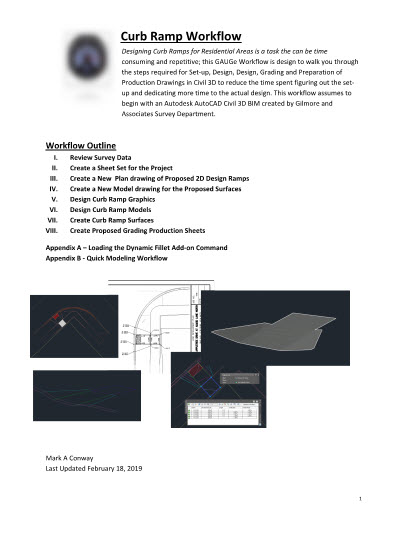 Incorporating Veteran Talent
Veteran CAD employees coming to your company from a different firm will have been trained in workflows which may be, and quite probably are, significantly different from your company standard.
Documented workflows should provide a step-by-step procedure for retraining their minds and muscles from "old habits" developed in their previous workplace into techniques more conducive to their new employers' expected results.
Experienced employees bring skills and talents that can be integrated with the current process. Their knowledge is a useful commodity. It is of intrinsic value to incorporate their ideas into the discussion. To make this a more positive transition, the veteran must appreciate the value of the current workflow before offering changes. This can only be accomplished if the workflows are documented.
Get Started Today
If you find yourself in the position of CAD Manager at a mid-sized or larger engineering company and there are not documented workflows for how the project drawings should be built beyond the standard "Make sure your line work is on the correct layer" speech, take the bull by the horns! Get started today.
Write down how you personally build a project. Get input from your co-workers on how they operate. Evaluate the results. Research online for how others handle difficult issues.
This is the hard part… make executive decisions. Follow that up by drafting your first official Documented Workflow and submit it to Management for approval. In due time, these workflows will prove themselves invaluable to you and your firm as they serve to streamline the standard project lifecycle, enhance the collaborative process between departments, train new designers in software functionality, and incorporate experienced acquired talent to your company's procedures.
Mark A. Conway is a Desert Storm Era veteran with 20 years of experience in the land development and wastewater treatment design fields with a focus on BIM Best Management Practices and software implementation. He is currently the Director of Design Technology for Gilmore and Associates in Southeast Pennsylvania. Mark can be reached for comments and questions at maccad3d@gmail.com