Civil Engineering Education: Three Styles, Five Methods
It's that time of year again—projects slow down, Autodesk University is right around the corner, and you're looking to find something to help fill those continuing education (PDH) hours you need.
This article looks at some of the ways in which education is affecting the civil engineering community today, and how it is changing the way people stay current in the industry.
The Learning Styles
Did you know that we have learning styles? I bet not. Each of us learns in our own way. The best way to learn is to understand which learning style works best for you, and the best way to teach is to incorporate all the learning styles.
Let's break down the learning styles. There are three learning styles, known to some as VAK, and those can be turned into five unique teaching methods.
The first learning style is Visual, or seeing. As a visual student, you learn best by reading or by simply seeing the material. A vocal track or instructor talking doesn't really do much for you. Most likely, you've discovered that online eLearning seems to fit you well, as a good portion of online classes require you to read the course material and then take a test.
The next learning style is Auditory, or hearing. You can read a book, but it may seem like gibberish. Yet, if you have someone read that same book back to you, it all clicks. If that's you, then as an auditory learner, you learn best by hearing the material. You'll need to attend a class or have online eLearning lessons that are audio recorded.
The last learning style is Kinesthetic, or physical. This is what I call the "do-er" style. You literally must perform the action that is being taught, or "feel" the action being taught before you understand it. For you, classic labs are a great way to learn, as well as online eLearning where you must follow and repeat the steps that are shown visually. An apprenticeship also works well for you.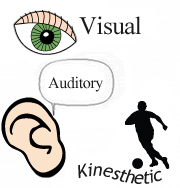 So now that you understand the three basic learning styles, there are five teaching methods that accommodate those learning styles.
Some people learn by their individual style only, therefore the first three teaching methods are: Visual, Auditory, and Kinesthetic (VAK).
Others, though, require a combination of those three learning styles to truly understand what is being taught. The fourth teaching method is pairing the three learning styles into combinations: Audio/Kinesthetic, Visual/Audio, or Visual/Kinesthetic.
Finally, when you combine all three learning styles into a single teaching method, you can almost guarantee that everyone will benefit from what is being taught, regardless of the subject.
Now, I need to give credit to my father here. He taught me all this, as he is a teacher of 45+ years in mathematics at various colleges in the northwest. If you took a math class from Mr. Weeks, then you know exactly what I'm talking about, as he always taught to the five teaching methods.
Classic Classroom Instruction
University/College/Community College Classes
Most education these days is taught in a classroom setting at a university, community college, or private college. You attend the class with a hundred other students and learn from chalk and talk. That's right—chalk and talk! The teacher or professor stands at the whiteboard or chalkboard, and starts chalking and talking about the subject. If you're lucky, the teacher may use other visual aids, such as a projector or PowerPoint, but, either way, the entire class is lecture-based. Sometimes a book is provided, and sometimes not. You're expected to take extensive notes and then be tested on them weeks later. Yes, this gets you the extra continuing education hours you need, but do you really have time for this?
To be honest, not everyone learns well in a classic classroom setting. Thankfully, as technology has grown, so has teaching and the way in which we teach today.
Conferences
Once you leave the college scene, you may not want to go back there just to learn something new. Cost can be an issue. Also of concern is whether the college is really in the know about current trends and events in your industry. You may find that a conference is a better location to pick up those continuing education hours, and it is a place to learn something new from those currently in the industry.
Conference Classes
Similar to classic instruction, today's conferences offer a classroom setting where technology (and not the whiteboard) is used. You still learn from an in-person talk, but the instructor uses PowerPoints, video, and other aids to make the topic more engaging and exciting. Unlike classic instruction, you're not tested on what you learned. The fact that you showed up and sat through the presentation is enough to acquire the continuing education hours.
Conference Lab Classes
Some conferences also have labs, which works great for the kinesthetic learner. In the lab, you can hear, watch, and sometimes read the material being presented, and then you perform the skill to learn it better. The downside is that most labs do not have enough computers for those who attend, so you're either sharing a laptop or the lab size is very limited. Another downside is that if the material presented doesn't work with the supplied example files, this can create confusion. Another possibility is that too much material is presented at one time to complete the task within the allotted lab time.
Conference Locations
One great thing about conferences is that they are held all over the world by various groups. Some are held by manufacturers of the products you design with, such as Storm Con. Others are held by the agencies that set the design guidelines, such as AWWA or AASHTO. Also, you can find conferences that cover specific software programs, such as Autodesk University, Bentley Institute, and Midwest U. Still, there are so many conferences offered today in so many locations, there's bound to be one that fits your needs.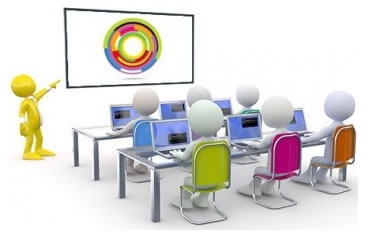 Online eLearning
When your schedule is so tight that you don't have time to take a college class, and your company is not willing to cover the cost of flying you to a conference, paying the registration fees, and covering the hotel costs, the next best option may be online learning, or eLearning. In most cases, this will cover your continuing education hours if you can find an online course that is accredited. But if you don't need the extra hours and just need to learn something new, like a new program or an update to a product you've been using for years, then eLearning may be just what you need.
Software eLearning
There are various sources for eLearning out there today. For software program training and education, you can look at:
The list of available sites from which to get software learning can go on for miles.
Variable Topic eLearning
When it comes to learning a whole new subject and not just a software program, you may find a college or two that offers accredited courses. These courses are only a few months long and you can take them at your own pace. For instance, the University of North Dakota is currently the only college I know of to offer an ABET accredited BS for Civil Engineering that is fully online. Some colleges claim to offer an accredited online degree, but if you're looking for an online degree program, and especially if you're new to engineering, be sure to confirm with ABET before you take that plunge and fork over the deposit (www.abet.org).
Agency eLearning
Other eLearning resources include agencies such as AWWA and AASHTO. In some cases, you may have to purchase a DVD. For instance, AASHTO has both free and promotional courses on its website beyond the base online training courses that you pay for. The best part is they tell you up front how many PDH hours a video provides if you view it (https://training.transportation.org/browse_bookstore.aspx).
Let's not forget the manufacturers. Many manufacturers offer online eLearning as well, so you can use products to their greatest potential, as they were designed to be used.
Trends in Online eLearning
If you're thinking eLearning may be for you, let's take a quick look at some of the most recent eLearning trends.
The first trend is Social Media. Twitter, Facebook, and LinkedIn allow us to collaborate more with other students and colleagues outside of eLearning and classic instruction. This also gives those students who are less likely to speak up in a classic classroom situation the ability to use their voice and ask questions and share ideas.
eLearning games are another way to capture and maintain your attention as you're learning. Some eLearning providers are applying game dynamics into the context of their lessons. Gamification is creating results that motivate students to achieve a goal in a fun environment.
Wearable tech—whoever thought wearable tech would be a training tool? Products such as Oculus Rift, Google Glass, and smart watches are all being integrated into today's training and working environments. These products provide a unique way to interact with new information in a dynamic method. Keep your eye out for lessons that use wearable tech to immerse you in a learning game.
Blended Learning is where the classroom meets the board room and the game room, all at the same time. No longer is blended learning seen as only the classic classroom setting plus online training. It's now a combination of many different learning strategies, through channels like synchronous and asynchronous, multi device learning, and mixing courses with different resources.
Finally, there is Responsive Learning Management Systems, or RLMS. The huge growth of virtual learning has resulted in a serious increase in data, information, coursework, and communication. Through RLMS, eLearning companies and teachers are now better able to administer, track, document, and report classroom and online material. This allows educators to better tailor their curriculum and lesson plans according to the student's preferences and needs, creating a more customized and personalized learning experience.
Onsite Learning
Another innovative training technique that is being used today is onsite training. The process has been around for years, but not everyone takes full advantage of it. Some onsite training can fulfill those needed PDH hours, and some does not. Training and education can vary from software updates to industry challenges and changes. Although not as inexpensive as online eLearning, onsite training gives you the ability to ask questions that may not be answered at a conference or via online eLearning. You can have a customized training or education plan laid out for you and your company as well.
Just about any manufacturer is willing to come to your office and give you a demo or train you on how to use their product. Software companies may make you pay a fee, unless onsite training was written into the software purchasing contract. Still, this is a great way to get hands-on training in a limited amount of time. Just imagine—wouldn't it be great if a drone company came and showed you how to use their product and include that data in your design models?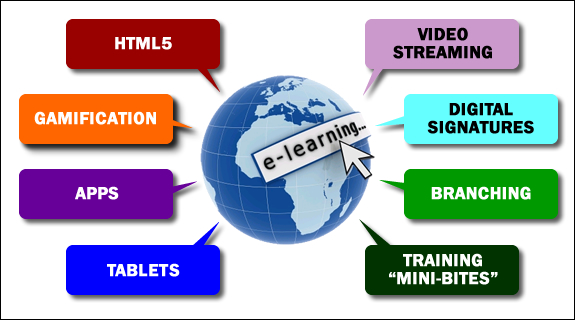 Conclusion
There are so many different education options and directions that I am sure you can find something that works for you and fits within both your budget and your time frame.
I would love to hear from you regarding Civil Engineering and education in today's world. Feel free to contact me anytime.
Heidi Boutwell is the Infrastructure Content Manager for all infrastructure CADLearning products from 4D Technologies, developing on-demand learning material for Autodesk software, including AutoCAD Civil 3D, Autodesk Vehicle Tracking, AutoCAD Map 3D, InfraWorks, Navisworks, BIM 360, BIM 360 Field, and BIM 360 Glue. Since 1998, Heidi has made a career of teaching engineering professionals how to use the Autodesk infrastructure design tools to increase their productivity and improve their design modeling skills. Heidi also continues to utilize Autodesk tools to create a variety of infrastructure projects for various clients. She is a contributing author and is an Autodesk AutoCAD Civil 3D Certified Professional. Heidi serves on the InfraWorks Customer Council, is an Autodesk Civil 3D Gunslinger, and an Autodesk Civil futures member, helping to drive the strategic direction of product development for infrastructure products for Autodesk. Heidi is also a repeat speaker at both Autodesk University, Midwest U, and the Revit Technology Conference (BILT), North America. She can be reached for comments or questions at hboutwell@cadlearning.com