Civil 3D Funkiness
With any advanced program, there are numerous options available to you. Many of the commands may have been developed for a specific set of customers so may not be widely known in the product. Due to this there are many commands that are not covered in an AutoCAD® Civil 3D® course. This article will cover some of my top tips and tricks.
Alignments
There's a dirty little secret you don't hear when Autodesk demos the product. The secret is that design profiles do not dynamically update with alignment changes. Sure, sampled surfaces change, but design profiles do not. It's nice of Autodesk to solve the dynamic problem of the easy profile to create, but ignore the important profile type. There are some workarounds for this program limitation.
Figure 1
One option I've been using for quite a while is to set the Reference Point for an alignment at a point that makes the least amount of work for me to update a profile after the alignment change. For instance, if I'm working around station 0+25 on a 1,000 foot alignment, I'll change the reference point to be just after the area I'm changing (0+30). This way I'll only have to adjust the profile from the start of the alignment to the reference point 0+30; rather then 0+25 to 10+00. It saves quite a bit of time making changes.
Pipe Networks
I've found pipe networks extremely frustrating to work with. As such, this tip isn't going to be coming from out-of-the-box Civil 3D. It's a trick I created several years ago when I had to change the pipe sizes of a whole pipe run. Civil 3D only allows for one pipe to be swapped at a time. Did I really want to spend an hour or two swapping parts when I could create a tool that did the same thing in the same amount of time? I choose to create the tool and make it free for everyone who wanted to download the tool to use. The tool (for Civil 3D 2011) and source code is available on my blog. Feel free to download the source code and upgrade it to the version of the product you are using.
If you don't want to mess with the source code, the same swap tool capability may be found in the SincPac by QuuxSoftware and other third-party applications. If you find yourself doing repetitive things with pipe networks, you may want to explore tools available to make the process work better for you.
Corridors
For corridors you should be using Subassembly Composer to create subassemblies that meet your requirements. When I do use subassembly composer I'll often use it to make labeling cross sections easier. Often I'll want to have one link label style for a full width lane and a different label style for a smaller width when a full dimension look wouldn't look correct. In Figure 2 I'm labeling the Pave Link to show the width of the item of work. For the 2', the dimension looks horrible. To remedy this shortcoming I'll have a check before I create this link to see if I want assign the Pave link code or the Pave-Short link code. Then when I create the link I'll use the appropriate link code. In Civil 3D I'll then have the code set style set up to use both link codes with the appropriate code set style. This saves me countless hours of having to go through and make sure the correct code set style is assigned. When doing this check manually I end up missing some, so this helps reduce my error rate in my plans.
Figure 2
Maybe you don't want to use subassembly composer. You can use expressions to achieve the same look. Unfortunately, all this does is ensure job security since they get so complicated most users won't be able to go in and modify them for simple changes. Even when I do create them and come back, it takes me a little while to get my bearings in terms of what the components are in the labels style. One way I use to find where label component is to temporarily change the color of the component. This way it becomes obvious where the label component is.
Figure 3
3D Polylines and Polylines
The next tip is probably covered in a Civil 3D training class, although the next commands are buried inside a ribbon. This hiding makes it difficult to remember the commands exist. The commands are the Convert 2D to 3D Polylines and the 3D to 2D Polylines. The commands make it easy to convert polylines back and forth between 3D and 2D. I usually use this command to extract polylines and convert them to 2D polylines. The lines are then used in xrefs to provide a performance boost in printing out drawings so I don't have to xref the corridor drawing into all of the sheets.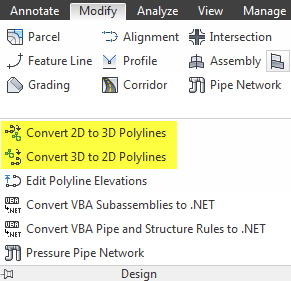 Figure 4
Right below the convert polyline commands is the Edit Polyline Elevations. This command comes in handy if you get contour information in the form of 2D polylines without Z elevations. This makes it so you can type the elevations at the command line. This tool is useful only if you have a small group of polylines to which to assign elevations. After 20 or so polylines, you start to think there has to be a better way. Good thing there is an alternative.
Country Kits
If you live in the UK or Ireland, you are lucky to get some great tools created by Autodesk. One of the tools is called 2D to 3D Contour Conversion command. The command is available through the UKIE Country Kit, available as a download from the Autodesk site. The Country Kit commands are placed in the Toolbox, but can be copied from the kit and placed in the Toolbox as its own tool outside of the Country Kit.
While you are at the Country Kit site, take some time to peruse what's available in the other Country Kits. There are some commands that are might fit into your workflow. I find the UKIE Country Kit the most useful because it's in a familiar language and you can tell someone has spent a lot of time understanding the Country's needs and developing the tools to fill some of the gaps in Civil 3D.
These are just a few of the tips and tricks I use. If you want others, there are some classes at past Autodesk University sessions given by Peter Funk of Autodesk that cover additional obscure tips and tricks for AutoCAD Civil 3D.