B*UILT* - BIM TO FM: Procedure Integrated Services
Last month's column explored increasing demand, among owners, for fully functional digital assets. Defining functional digital assets as those that enable Decisions based on Accessible, Valuable, and Informative Data Systems (DAVIDS) the column argued the real value of Building Information Modeling (BIM) is its capacity to empower owners to make DAVIDS throughout the facility's lifecycle and in support of the core business purpose of the facility.
Procurement processes now take center stage. owners clamoring for DAVIDS need improved procurement mechanisms to acquire integrated services. Doing so will require owners—in both the public and private sector—to fundamentally re-think the way they procure services, as only integrated teams can consistently and efficiently deliver functional digital assets that enable DAVIDS.
Design-Bid-Build
Traditionally, planning, design, construction, operations and maintenance services—whether for facilities or infrastructure—have been procured and delivered separately via a series of contracts executed following an intense bidding process. Urban planners and environmental engineers deliver the first salvo—grand plans and site assessments—months or even years before actual projects are funded. The wealth of data accumulated by those professionals then grows stale in a series of three-ring binders, accessed years later, if at all, by plaintiffs' lawyers searching for additional target defendants in complex construction or environmental law suits or by Ph.D. candidates researching obscure topics. Next, civil engineers endeavor to reinvent much of the same data as they prepare a site plan. Simultaneously an architectural firm designs a brand new facility from scratch. Operating in separate silos, design professionals complete so-called "construction documents," toss them over a blast wall, and duck back in their bunkers while the general contracting community picks over the drawings. This dysfunctional procurement process is depicted in the image below.
Rethinking Procurement
Owners control procurement—or significantly influence the process—and must exercise leadership in this arena. Requests for Proposal (RFPs) and Requests for Qualifications (RFQs) seeking collaborative bids from integrated teams allow owners to demand functional digital assets that enable DAVIDS. Crafting RFPs and RFQs directed at integrated teams force the planning, design, and construction community to join forces when responding. The level of cooperation and collaboration required for success in an integrated environment exceeds the level required for success in the antiquated design-bid-build model, but the rewards—especially over the lifecycle—far outweigh the costs of reaching out to potential partners to form and train integrated teams.
Risks and Rewards
The risks and rewards associated with integrated project delivery (IPD), BIM, and lean construction processes are largely unrecognized in the AECO industry. As innovative business processes IPD, BIM, and lean add value in many unanticipated ways. Unfortunately, as with any novel business process, these innovative new tools also carry unforeseen risks. Integrated teams must take the time to identify the scope and nature of the known and anticipated risks as well as to explore the potential benefits of IPD, BIM, and lean. The image below conveys the nature of the conundrum faced by earlier adopters of IPD, BIM, and lean processes. As an industry we are staring at the tip of the proverbial iceberg, and it behooves stakeholders in the AECO industry to aggressively gather knowledge about the rest of the iceberg.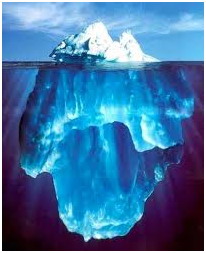 Nuts and Bolts of Procuring Integrated Services
An effective RFP and RFQ will facilitate procurement of integrated services in an IPD environment. Such RFPs and RFQs should target integrated teams capable of crafting, negotiating, and implementing integrated agreements. These agreements should include protocols related to incentive and risk allocation, alternative dispute resolution, and promotion of lean business processes—all of which increase efficiency and productivity in the planning, design, construction, operations, and maintenance of facilities and infrastructure. A good RFP and RFQ will provide potential integrated teams with a roadmap reflecting the owner's desires regarding the scope and nature of integrated services sought.
The responsibilities and scope of work expected of each integrated team member—or later joining specialty designers, trade contractors, or consultants (Joiners)—should be set forth in the RFP and RFQ.
Key features of an effective procurement program pursuant to which an IPD owner seeks integrated services via such RFPs and RFQs are explored briefly below. Flexible elements that meet the needs of public and private entities empower owners to take advantage of the reduced costs, increased efficiency, and long-term energy savings available through the use of IPD.
Elements of an effective program for procuring integrated services:
Defining the Owner's Program: The first task in the integrated planning process is to develop criteria reflecting the business purpose of the contemplated facility or infrastructure and to formulate a Target Cost Estimate (TCE) for the project. Design professionals, planners, and schedulers can assist an owner in identifying criteria and formulating a TCE. During this phase the IPD owner and its planning consultants—or the integrated team if already formed—identify criteria detailing the business purpose of the facility / infrastructure and formulate a viable TCE. The program criteria and the TCE will guide the integrated team as ideas are translated into action.
Crafting the RFP and RFQ: If the IPD owner wishes to receive competitive bids from integrated teams it must publish an RFP and RFQ seeking responses from integrated teams that inform the local planning, design, and construction community of the IPD owners goals. Private IPD owners who have pre-selected integrated teams may skip this step, but public IPD owners will be required to issue RFQs and RFPs and to consider proposals from competing integrated teams.
Integrated Team Proposals: An integrated team's proposal should include a breakdown of integrated team members' base fees, general conditions—if such conditions are in addition to and not in conflict with the base form of Integrated Agreement attached in sample form to the RFP—a description of the scope of work for which each integrated team member will be responsible, contingencies, and an initial TCE based on best practices. Base fees should be calculated by reference to the amount of risk each integrated team member is willing to bear in exchange for a percentage share of the amount by which the integrated team beats the GMP (aka, "risk fee") after it is locked in by amendment to the Integrated Agreement.
Selecting Integrated Teams: Selection committees—either public or private—can "short list" integrated teams that meet the RFQ and submit competitive responses to the RFP. Where criteria are not yet well defined, qualifications will drive selection while selection for projects with well- defined criteria will be based on best values calculated by a weighted combination of qualifications, price, and demonstrated ability to work effectively and cooperatively as a collaborative team.
Crafting and Negotiating Integrated Agreements: Short-listed integrated teams should be required to participant in IPD owner-sponsored collaborative workshops. Those selected to deliver integrated services will need to work together and with the IPD owner to craft, negotiate, and implement an effective integrated agreement, key addenda, and protocols for the deliver of integrated services. Integrated services may be related to planning, design, pre-construction, construction, operations, and maintenance. IPD owners and short-listed firms should retain an IPD facilitator to assist.
Proprietary Processes and Trade Secrets: In exchange for access to the short-listed firms' work product, value engineering ideas, and unique design solutions—all of which require extensive preparation and include confidential and proprietary information—IPD owners must be prepared to sign appropriate non-disclosure agreements and to fairly compensate firms for access to such information. A Master Non-Disclosure / Confidentiality Agreement among the parties can be negotiated to protect the intellectual property, trade secrets, proprietary processes, and other confidential information being shared with the IPD owner and among the integrated team members.
Development of a GMP: Once the business process-oriented program criteria and TCE are mature—usually at the schematic design stage under the traditional design-bid-build delivery model—the integrated team can develop and negotiate a GMP proposal with the IPD owner. If agreement is reached on a GMP, that number is incorporated into the Integrated Agreement by amendment. If agreement cannot be reached on a GMP the Integrated Agreement may be terminated and the IPD owner can abandon the project or invite other integrated teams to negotiate an agreed GMP. Any IPD owner that engages a new integrated team must avoid breaching the NDA / CA signed with former integrated team members. Alternatively, the initial integrated team—or even certain members thereof—may choose to waive their "risk fee" and execute an amendment to the Integrated Agreement to perform services on an alternate pricing basis. In addition, the IPD owner may increase the budget underlying the TCE or select a different delivery model all together if GMP negotiations fail.
Joiners and the GMP: The agreed GMP takes into account the costs and fees of all integrated team members, including specialty designers, subcontractors, and consultants (joiners) that were not members of the initial integrated team. Once a base Integrated Agreement is in place the integrated team can work to finalize the GMP on the project by inviting bids / proposals from joiners as necessary. Joiners must agree to be bound by the general conditions of the Integrated Agreement, though fee agreements, costs, and other special arrangements can be separately negotiated between joiners and existing integrated team members. In the public sector all joiners submitting bids must be prequalified by the state and/or contracting authority and the integrated team.
Joining Agreements: The award of contacts to joiners can be based on merit, value and team chemistry—preferred criteria in the private sector—or the lowest responsible bid in the public sector (responsibility having already been determined through a prequalification process). This protects the joiners from bid shopping. If bids from competing joiners exceed the estimate of the integrated team member seeking services / products for a specific scope of work, or the overall TCE / GMP is exceeded when the cost of the joiners bids are added, the integrated team has two options. The integrated team can utilize contingency funds to cover the overage of the Joiner(s) bid(s), or revise the scope of work and rebid. Upon rebid the designer of record must confirm the revised scope of work continues to meet the IPD owner's original program criteria. At this stage the integrated team must also secure all necessary payment and performance bonds for all work.
Self Performance: Members of the integrated team—usually the constructor or trade contractors who have already won work on the project—can self-perform any portion of work, provided the performing integrated team member has demonstrated its qualifications to perform the work and, on a public project, the designated integrated team member submits a separate bid to the IPD owner to perform the scope of work for the price required in its GMP prior to accepting sealed bids from others. Such bids shall be opened by the IPD owner in public. Such work shall be provided to an existing member of the integrated team only if no competing bid is received from a qualified Joiner for a number that is less than the established GMP line item number for such work. Further, no contingency funds can be used by an original integrated team member on such self-performed work.
Accounting Procedures: Progress payments during construction are based on actual costs, up to the GMP, and all the integrated teams' project accounting is open to the IPD owner for review. In addition, prompt payment, lien options, and other contractual protections, including alternative dispute resolution processes incorporated in the Integrated Agreement, shall apply to the integrated team members, including all joiners.
Incentives and Risk Allocation: If the project exceeds the GMP price, the IPD owner's costs may be capped in accordance with the integrated team's incentive and risk allocation protocol. If the project is completed with contingency dollars remaining in the project fund, the integrated team can share those savings in accordance with the incentive and risk allocation protocol negotiated among the integrated team members. Other incentive and risk sharing mechanisms can be incorporated to align the interests of the integrated team.
CONCLUSION
IPD owners and members of the integrated teams with whom those IPD owners craft, negotiate, and implement integrated agreements can adapt existing procurement mechanisms to obtain competitive bids for integrated services. Those who seize the initiative and implement new mechanisms for procuring integrated services on complex projects will gain a competitive advantage over those who waste time on the sideline.