Autodesk University 2010 Recap
Early in December, scores of Autodesk faithful convened in the Nevada desert for Autodesk University 2010. AU, Autodesk's premier education event, is for many the epitome of an Autodesk learning experience. You have your educational sessions – hundreds of classes offered over the course of the event. Then there is the networking value – definitely not to be underestimated – as you and your peers gather in a single venue where you can chat and exchange tips to your heart's content. And there's the fun aspect of AU – and there's plenty of fun to go around, from contests and prize giveaways to an entertainment event on the final evening.
As always, AUGI's presence at AU is formidable. The AUGI booth in the Exhibit Hall is a hub of activity. It is here that contests are entered, prizes are won, questions are answered, the new Top DAUG is crowned, and beer mugs are raised. Here is a recap of the AUGI-related activities at AU 2010.

AUGI Top DAUG
The AUGI Top DAUG Design contest winner was announced and Ken Chanault won (third time in a row) for his "Leader of the Pack" design shown below.
AUGI's annual quest to crown the best AutoCAD user alive—or at least the best AutoCAD user who attends Autodesk University—was held at the AUGI booth in the AU Exhibit Hall. During Exhibit Hall hours, attendees were invited to take a computer-based exam covering general AutoCAD knowledge.
Of those who took the written exam, 10 Top DAUG finalists were chosen, based on their exam scores and the total time (in seconds) it took for them to complete the exam. This year's Top 10 were:
Trish Taylor
Alex Lepeska
Kevin Garnett
Decio Ferreira
Steve Fong
Heather Schrieves
Emily Clark
Dave Young
Christopher Fugitt
John Hill
The AUGI Top DAUG final competition, which consists of a design contest, was held on Thursday, December 2, 2010. This year's winner, and Top DAUG overall grand winner for 2010, is Steve Fong. Congratulations to Steve and to all the finalists. Alex Lepeska was also the overall winner from the 2010 CAD Camps where we held contests at each Camp. Many thanks to our Top DAUG sponsor and testing technology provider - 4D Technologies.

Top DAUG winners - Steve Fong and Ken Chanault

AUGI Annual Meeting
In another tradition, AUGI members were invited to attend the Annual Meeting, held this year on Wednesday (December 1) evening. The annual meeting is an opportunity for AUGI members to gather, meet the board of directors, reflect on the organization's accomplishments and get a preview of the plans for the upcoming year.

Beer Bust
Following the Annual Meeting, AUGI members and other AU attendees made their way to the Exhibit Hall for its grand opening and the traditional AUGI Beer Bust. The commemorative AUGI beer mug is always a favorite AU takeaway item. And they were glass again this year. We thank our mug sponsors - CAD Masters and CAD-1.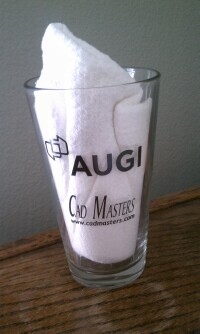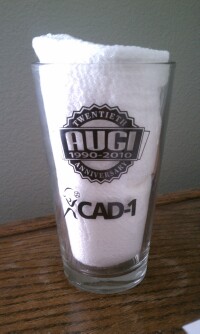 One side Another side

Community Leadership Meeting
Out-going AUGI President Mark Kiker and incoming President David Harrington hosted the AUGI Leadership and Local Chapter Conference meeting. During this meeting David discussed the newly revamped AUGI website and went over the new chapter areas. Attendance to this meeting was limited but lively and AUGI looks forward to a good working relationship with its chapters in 2011.
So ends another successful Autodesk University. As always, the event provides tremendous learning and networking opportunities as well as a good time for all.