Autodesk PLM 360: A Success Story
Company Overview
Figure 1: SMI Group Factory, Whangarei, NZ.
Specialist Marine Interiors is a New Zealand-based company of Boat Builders which specializes in Super Yacht interiors. The company started out as Grant Willis Boat Builders in 1999 and became Specialist Marine Interiors in 2002.


Figure 2: MY Black Pearl Main Salon.
As a result of this background we understand the importance of design, the integration of systems, and how to set a schedule that incorporates the critical path in ship building.
Through years of experience and commitment to technology, based on extensive use of Autodesk software, we've developed an interior remote build system that maximizes quality and efficiency from design through manufacture to install.
Figure 3: Air NZ Interior Mockup.
Super Yacht interiors form the bulk of our contracts, ranging from small craft to 390 foot Giga Yachts. However, we're extremely flexible. We've carried out refits on Boeing business jets, created commercial jet interior mockups, fitted out medical surgeries and Navy ships. We've even installed prison cells in police stations and courthouses.
Figure 4: NZ Navy Patrol Vessel, fitted out by SMI.
Figure 5: Guest foyer. 
Initial Thoughts
When I heard about the launch of PLM 360, it seemed like a great tool to help us with our 'Continuous Improvement' program and tie together our global workflows into a single piece of software. Needless to say I was extremely excited by the prospects when SMI were accepted as early adopters.
Initially we decided our PLM 360 journey should start at the beginning of the product lifecycle with sales and CRM workspaces.
Sales and CRM
Project management
Performance reporting
Tracking components through production
Figure 6: PLM 360 Customer Workspace.
However, given the current state of our projects we realized we could leverage this tool immediately if we focused on the project management aspect first.
Goals
Nevertheless, we set ourselves four goals to work toward within 2012.
Report on Budget Hours versus Actual Hours and percentage complete
Component Process Tracking
Plan and Assign Tasks
CRM, Sales Management and Quality/CAPA processes, etc.
We want to track and report on our progress and actual hours in real time.
Currently we only track at the product level; however, with PLM 360 we want to track progress through a process at the component level.
Our initial area of focus in this regard will be in the packing and shipping department, rather than throughout production.
We already assign tasks using a work allocation register in Excel, but it is stand alone. So we want to integrate it into the process and make 'task' assignment drive projects forward.
Figure 7: People, process, and technology.
Finally, at this stage our CRM and sales system is built on Windows Explorer, MS Excel, and email. Data reuse is minimal due to the fragmentation that occurs with these types of systems between different parts of the business. 
Implementation
Although PLM 360 is, in fact, insanely configurable, it is what you make of it. If you want to set up complex processes, then naturally it becomes complex to set up, and vice versa.
Initially this caused me some problems until I got more of a feel for the software and its intent. As a result, a few workspaces stagnated or got deleted, but it was down to learning and figuring out what we wanted.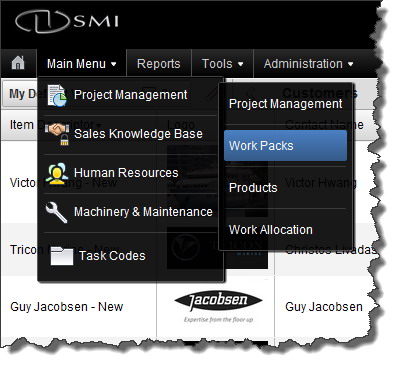 Figure 8: PLM 360 menu system.
So ultimately we decided to establish workspaces, which would give us a solid data foundation to build on into the future.
Customer
Employees
Project
Product
Work allocation
Job titles
The first, Customers, makes complete sense. After all, it's where all businesses start.
As for the second, Employees drive process in any business, so we wanted to leverage employee data wherever possible.
The rest were logical progressions of our four first-year goals. Creating these foundation workspaces has allowed us to leverage foundation workspace item data without committing to fully setting them up.
Figure 9: PLM 360 workflow editor.
We've been able to fully map out a high-level work allocation workflow to allow more accurate creation of milestones and, therefore, progress percent complete. This information is then used to drive a series of performance calculations in other workspaces, rolling up into the project.
This is one of my favourite features in PLM 360. I love how you can visually define a process, then actually use it to set the process and, best of all, control it.
Results
Having set up these workspaces, we have now achieved the first of the four key result areas and part of the third in just over a month with a commitment of around 16 hours a week, including learning some JavaScript.

In addition, this was achieved with zero prior experience in PLM and scripting.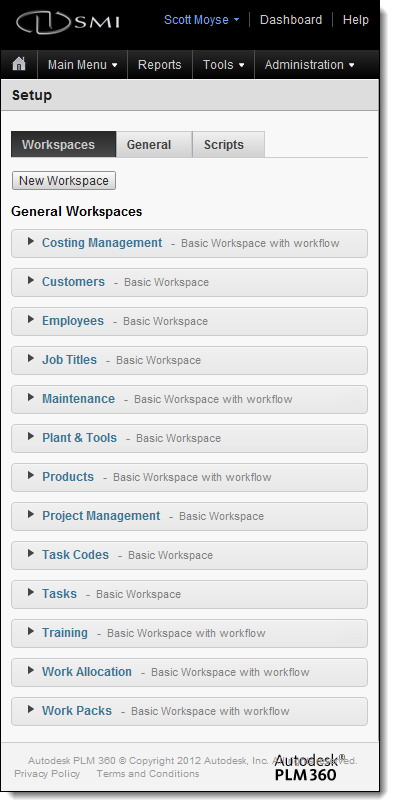 Figure 10: PLM 360 workspace editor.
It's also worth mentioning this Implementation occurred with zero site visits from Autodesk and a 12 to 18 hour time difference. This wouldn't have been possible without cloud technology and the software's ease of use.
It turns out we've been doing PLM all along.


Figure 11: Standalone spreadsheets are now integrated workspaces.
But we now have the tool to organise and access this information more readily, aggregate previously fragmented data, and shift from continually recreating data throughout the organisation to reusing data—all with the flexibility to adapt it to each department's needs.
PLM 360 In Action
The first project in which we have rolled out PLM 360 is based in China. Once the products start being shipped from our factory in New Zealand in a fortnight's time, we will be able to continue tracking its progress when our team in China unpacks the container and starts installing it into the boat.


Figure 12: Tricon NISI 2.
Thanks to the "instant on" nature of PLM 360, we are able to immediately achieve previously unattainable collaboration.
We are even uploading our released production drawings to the system so they can be viewed anytime, anywhere, by anyone with access to PLM 360.
Figure 13: Product drawings included in item record.
Impressively, in just over a month we now have the ability to track and report on the process of individual items in a collaborative manner. We can share reports in real time with anyone who needs them.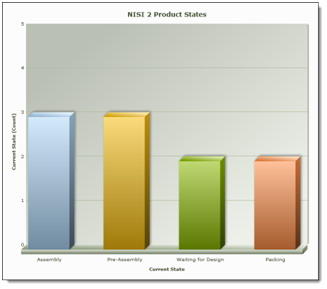 Figure 14: Product workflow state summary.
If we wanted to, we could allow individual staff on the shop floor to log in, manage their own work allocations, and see performance reports based on their own and their teams' performance.

Ultimately, we will be able to empower our staff to manage their own data input and reporting. After all, empowering your staff is key to successful, continuous improvement. PLM 360 will help us with that. 
Reports


Figure 15: Product percentage complete.
Before PLM 360, we created management reports weekly by extracting information out of our ERP system and manually compiling it into Excel spreadsheets. Now, if we so choose, these same reports can be generated daily or in real time with very little or no effort at all.


Figure 16: Work allocation efficiency by product.
What's Next?


Figure 17: SMI shipping crate and wrapped products.
Logistics and Shipping App
Quality Control
CAPA and Continuous Improvement tools
Looking forward, our immediate priority for component tracking is in the packing department. We are developing an automated system combined with barcoding and our production BOM to create shipping manifests and track shipping from factory to the install site overseas including tracking within our overseas stores. Creating a Logistics and Shipping Workspace is the ideal way to support this initiative.


Figure 18: Shipping container ready to be sent anywhere in the world.
Currently, our quality control system is ad hoc and based on handwritten forms. We intend on digitising and improving this process with PLM 360. As a starting point we intend to use the default apps that ship with PLM 360, albeit with some subtle changes. Of course we will then be able to develop that process over time.
It seems logical, then, that we implement the default CAPA Apps to follow on from the Quality Control Apps. After all, it's imperative we learn from our mistakes and don't repeat them. PLM 360 will allow us to collect and organise this information so it can be leveraged within the business systems instead of disappearing into a filing cabinet, Microsoft Office documents, Windows Explorer, or company IP leaving with employees.
Conclusion
PLM 360 is a very exciting service offered by Autodesk. It is limited only by your imagination, plus its entirely scalable and truly mobile. Through working with its early adopters, Autodesk has discovered a new kind of problem: With PLM 360 you have to restrain yourself by clarifying what you want to achieve and focus on one thing at a time. Otherwise it's very easy to get too excited and carried away with yourself!
Public Health Warning: Autodesk® PLM 360 is Addictive. #PLMWidow
Scott Moyse is the Design Manager for SMI Group, a Super Yacht Interiors company in New Zealand. He can be reached at scott_moyse1@hotmail.com.