AutoCAD MEP 2013: Solid Improvements Speed Design
Every year, Autodesk enthusiasts anxiously await the new release of their favorite product (which I hope is AutoCAD® MEP!). I think that we can all agree that some years are "better" than others—some releases being the more substantial ones—but but we are excited nonetheless.
Whether you are a "4-yearer"—someone who waits every 3 to 4 years for AutoCAD's principal game-changing releases such as we saw in 2006 to the now ribbon-based 2010 version—or the more regimented user who upgrades every year with the subscription plan, this article will serve a purpose.
The new tools in AutoCAD MEP 2013 are beneficial even to people who do not intend to purchase 2013. At least knowing about them will help you stay ahead of the curve in the drafting world. What if you leave your job for a new one, you're your new firm is using AutoCAD 2020 and you're still on the obsolete 2016 version? God forbid you didn't know the tools!
In this article, I'll try to keep "vanilla" AutoCAD and AutoCAD MEP 2013 tools separate. Obviously, they will sometimes blend together because MEP runs on top of the AutoCAD platform. The new tools in AutoCAD will enhance typical commands and tricks in AutoCAD MEP. For that reason, I will be bringing up some new AutoCAD tools that benefit the new MEP tools as well.
Universal Piping Connector
The first new feature presented in AutoCAD MEP 2013 that will catch your eye is the 'Universal Connector' that is now found on all piping systems (piping, plumbing, electrical conduit, and so on). Adding this universal connector to the end of an open pipe allows for connection of any other Autodesk piping system to this run, not just another MEP pipe or conduit. This means if you want to send your preliminary model for additions by a civil contractor, that contractor could essentially finish up where you left off in AutoCAD MEP 2013, only he could use AutoCAD® Civil 3D® 2013, Plant3D, AutoCAD® Architecture, and so on. This is a great tool for design/build firms that work closely with other subcontractors with similar design backgrounds. This will make the drawing transfer process that much easier.
MVPart Creation and 'Content Builder' Changes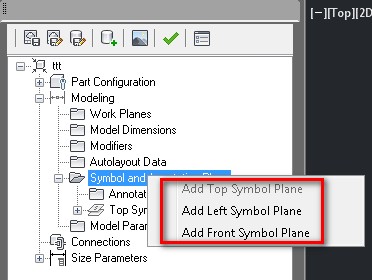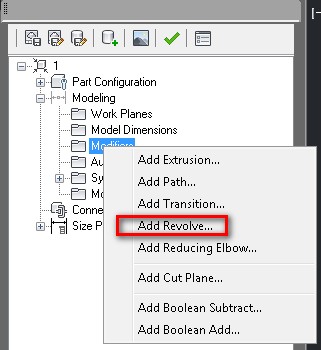 My next highlighted feature is the use of multi-planes when creating symbols within MVParts. If you are a Multi-View Part"ist", you already know what I am talking about, and are excited. This is a tool that has been on AutoCAD MEP's wish list for years running. When AutoCAD first turned open-source, we immediately started creating our own routines and processes to make our life easier and to create intelligent drawings. When ABS introduced the MVPart, it took the 'programming' feel out of it and made it more user-friendly with the Content Builder. You can create a 3D block that you decide what to show end users, depending on which view they are in—the top (plan) view or the 3D Isometric view (the 3D block itself).
The 2013 release allows you to define the top, front, and left symbol separately in Content Builder. This will change the game up a bit for partists who use their MVPart catalog to populate areas that are being live sectioned. That was the first thing that I thought of when I played with this tool in the beta release. How would this look in a vertical live section? Turns out, it looks great and acts as an MVPart should. Speaking of "Content Builder," the MEP 2013 release also now let's you add "revolved" geometry in Content Builder.
MEP Tools and Parts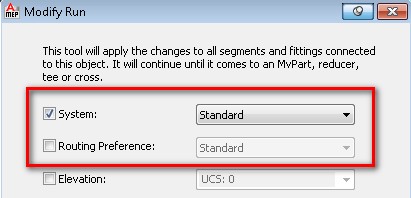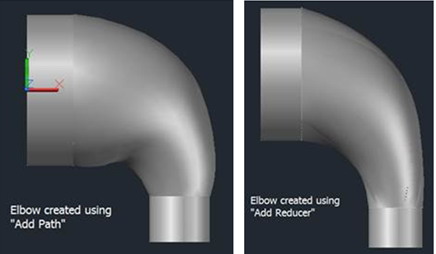 Replacing Multiple Fittings is another great new tool in AutoCAD MEP 2013. In 2012 and previous releases, if we wanted to replace fittings we would have to individually select each fitting, one by one that we wanted to replace (there are no "filter" identifiers for MEP objects) and replace/edit them separately. If you accidentally created the wrong radius of a bend, or the wrong T-size on a pipe fitting numerous times on different systems, layers, sizes, etc., you now simply have to select the multiple adjoining segments for each system you want to redefine the fittings for, and run the "replace fitting" command. It will then go through each segment duo and confirm each replacement. This will simplify many tedious activities, I'm sure.
If you are deep into the MEP trades, you will be very pleased to know that your object's Routing Preferences can now be linked to its system definitions. This means that if you change the object within "properties," the routing preference can change along with it. This is a very cool, and for the MEP "routers," very time saving!
When you change the radius of an elbow within AutoCAD MEP 2010-2012, you will notice that it is aligned to center of pipe/duct. Now in 2013, it is aligned to the inside arc of the elbow. This should be noted, as it will take some getting used to.
Progressive Updating – Real Time Computing
In AutoCAD MEP 2013, you no longer need to wait! Okay, I take that back. You won't need to wait while you regenerate your drawing. This, to me, is one of the most important updates. If you are refreshing or performing a regen of your data-packed large 3D intelligent model, you used to have to wait while your machine's processor and video card "thought" for a bit, then decided when it was safe to let you begin working again and show you all of the information at once.
Now with the new "Progressive Update" feature (SetValue=1 Commands are "setEnableGeometryShare" and "setEnableProgressiveUpdate", it shares geometry not unlike Autodesk Navisworks' software. Why do you think you can fly around the same massive 3D model 100x faster and smoother in Autodesk Navisworks Manage than you can in AutoCAD? It's because of how—and what—it decides to show you. With this same computing process in mind, AutoCAD MEP 2013 will now use a new feature called "Geometry Sharing" to let you work on your model constantly while it regenerates. It knows the area of the drawing you are focusing on, and will work forward (or backward) accordingly.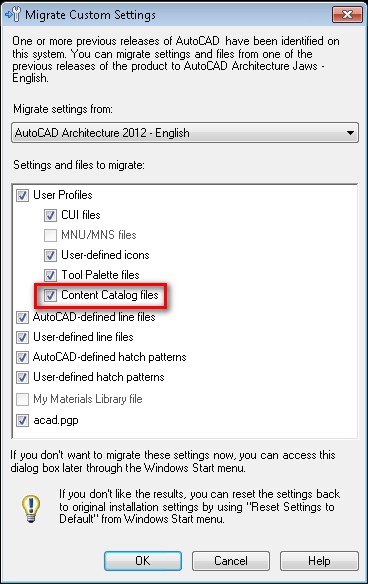 Migrate Custom Settings from Previous Releases
The last new tool that I think would be a good way to end this "highlight reel" is the new and improved Migrate Custom Settings tool. You can now migrate your profile, including tool palettes, catalogs, PGPs, etc. from previous releases, whereas before you could only import/export/migrate from the current release in 2012 and prior.
All in all, 2013 will be a good design year. Not only are these new features going to save you a lot of time and energy, but the economy is rising dramatically (could it really get any worse?) national pay rates are rising along with them, and there is more demand for 3D detailers in the AEC industry. It feels good to be a 3D MEP designer!