AUGI Top DAUG 2009 T-Shirt Design Contest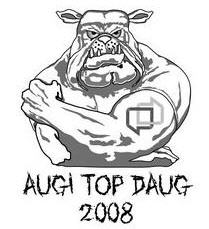 Image: Last year's winning design, by Ken Chenault.
AUGI is pleased to announce the "Third Annual Top DAUG T-Shirt Design" competition.
Last year's Top DAUG T-shirt competition was a great success. Ken Chenault was chosen by the web-based vote of AUGI members as the final winner, and will be enjoying a FREE PASS for Autodesk University this year. Here is your chance to submit your design and win A FREE PASS TO AU 2009 or 2010. Here are the details.
The challenge:
Submit a design to be printed on the front of the AUGI Top DAUG T-shirt. The t-shirt will be distributed at Autodesk University 2009 to all who participate in the AUGI Top DAUG challenge at AU as well as Top DAUG contests held in conjunction with the AUGI CAD Camp 2010 season.
The qualifications:
Participants must be AUGI members.
Autodesk employees are not eligible to submit a design.
You do not have to attend AU 2009 to submit a design.
The specs:
Designs must be created with an Autodesk software product.
Designs are to be submitted as a 2D DWF (Drawing Web Format) file. 3D DWF files will not be accepted.
DWF files should be "single page," containing only one design per DWF file.
The DWF filename should be in the format TD09___(x).dwf where (x) is the entry number if multiple designs are submitted.
Size of design should not exceed 9" (22.8 cm) x 9" (22.8 cm).
Members may submit more than one design, if desired. If designs are "minor variations" of a previously submitted design, only the original submission will be used.
Designs should be submitted in black & white only, but Grey tones are acceptable.
Each design MUST include the words "AUGI" and "Top DAUG" (Logos from Top DAUG sponsors may be added to the t-shirt sleeves for final printing).
The design deadline:
Designs must be submitted by October 2, 2009, 11:59 AM PDT. Submit your design(s) totopdaugtshirt@augi.com.
Then what?
Each eligible design will be posted on AUGI.com for voting from October 5 - October 21, 2009
AUGI members will vote for their top pick.
Members can vote only once.
The design with the most votes will be awarded the Grand Prize.
What you can win:
Besides the fame that goes along with being the creator of the winning design, the grand prize winner and nine other contestants will win these more tangible prizes.
Grand Prize, for the individual whose design is selected by AUGI members' votes, is a free pass to Autodesk University.
The Grand Prize winner may choose to receive a pass to Autodesk University 2009 or 2010, but not both.
Winners in 2nd through 10th place will receive exclusive AUGI merchandise.
The Grand Prize winner will be revealed at the start of the Top DAUG contest on Tuesday night in the AUGI booth. In the event of a tie for the favorite design, AUGI's Board of Directors will select the grand prize winning design. The top 10 designs will be displayed in the AUGI booth for the duration of Autodesk University 2009.
Send your design (and/or questions and comments) to topdaugtshirt@augi.com. Don't delay... the deadline is October 2nd!