Advertorial: Join the AutoCAD Exchange Network
You've browsed the site. Now get involved.
AutoCAD Exchange gives you new ways to showcase your work, keep in touch with colleagues, ask questions of the expert of the week, and learn or share tips and tricks. Don't miss out: now is the time to take advantage of everything AutoCAD Exchange has to offer.
Join the Network

Connect with colleagues from across your company and around the world. Just create your user profile on AutoCAD Exchange, and from there you'll be able to build your own network of contacts and search our growing user base for experts in your field. To get started, go to Network and click My Profile.
Get Expert Advice

Got a burning question about dynamic blocks or parametric tools? Click Ask the Expert on the Learning menu. Then request real-world advice from a pro who's been there.
Each week, we put a different AutoCAD user in the hot seat. You'll be able to see the expert's profile, blog, and demo videos, as well as all the questions they've answered.
Think you know AutoCAD software inside and out? Click the link to nominate yourself - or someone you know - as a future expert.
Post and Rate Drawings
Ready to post a drawing? Just click Upload Your Work on the Showcase menu to share your best work. It's a great way to spark discussion and get feedback not just from your colleagues at work, but also from peers around the world. You can even share gallery drawings via Facebook, LinkedIn, Twitter, Digg, and MySpace.
Just want to browse the gallery for now? If you have a second, be sure to give ratings and leave comments. Your insights could make a big difference to someone else's project.
Share Your Knowledge
Help your peers get more out of AutoCAD. Click Tips & Tutorials on the Learning menu and then click Submit Your Tip to share your favorite AutoCAD advice with the world.
You can upload a tip in the form of a video, PDF file, screenshot, or Microsoft Word document.
Help Guide Future Product Development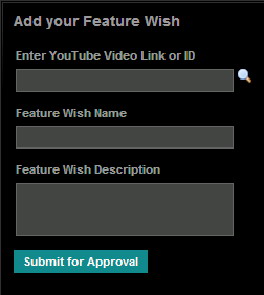 What features do you want to see in the next version of AutoCAD? Let us know by clicking Your Feature Wish on the Product Team Chat menu and then clicking Submit Your Wish. You'll be able to submit a video describing your ideas. Don't worry about production quality - we just want to hear your ideas.
Tell Us What You Really Think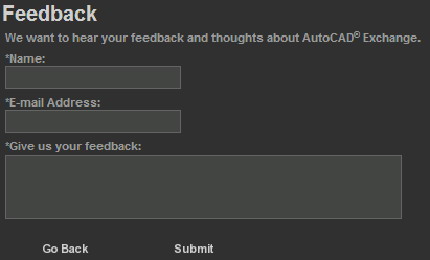 Got a comment about AutoCAD Exchange? Send us a note through the feedback form.
More ways to connect with the AutoCAD Exchange Community

Check out the new AutoCAD Exchange Fan Page on Facebook

Follow AutoCAD Exchange on Twitter