Adapting to Mass Change: New Tools in Revit 2013
Spring is in the air, the time has been adjusted to save us daylight, and that can mean only one thing…well a lot of things, but for Autodesk® Revit® users this time of year means one thing in particular: New Releases!
In advance of the releases we are proud to bring you what we feel are the major upgrades and enhancements to Revit Architecture 2013. Enjoy!
Part 1: Divide Path and Repeat
By: Marcello Sgambelluri
Summary
Divide Path and Repeat are brand new commands in Revit 2013. They both are used in the mass modeling environment and the adaptive component environment. These new features are beneficial to all users because they simplify the design and modeling process by allowing components to be repeated in a very controlled manner. This article will begin by explaining these and other new features and how to take full advantage of them.
THE DIVIDE PATH COMMAND
The Concept is Not That New
Divide Path allows the user to simply select lines, arcs, circles, partial ellipses, ellipses, splines, Hermite curves, and edges of forms and divide them into any desired amount of segments as shown in Figure 1.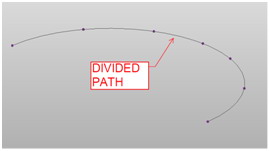 Figure 1: The Divided Path
Dividing an element in the mass or adaptive component environment is nothing new. Users always had the ability to divide a surface into a "grid" since the new massing tools were introduced in Revit 2010 (see Figure 2).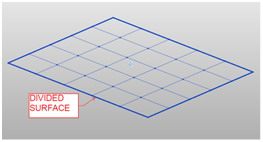 Figure 2: The Divided Surface
The Divide Path command is this same concept except instead of dividing surface elements you are dividing line elements. Also, the divide surface element and the divided path element have the same properties including, number of divisions, node visibilities, intersections, and the ability to host other elements at its nodes.
Creating a Divided Path
Creating a divided path is extremely easy. Create any line in the mass family environment, adaptive component environment, or in-place mass environment. Select the "curve" and click on the "Divide Path" command as shown in Figure 3.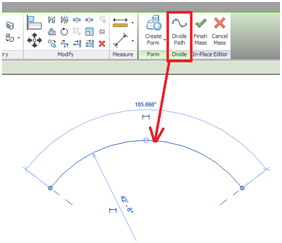 Figure 3: The Divide Path command
A new element will be created called the "divided path" that "hosts" divided nodes along its length. It is important not the get the divided nodes confused with the reference points.
This new divided path element is completely separate from the curve that was used to create the divided path. This is the same concept as the divided surface element being independent of the mass surface that was used to create it.
The number of divided segments could be changed in the properties box or parameterized as shown in Figure 4. The divided path nodes could also be defined by none, fixed number, fixed distance, max distance, or min distance.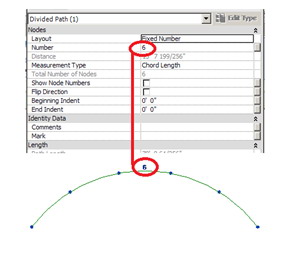 Figure 4: The Divided Path and its properties box
The divided path has options to toggle the path on or off or the divided nodes on or off. Nodes could also be added to the path via the Intersects command as shown in Figure 5.

Figure 5: Curve representation and the Intersects commands
NEW REPEAT COMMAND
Intro

A repeater is a separate element that is simply a collection of adaptive components repeated along a divided path or divided surface. Previously, if the user wanted to create repeating components they would have to copy them manually, but not any more. The repeat command takes the busy work out of copying multiple components.
Creating Repeaters
One Component on a Divided Path

To create a repeater or to use the repeat command, the user must have a minimum of one divided path or divided surface and one adaptive component with one placement point. However, this is not the only combination of divides and adaptive components that creates a repeater. There are an endless number of combinations of these elements that create repeaters.
To explain the repeat command, let's focus on the simplest of repeaters that consists of one divided path and one adaptive component with one placement point. The following example will show how to use the repeat command to place multiple columns.
First, create a divided curve or curves as shown in Figure 6. Create an adaptive component that is made up of a simple cylinder to represent a column. This adaptive component contains only one placement point. Place or host the adaptive components placement point on the divided path's node as shown in Figure 6.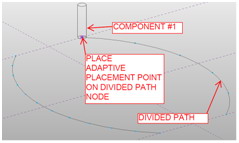 Figure 6: Placing a component on a Divided Path
Select the adaptive component and select the repeat command shown in Figure 7.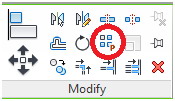 Figure 7: The Repeat command
Change the number of divided path nodes from 6 to 12 and the columns instantly update as shown in Figure 8.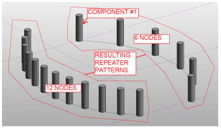 Figure 8 –Repeater Pattern with 1 component on a Divided Path with varying modes
Note: The original adaptive component is "consumed" by the repeat command and in its place is a completely new element called the "repeater." The repeater consists of the repeating adaptive components, but the adaptive components properties are no longer available to the user.
Two Components on a Divided Path
The above example covers one adaptive component; however, the user could elect to use two or more adaptive components to create a repeating pattern. To do this, simply follow the steps in the previous section and place two adaptive components as shown in Figure 9. When the repeater command is selected, Revit will "interpret" the intended repeater pattern and return a result as shown in Figure 9.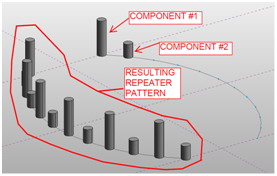 Figure 9: Repeater Pattern with 2 components on a Divided Path
Two Components on a Divided Surface
Repeaters are not limited to divided paths. The repeat command could be used to repeat components on divided surface as well! Creating a repeater on a divided surface is similar to creating it on a divided path. First create a divided surface from a mass element. Then turn on the nodes of the divided surface.
To turn on the nodes, click on the surface, click on the arrow next to the words "surface representation," and then toggle on the nodes in the dialog box as shown in Figure 10.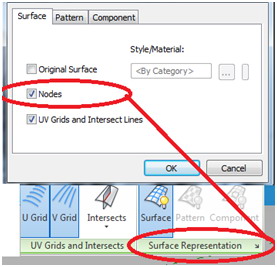 Figure 10: Turning on Surface nodes
Once the surface nodes are turned on, place the same single placement point adaptive component as shown in Figure 6 on the divided surface shown in Figure 2 and follow steps 4 thru 8 in the previous section. The resulting repeater pattern is shown in Figure 11.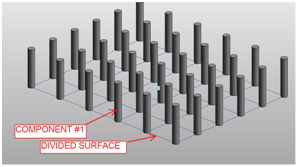 Figure 11: Repeater Pattern with 1 component on a Divided Surface
Other Possible Combinations to Create a Repeater

The examples above show only three simple types of repeaters that are created from combinations of divided elements and single placement point adaptive components. Figure 12 shows all possible repeaters that are results from the combination of a simple, single line, 2 placement point adaptive component and divided elements.
Note: The repeater element also could be created from using 3 placement point adaptive components or 4 placement point adaptive components or 5 and so on. The combinations are endless however this article will only show the 2 point case.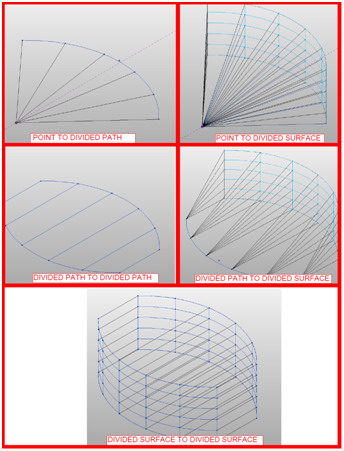 Figure 12: Repeater Patterns resulting from 2 placement point adaptive components
MASS/ADAPTIVE CLOSING REMARKS
The Divided Path Command

The divide path command creates nodes at discrete locations along a curve and can host adaptive components that could be used to create a repeater element.
Don't forget that the divide path command has other uses. For example, it could be used as an in-place mass line that is divided into equal segments to help aid in modeling beams, walls, or floors that need to be spaced at equal segments.
The Repeat Command
The repeat command removes the "busy work" from the user by creating multiple copies of adaptive components on a uniformly divided path or surface. A "repeater" element is the result. This repeater element is only a "visual" representation of multiple copies of an adaptive component and is limiting.

Once the repeater is created the individual properties of the original adaptive component cannot be modified, changed, scheduled, etc. by selecting the repeater. If you wanted to adjust the adaptive components properties, you would have to first edit the original component then "reload" the component back into the host repeater.
After reading this article it should be clear how to use the divide path command and the repeat command. I am excited to see what the Revit community does with these new tools. Be creative, take full advantage of these new commands and remember: they do not have to be used only for their intended purposes. Good luck.
Adapting to Mass Change Part 2: Architecture Tools
By: Jay B. Zallan
Summary
There are many new enhancements as with all new releases, and Revit 2013 is no exception. This portion of the article will focus on a few big changes: One Box, Materials, and Stairs. While we will mention many other smaller additions, tweaks, updates, and functionalities, we will focus on those three big ones.
THE ONE BOX PRINCIPLE
Concept: One Box
Result: One Box
All flavors of Revit are now available in (you guessed it) One "Box!" (or "One File" if you download). You can still use more boxes, but why would you? One Box is the way to work moving forward.
Interoperability and coordination are mainstays in the outlook and marketing for Autodesk products and now having Revit as "One Box" brings BIM teams and tools more in line with that vision. Perhaps the biggest beneficiaries will be contractors and integrated teams most of all. A positive step for AEC for certain!
General Updates: Platform
Revit.ini has new Install settings to help propagate settings to multiple users. UI changes include Category "Filter List."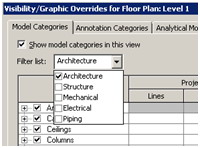 Figure 13 – "Filter List"
Project Template files' Library support.
Selection Sets (formerly only in RST).
Command Name realignments.
General Updates: One Box and All
All tools and functionality available.
Separation of Mechanical, Electrical, and Plumbing tools via UI options.
Views Automatically updates when VT's are changed.
View Template (VT) assignment via View Properties.
VT property is schedulable and available in Browser Organizations.
View Creation discipline options added
Underlay orientations are available in View Templates.
RCP Underlay Orientation defaults to "Reflected Ceiling Plan" if not controlled explicitly by a VT.
Color schemes are available in View Templates.
Workset "Global Visibility Settings" control.
Merging Parts (Figure 14 depicts two parts merged).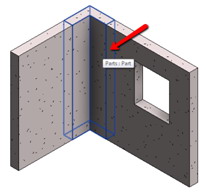 Figure 14: Merged parts
Exclude Parts from assemblies.
Shape Editing: All faces can be modified.
Divided Parts with Gap properties enhanced.
Divided Parts with custom "Division Profiles" added (Edge Match, too).
Divided Parts parameters propagate.
Parts export to IFC enhanced.
Assembly Views and Editing improved.
Origin exposed.
File Import & Export enhanced.
"Correct lines that are slightly off axis" checkbox added during Import dialog.
Materials have been enhanced (explained later in this article).
Surface Transparency replaces Ghost Surfaces. Slider now gives from 0-100 by Element, Category, Filter, and View.
Visual Styles enhanced (ray trace added too).
RPC appearance in "Realistic Views." Can you say immediately better presentations from non-rendered views? Just don't "work" in ray trace mode.
Lighting and Photographic Exposer added to Realistic views.
Repeat & Divide (discussed in previous segment by Marcello Sgambelluri).
Worksharing and editing request enhancements. (What: New in Central? YES).
Cut with Unattached Family Void Instance enhanced to Casework, Furniture, and Furniture Systems.
Split Linear Dimension Strings.
Dimension Equality Text (and Formula). See Figure 15.

Figure 15
Multi-segment gridlines.
Double-click Zoom to Fit.
Type Duplication in Edit Group mode.
On-the-fly pattern definition.
Guide Grid dialog enhancement.
Stairs and Railings have been enhanced (explained later in this article).
Text editing enhanced (a bit).
Overall Enhancement Conclusion
That covers the majority of Revit Architecture 2013 enhancements and additions. Whether you are a Contractor, Architect, Engineer, or Fabricator you will surely have a lot of new power readily available. Next up: The two big things in RAC 2013…
Materials
A Brave New (old) World
The materials in Revit have a whole new look and feel, not to mention enhanced functionality! More 'I' for BIM is available, as well as more 'V' for Visualization. (Also more #'s for Twitter.) If you have used other rendering tools you will notice a nice dovetailing of the new Revit Schema.
New Materials Data Model (see Figure 16).
The new schema allows much more information be carried throughout AEC BIM projects, via inter-related characteristics of Assets, Materials, Assemblages, and Models.
These characteristics include Appearance, Structural + Thermal Performance, and Substance Properties.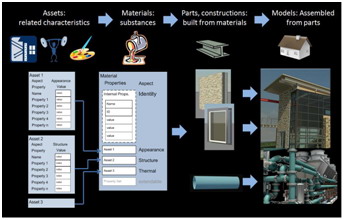 Figure 16: New Material Data Model schema
New Material User Interface (see Figure 17).
The three main components of the materials process are the Material Browser, the Material Editor, and the Asset Browser.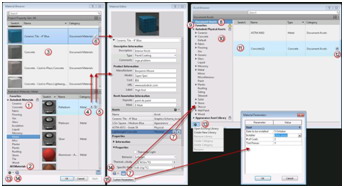 Figure 17: Material user interface map
1. Autodesk Material Library
This holds the main material definition as well as the individual asset information.
Uses the .adsklib file extension.
2. AEC Material library
A subset of the larger Autodesk library.
3. Materials found in the current Revit Project
4. Add to Project button
5. Add to Project and Edit
Clicking this button will add the selected material to the project, make it active, and open the material editor for further manipulation or investigation.
6. Edit
Clicking this button will open the Material editor where assets assignment and editing can happen.
7. Asset Browser
The button at the bottom of the material dialog launches the Asset Browser where you can see all assets.
The button on the individual asset 'tabs' also launches the Asset Browser. However, the list will be filtered by asset (i.e., thermal, physical, or appearance).
8. Assets that appear in the current project
9. Autodesk-installed "Favorites" Library
Same as the library in the Material Browser - just filtered for assets.
10. Asset list
11. Appearance graphics for Assets. Thermal and Structural Assets don't have graphical representations so there will be nothing in this column when filtered on those assets
12. Click this button to assign this asset to the current material
13. Library controls (awesome)
Create a new library.
Remove a library.
Rename a library.
Add categories, etc.
14. Create new Material
When you click on this from the Material Browser, you get a blank Revit Material—fresh for you to start adding assets.
When you click on this from the Material Editor, you have the option of creating a new material or duplicating the current one.
15. Custom Parameters accessed via dialogs
The new material schema are aligning several Autodesk product workflows and brings a consistency that we have long been asking for. Now we just need to realign our internal processes so as not to destroy materials while we learn and devise our own new methods.
Remember your #BIMandments: "If you make Type changes to objects then Duplicate them first." This applies to materials, too.
How Detailed?
To get the conversation about Materials workflow going I offer this up: How detailed do you need (not just want) to get? 12.0 ksi Concrete? Well yes, it's high strength and it knows such.
The physical assets get us more 'I' for our BIM Models (sorry, fluffy kittens, #BimModelingFluffyKittenKillas are at it again). Now we simply must plan in what level of development we want or need these different assets included.
The underpinnings and perhaps hidden truth of the new Materials environment is its logical progression: Asset>Material>Assemblage>Model.
Combine the Materials environment and interface with the knowledge that underneath (way underneath) a material's surface appearance is the ability (if not necessity) to place very granular information and behavior and you will be well on your way to getting much more bang for your BIM bucks and better presentations as well.
Stairs, Ramps, Rails
The Good
The stair tools are getting good attention from The Factory, including more visibility control and riser annotations (yes, numbers).
Spiral/Helical and Overlapping Stair runs can now be done as one object each. YAAY!!! This is a major upgrade in functionality and we look forward to the further development and completed implementation of these tools.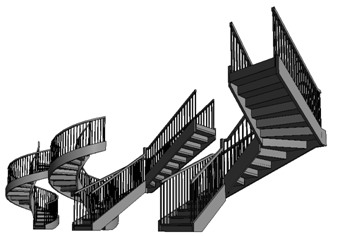 Figure 18: The new stairs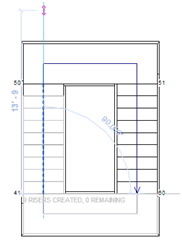 Figure 19: Sketch Mode of overlapping, custom stair (69 risers if you were wondering). All clicks were overlapping, yet gave no issues with the stairs themselves.
The stairs available now are:
Full-Step Spirals
Center-Ends Spiral
L-Shaped Winders
U- Shaped Winders, and of course
Straight *
Create Sketch
Use the Straight tool to get custom stairs with landings, similar to previous releases. This time, though, you can (I repeat 'can') overlap the runs, treads and risers (see Figure 19). Revit can now figure these 'overlapping' stairs out; unfortunately, rails have issues with this new functionality.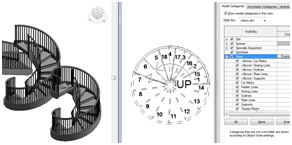 Figure 20: Spiral Plan with automatic annotations added, 3D view, and visibility additions
The Bad and The Ugly
In certain situations a lot of errors are generated in the attached railing objects to some types of stairs and designs (the dreaded sketch lines overlapping warnings). While there is cause to celebrate the stair enhancements as wonderful, it is tempered by incomplete implementation and lack of clean functionality in Railings.
Closing Thoughts
The Future Looks Bright
The upgrades to the entire line of the Revit Family will surely bring benefit to all BIM team players, even with the small inconveniences and anomalies that one may find with new tools. I am confident that most, if not all, issues will surely be temporary.
In addition to reading the rest of this issue of AUGIWorld, please consult the "What's New" feature and documentation once in Revit 2013 for all of the Final Release features and share that with your team.
Marcello Sgambelluri is the BIM Director at John A. Martin & Associates Structural Engineers in Los Angeles, CA. He has been using Autodesk products for over 15 years including AutoCAD, 3ds Max, and Revit Structure. He is a member of the ASCE-SEI BIM committee and continually speaks at structural professional conferences across the country.
Jay B Zallan is Director of BIM at Perkowitz+Ruth Architects & Studio-111, Jay brings unique & qualified insights into the business & creative processes of Architecture with proven
strategies for production & growth.