A New Look at Familiar Features
In this article, I'll present some functions built inside InfraWorks® that some may not realize are available, and offer tips on ways they can be used.
Overlays
The ability to overlay data onto our terrain is essential for proper presentation and is virtually the foundation of InfraWorks. While most are familiar with overlaying aerial content, fewer are familiar with using the same function to present more complex content such as pavement striping and walls. For example, if we want to quickly present the appearance of retaining walls without spending hours modeling them in applications such as Civil 3D®, we can simply drape a shapefile (.shp) generated from a polyline in Civil 3D onto a surface modeled with the appropriate break lines and assign it a material similar to the type of wall we are proposing. See Figure 1 for example.

Figure 1: Wall example
Materials
Figure 1 also displays a custom rock wall type. InfraWorks allows us to apply custom materials to our objects so we can present our project any way we would like. Using this feature we can assign images to billboards, photos of the facades of buildings to 3D content, signs, window displays, and more. This gives us all the flexibility we want. See Figure 2 for an example of a custom image placed on a 3D billboard.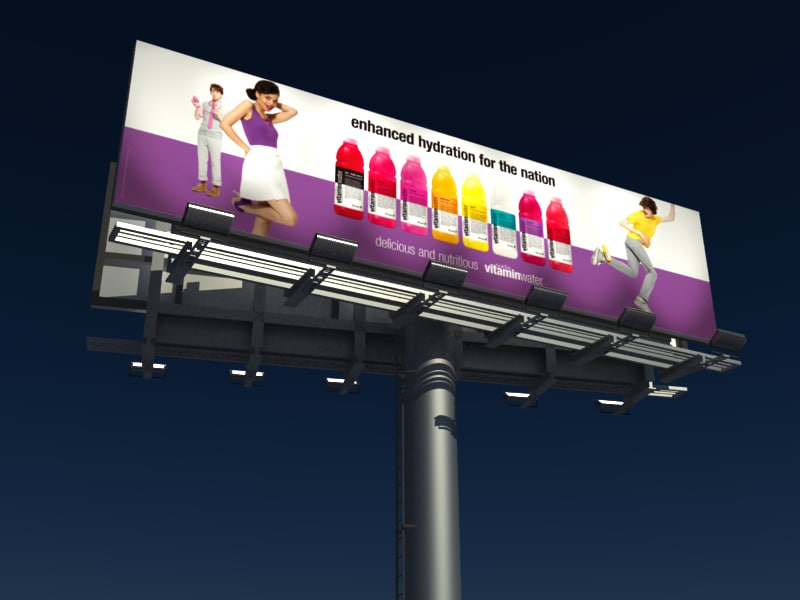 Figure 2: Material example
Animations
InfraWorks allows us to import animated content built with software such as 3ds Max®. A common workflow is to obtain content needed from sites like 3D Warehouse and use the animation tools inside 3ds Max to modify it. Once complete, the file can be exported to Collada (DAE) file format and imported into InfraWorks. Dave Tyner presented a very good example online here: https://youtu.be/GZp0eCpzNfI
Translation
One of the most powerful features in InfraWorks is its ability to translate data into FBX format. This format is used in most of the popular 3D presentation and animation software available today, including 3ds Max, Unity, Unreal, Maya, Lumion, and many more. This makes it a powerful tool for quickly converting content generated in software such as Civil 3D to something presentable. By using this feature we can take data we've already constructed (surfaces from Civil 3D, Revit® models, etc.) and place them in a virtual environment in an extremely short amount of time.