3ds Max Highlights
Autodesk released 3ds Max® 2018 with a number of upgrades and new features. The following list, while nowhere near comprehensive, includes some of the notable additions. Following that, we look more closely at a select few.
3ds Max Features
Arnold Renderer
Motion Path
DataChannel Modifier (sub-object manipulation, Tension, Curvature, DeltaMush, Decay, Node Influence, Element Transform)
Blended Box Maps (with Cubic Projection, Projection Randomization, Projection Map Baking)
UI enhancements including a Qt5 framework with enhanced Docking, Timeline tear off, and continuous Hi-DPI icon conversion, StateSet with SlateSDK-based UI and node-based render pass management, quad intersections checkbox to the Chamfer Modifier, Alembic visibility track support, and shape suffice management via MAXScript
Unwrap improvements
A large list of upgrades to the MCG system
Arnold (MaxtoA)
For those unfamiliar with it, Arnold is a ray tracing renderer used by studios across the globe to work on feature-length animated films and visual effects. If you've seen anything in the last decade with visual effects or animation, Arnold was likely involved in some capacity. A plug-in for Arnold called "MaxtoA" bridges the connection and provides 3ds Max users the ability to work with Arnold directly in 3ds Max. I imagine this is good news for studios using 3ds Max. The plug-in includes several features: integration with 3ds Max shapes, lights, cameras and shaders, image-based lighting support with physical sky, ActiveShade, support for AOVs and Deep EXR files, texturable mesh lights, cloud rendering, and more (Figure 1).
Figure 1
DataChannel Modifier
The DataChannel Modifier was one of the more popular features in the beta program and users shared some very cool examples of what they were able to accomplish. I'm convinced that data-crunchers will dive into its operators, showing off everything they've learned to do with it within the first few months of upgrading.
Essentially the modifier allows us to manipulate objects using operands that affect the various components in the object. Typically, this has been accomplished with more complicated methods, but a simple modifier will likely streamline many of these operations. The options are nearly infinite with the ability to distort or change nearly every aspect of an object using whatever data suits our needs. Users can quickly and easily animate earthquakes, represent motion velocity, animate melting objects, collapse blocks, and much more using various curves and simple values within the modifier. The basic input operands are demonstrated in Figure 2.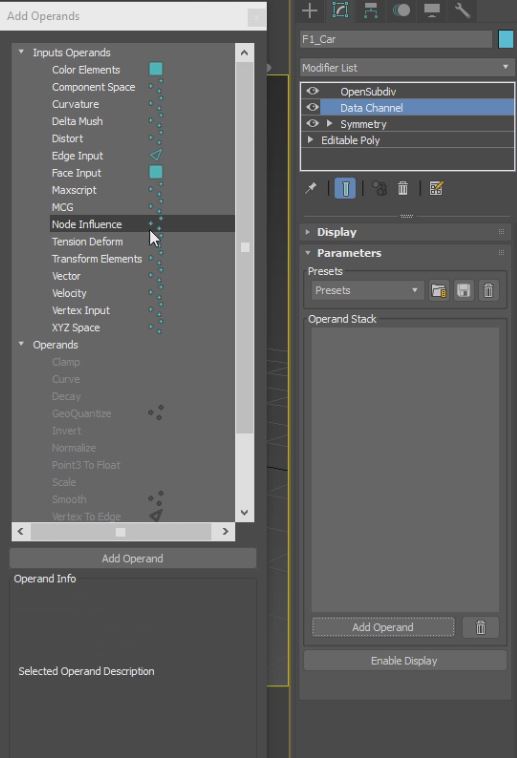 Figure 2
Blended Box Map
The Blended Box Map allows us to project multiple images onto an object (or multiple objects) with the ability to manipulate the projections and blend them. It includes the ability to build bounding boxes to manipulate the projections more. In the past, to generate the same effect we were typically required to unwrap the object or provide a texture created with another software where we've already blended the images together. The Blended Box Map can be used to generate organic or inorganic textures creatively and quickly by modifying values in the map properties without having to bounce back and forth between programs to get the texture of an object how we'd like it.
Figure 3
Conclusion
For 2017 there were over a thousand modifications to 3ds Max based on input from its users. Autodesk continues to work hard to improve the software and provide users with more features to use 3ds Max in more diverse, creative, and efficient ways. That includes 3ds Max 2018.