3ds Max Collaboration with Shared Views
This article will focus on presenting the Shared View tool. The tool, installed with the latest versions of 3ds Max, assists those who have Autodesk accounts with collaboration.
To launch the tool, navigate to the File Menu and select the menu option displayed in Figure 1.

Figure 1: Menu selection
Selecting the menu option will launch the dialog box displayed in Figure 2.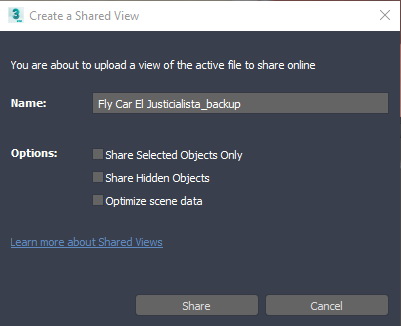 Figure 2: Shared View dialog box
The dialog box allows us to name our view and contains three options:
Share Selected Objects Only
Share Hidden Objects
Optimize scene data
The shared view supports bitmap types, many procedural maps, and textures (including OSL), Vray materials, and more.
The Share button displayed in Figure 2 will upload the view to our Autodesk subscription account. Upon a successful upload, the dialog will provide two options for us to share our information. The first option is to view it online through a browser. Selecting this option will launch the Autodesk Viewer and display our scene (see Figure 3). The second option will copy the link to our clipboard to paste for email.
Figure 3: Shared View with Autodesk Viewer
Viewers have all the options they should need to review our work and comment. See Figure 4 with the exploded function selected and comments added for the demonstration with this article.
Figure 4: Exploded option with comments
The views remain active for 30 days. So far everything I've shared has uploaded quickly and without errors. Let me know how it works for you.
Brian Chapman is an Autodesk Authorized Developer, creator of Pro-Cad.Net and a Senior Designer for an engineering firm located in Las Vegas, Nevada. Brian can be reached at procadman@pro-cad.net.