AutoCAD MEP Implementation - Part Two
In part one of this series (May 2011 AUGIWorld) we started a new template based on an out-of-the-box MEP template and set basic HVAC settings. We will continue now with piping settings. As we cover each discipline (HVAC, Piping, Electrical) you should see some similarities.
If you've followed us through the steps found in part one, you can open the template you saved. Be sure when you open the template (hopefully you saved this in the location where you keep your CAD Standards) you change your file type from .dwg to .dwt. Note that the next time you open a file after editing your template you'll need to change your file type.
Now let's change our workspace to Piping.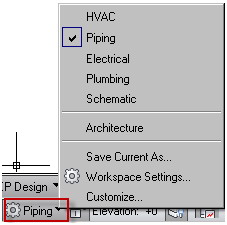 Changing our workspace from one discipline to another gives us access to the tools we need for that type of work—in this case, piping. (You can edit your .cui file to combine HVAC and Piping Workspaces or customize your ribbon. )
Some of the differences you'll see in workspaces include:
Home Tab Build Panel
Manage Tab Style & Display Panel and Preferences Panel
Annotation (both Annotate tab and Annotate under Home tab)
Let's start with our Manage tab and look at the Piping Styles, which include Piping System Definitions and Routing Preference Definitions.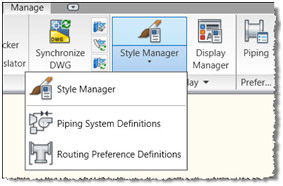 Pipe System Definitions are the core of how piping systems connect and are defined. This principle is the same as HVAC and Electrical. All have System Definitions. The system sets what can connect similar to real-life piping. It also provides information that can be extracted through tags and schedules. And it helps define how the layers are used.
As with most of the AutoCAD MEP styles, tabs are used as follows.
General includes name of style, any notes (also style-based property sets).
Design Rules indicates layer key used (we will cover this in the future).
Rise and Drop shows style of blocks used for changes in elevation of piping in plan view.
Other is for excluding piping system from showing material assigned in a section view.
Single Line Graphics applies to piping only.
Display Properties allows editing method of display components (almost like layers within the MEP objects).
The Single Line Graphics tab is perhaps one of the more difficult settings to remember and understand. What this means is if you are designing 2" pipe, for example, it will show as single line pipe. I frequently witness people pulling their hair out not understanding why the piping looks schematic. Or a user will set this for Chilled Water System but not for Steam Piping System. To have your piping show up as 2-line piping, these boxes must be unchecked for every system you use.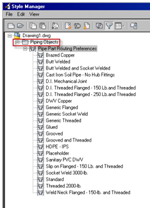 You can right-click on any system to rename, delete, or create new systems. Just be sure that you remember to edit this one tab even if you don't change anything else about the system.
Also under Styles is Pipe Part Routing Preferences. These preferences allow us to set what size pipe will use what types of fittings. The more we set up front, the less we'll have to change along the way.
Notice how up to 3" piping a threaded schedule 40 lateral is used, but with 4-12" pipe a flanged class 250 reducing lateral is used.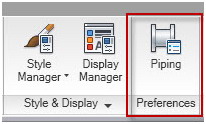 Piping Preferences is the last area that we will set in our template. Found under the Manage tab, these settings are set in the template but often are changed on the fly.
The information on the General tab is more often set as you are designing. Label styles are available if you want to show piping labels or flow arrows for documentation purposes. If you prefer to add these where and how your standards dictate, then leave these at none.
Remember where we had rise and drop styles in our system styles? Having the box checked in the middle of this dialog box to automatically create riser at new elevation will insert the appropriate block to show the change in elevation.
Piping can be sloped in different formats, and generally we do this on the piping as we design it.
The tab that we set in our standards is the Connection Assignments tab.
I have yet to see anyone change connection assignments from the out-of-the-box settings, but should you wish to, you can use the drop-down box to select connection ends.
Now that we have set the basics of our piping settings, let's save our template again. You've made it through another step in implementing AutoCAD MEP and learning about the settings involved.
In part three of this series, we will cover electrical settings. In part four, the final part of this series on AutoCAD MEP Implementation, you will see how it all comes together as well as learn some tips and tricks to make your implementation easier. Stay tuned to AUGI and AUGIWorld for this valuable material.